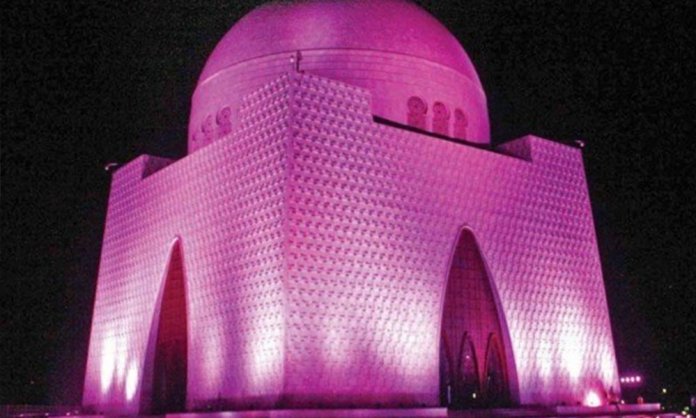 Update (18th October 2019): To spread awareness in regards to breast cancer awareness, the mausoleum of Muhammad Ali Jinnah was illuminated in pink.
This initiative is from Pink Ribbon a state-of-the-art institute under construction that is using their PINKtober campaign to raise awareness.
---
---
4th October 2019: The marvelous Minar-e-Pakistan turned pink on Thursday to raise awareness for breast cancer in Lahore for the month of PINKtober for a campaign by Pink Ribbon.
Pink Ribbon CEO Omar Aftab shared that illuminating the symbolic landmark for their awareness campaign was an honour.
We also shared that the purpose is not only to raise awareness but to tell those who are the victims of the disease that they are not alone and together we can defeat it.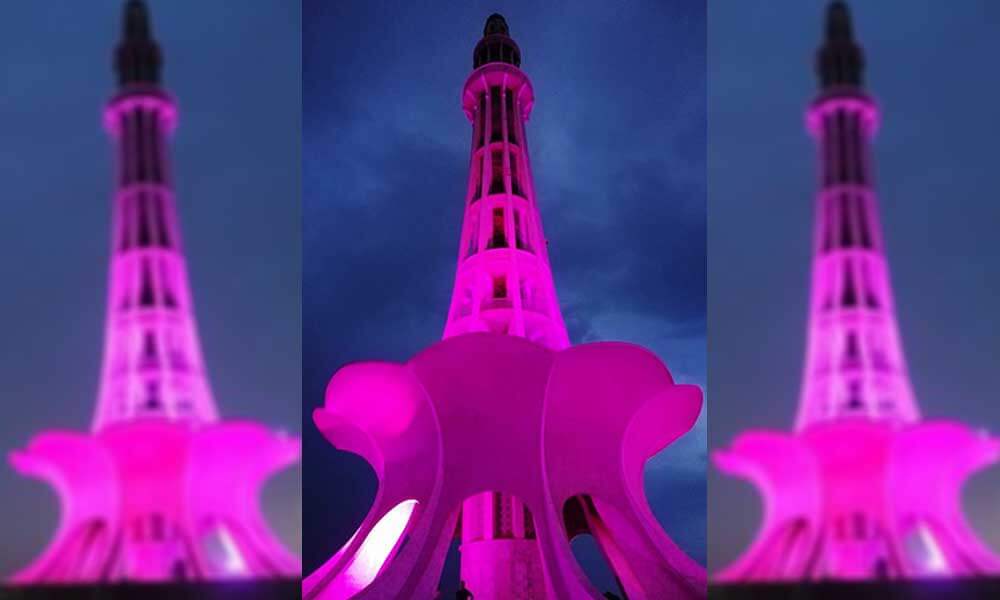 He stated:
We are here to pledge that we will defeat breast cancer together as our forefathers once pledged to obtain an independent homeland,
Netflix's Money Heist Promotion Campaign has got the World Talking!
He further shared that with the support of the government and other organisations, they will continue to spread the needed awareness throughout Pakistan about breast cancer in hospitals as well as societies.
The Pink Ribbon Hospital will be a state-of-the-art facility and Pakistan's one-of-a-kind once constructed. The hospital will begin to partially operate in June 2020.
Breast Cancer Symptoms
There are several early symptoms of breast cancer that can help detect the disease before it spreads. They include:
Skin changes, such as swelling, redness, or other visible differences in one or both breasts
An increase in size or change in shape of the breast(s)
Changes in the appearance of one or both nipples
Nipple discharge other than breast milk
General pain in/on any part of the breast
Lumps or nodes felt on or inside of the breast
Irritated or itchy breasts
Change in breast color
Increase in breast size or shape (over a short period of time)
Changes in touch (may feel hard, tender or warm)
Peeling or flaking of the nipple skin
A breast lump or thickening
Redness or pitting of the breast skin (like the skin of an orange)
Invasive breast cancer symptoms may include:
A lump or mass in the breast
Swelling of all or part of the breast, even if no lump is felt
Skin irritation or dimpling
Breast or nipple pain
Nipple retraction (turning inward)
The nipple or breast skin appears red, scaly, or thickened
Nipple discharge
A lump or swelling in the underarm lymph nodes
 Inflammatory breast cancer symptoms include:
Red, swollen, itchy breast that is tender to the touch
The surface of the breast may take on a ridged or pitted appearance, similar to an orange peel (often called peau d'orange)
Heaviness, burning, or aching in one breast
One breast is visibly larger than the other
Inverted nipple (facing inward)
No mass is felt with a breast self-exam
Swollen lymph nodes under the arm and/or above the collarbone
Symptoms unresolved after a course of antibiotics
For more information about the types of breast cancer and other symptoms click here.
Stay tuned to Brandsynario for more news and the latest updates.
Dengue Alert: Increased Risk of Outbreak After Rain and Tips on Protecting Yourself
Source: Cancer Centre