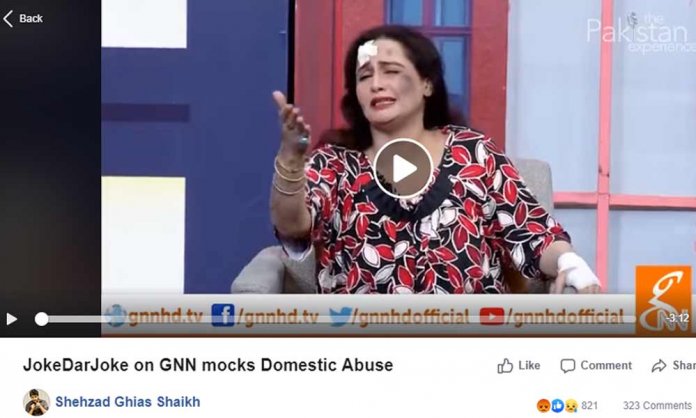 In a society where it already costs an arm and a leg to come out with a #MeToo story and follow up with the case in court, the last thing we need is the media mocking the movement.
Case in point, Meesha Shafi and Ali Zafar's case and now Mohsin Abbas Haider or Shamoon Abbasi and his wife, Fatema Sohail's case.
Complaints have been filed from both sides, but we have no concrete word about who the court is in favour of.
Recently, a video of a news channel making fun of domestic violence is circulating all over social media. The two guests are dressed up as Mohsin and Fatema.
Here is the video of the segment, Joke Dar Joke, in which the hosts and actors together are saying some very problematic things about abuse:
https://www.youtube.com/watch?v=CTuEJ-Ko4xA&list=PLNSD0EXJ-HpIvX4Fcxt68MJ4ObyDtRcB7
For example, here's what one of the show hosts said to the woman:
"You've been calling all the men 'brothers', no wonder you've ended up like this!"
Another thing said by the same host was:
"Express your pain but please don't make that bad face. Express it such that we listen to it with interest."

Moving on, a problematic comment made by the female host was on "being liberal". 
"If your husband is in the media, you should be liberal enough to understand that your husband will mingle with female colleagues and costars."
Popular comedian and writer, Shehzad Ghias took to his social media accounts to strongly condemn the content shown in the segment.
Here is what he said:
I generally dislike shows on the Mazak Raat format for their hateful nature of comedy but Joke Dar Joke on GNN tonight went the disgusting route of mocking domestic abuse so flippantly.

The man with the beard is particularly vile. HOW WAS THIS ALLOWED TO AIR? HOW IS THIS FUNNY?

Remind me again how political correctness in comedy has gone too far? This is your mainstream comedy!
To make it worse, the main show host, Hina Niazi, continued to defend the show by arguing that the show was meant to advocate women's rights:
"I kept talking about women rights in this segment"
But Shehzad would not have it.
Shocked to see the host of GNNs joke dar joke defending her show last night making fun of domestic abuse pic.twitter.com/EPZGkzIvJP

— Shehzad Ghias Shaikh (@Shehzad89) July 27, 2019
And neither would the rest of social media.
Sick to my stomach right now! Is this COMEDY? Did GNN really think it was funny to make an entire show mocking domestic abuse? @GNNHD_official why don't you put it down and go back to your bakery business? https://t.co/ojB5x2nhEv#MohsinAbbasHaidar #GNN pic.twitter.com/P1n2cJsiaM

— ✨ (@IzahShahid) July 27, 2019
This is disgusting. GNN is mocking domestic abuse. Media has gone out of control. pic.twitter.com/zcrk9bb9ZO

— Ali Raza (@AliRazaTweets) July 27, 2019
Many are even insisting that a complaint on PEMRA be filed.
Please file a complaint to PEMRA about this show. The court should take notice of it. @ShireenMazari1

— jeeneyDo (@do_jeeney) July 27, 2019
Do you think it is appropriate for a channel to broadcast content like this for the public to see? Especially when victims of abuse need our support now more than ever?
Ukhano Sends Legal Notice to Girl Who Accused Him for Harassment!
Let us know in the comments.
Stay tuned to Brndsynario for more updates and news.