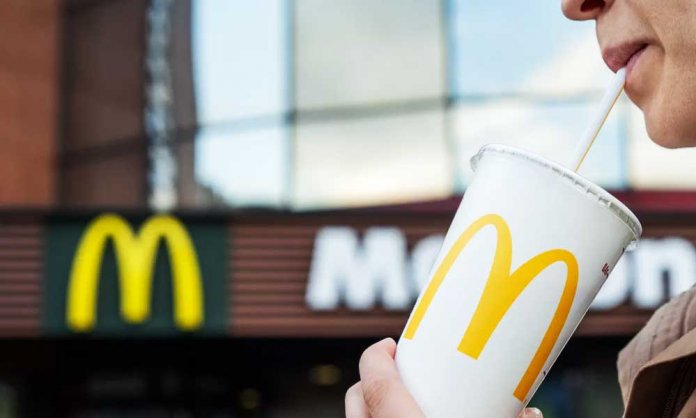 McDonald's replaced their plastic straws last year by introducing paper straws to all 1,361 McDonald's restaurants in the United Kingdom and Ireland after a trial period.
However, the fast-food giant has now reportedly verified that its new paper straws that pledged to "protect the environment," cannot be recycled.
"While the materials are recyclable, their current thickness makes it difficult for them to be processed by our waste solution providers, who also help us recycle our paper cups," acknowledged a McDonald's spokesman to UK's Press Association news agency.
Since customers were unhappy with the new straws as they would dissolve before a drink could be finished, McDonald's strengthened their paper straws.
A consumer had tweeted:
With the paper straws they are fine for Coke but the other day I had a milkshake and I struggled so so much that I ended up getting one of my own plastic straws at home.
Ah didums! "With paper straws they are fine for coke but the other day I had a milkshake and I struggled so so much that I ended up getting one of my own plastic straws at home." This is an actual quote! What about the rest of the packaging Mcdonalds creates? #plasticpollution https://t.co/LC4JKZamnj

— Helen Croydon (@helen_croydon) April 24, 2019
Another questioned what clown comes up with ideas like these…
Funny how @McDonalds want to go "Greener" having introduced their new Paper Straws. Tricky thing is, the plastic straws were actually deemed "recyclable" (also were nicer!), and they haven't found a proper way of disposing these new straws. What clown comes up with this?!

— Lee Toland (@LeeToland1) August 5, 2019
Some felt like they were sucking newspaper!
They're horrible. Makes my mouth so dry lol, it's like sucking through newspaper, which I guess it is.

— paul jones (@pauljon25760128) August 5, 2019
Consumers also pointed out that straws are not even a necessity.
Why does anyone over 5 need a #straw? Grow up, it's 2019. #Mcdonalds pic.twitter.com/UVEbcvNR9Z

— Just Leave EU (@JustLEAVEeu) August 5, 2019
A petition calling on the food chain to bring back their old straws has also been signed by many and the firm has admitted that its plastic straws were "100 percent recyclable".
Earlier, two British girls, 9-year-old Ella, and 7-year-old Caitlin had launched a petition on Change.org against McDonald's and Burger King challenging the fast-food chains to stop giving out plastic toys with their kid's meals because they're a threat to the environment too.
What are your thoughts regarding the matter? Comment below and let us know.
Stay tuned to Brandsynario for more news and updates.
McDonald's & Burger King are Upsetting Children & You Won't Believe How!