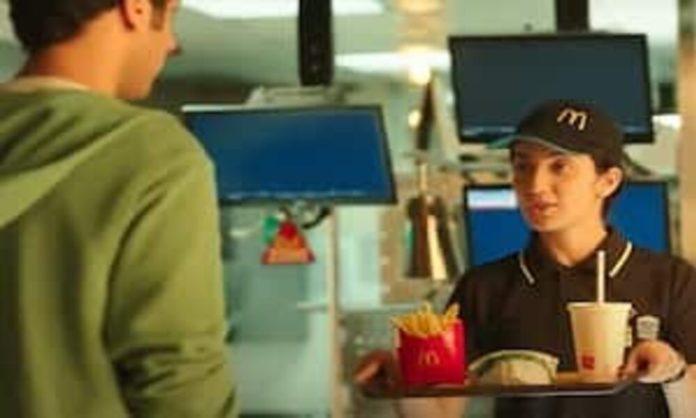 Zomato and McDonald's commercials have drawn criticism for appearing to normalise undesirable behaviour and broaching touchy subjects like flirting on work places.
McDonald's Latest Ad Showcases Flirting 
Internet users have condemned McDonald's most recent advertising campaign, which depicts a romance between a male customer and a female employee, for encouraging the "wrong precedent" of customers hitting on employees.
In the most recent McDonald's advertisement, a man is seen visiting the restaurant and buying a meal. He was served by a female employee of McDonald's, and the two of them exchanged looks. The advertisement depicts the two of them developing a romance. The young lad returns to the queue after finishing his order a little while later so that he can approach the girl once more.
What is this. What kind of people approved this campaign 😵‍💫 pic.twitter.com/7ZaoitYlDx

— Chirag Barjatya (@chiragbarjatyaa) June 7, 2023
Read More: Coca-Cola Releases Its First-Ever AI Generated Ad
Sharing the ad on Twitter, McDonald's shared the advertisement along with a statement.
"Sometimes, the greatest love stories start with the tiniest things – a glance, a smile, a meal. Watch this unusual date and find out how a meal can give you #MoreForLess at just Rs.179! Visit a McDonald's near you and get McVeggie Meals @ Rs.179," the company wrote on Twitter.
Netizens Reacts To The Advertisement 
Online response generated by a recent advertisement by McDonald's India, showed users accusing the company of objectifying female employees and encouraging workplace harassment.
According to netizens, the ad normalises "creepy" behaviour and creates a narrative that men can hit on women even in a professional setting.
Here are some of the reactions from the twitter thread below.
This is outrageous and disgusting beyond words
1. You are inviting your customers to hit on your employees
2. Creating potentially unsafe workplace for your female employees
3. Objectifying your female staff for profit by suggesting your customers can flirt and find a date here

— akshay sethi (@akshay_sethii) June 7, 2023
McDonalds should take down this ad.
The message is very demeaning to women in the service industry who , as we already know, face harassment at many places already.
They are sending a very wrong message. https://t.co/SASaHAHGvM

— Saraswati Films (@mmpandit) June 8, 2023
Disgusting and against dignity of labour. Womenfolk who work in customer service roles already face such harassment

— Dr. Divya Sharma (@divya_sharmaMD) June 8, 2023
Literally inviting sexual harassment by customers. It's not like you are a ₹5k for a daal restaurant where people will be classy enough to behave and waitresses will actually want to sleep with them. Imagine pajeet unkils watching this https://t.co/vPv3uC7vZl

— Schope (@LoyalistLelouch) June 7, 2023
Read More: Coca-Cola Introduces New 'League of Legends' Flavor
Stay tuned to Brandsynario for the latest news and updates.