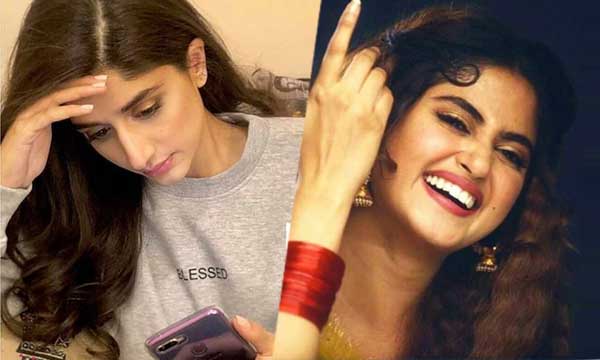 Mawra Hocane and Sajal Aly are currently sharing the screen for the first time in a super-hit period drama 'Aangan' and people are absolutely in love with their unique avatars.
Recently, Mawra Hocane appeared in an interview with publication 'Something Haute' where she talked about her character in the drama and said that she was first offered a different role in the drama.
She said:
Aangan was offered to me when the director Ehtesham was doing Udaari. I had heard great things about him and always wanted to work with him. However, I was offered a different role at that time. I was never 'Aaliya' for Aangan.
Her interview went viral and another local online publication predicted that Mawra Hocane was referring to the character of 'Chammi' which is now being played by Sajal Aly.
Their prediction created an uproar on social media and people couldn't stop talking about it. Consequently, a rivalry between Sajal and Mawra began on the internet, with haters bashing Hocane for allegedly demeaning her Aangan co-star.
However, the Sanam Teri Kasam starlet recently stepped forward to clear the air of rumors and declared her statement was sensationalized.
She commented on their post:
I never said any of this. Stop pitting actresses against each other. It's unfair & such news garner so much hate for all of us!
However, the publication responded: 
You either don't talk about such things or the media will report," before questioning who the actress could have been talking about other than Chammi.
Mawra Hocane is one of the actresses who always raises her voice wrong-doings and this time she stood up when the internet tried to create a rivalry between her and Sajal Aly.
Jemima Responds to Fan's Annoying Question About PM Imran Khan
What are your thoughts about the story? Let us know in the comments section below.
Originally published on Veryfilmi.com