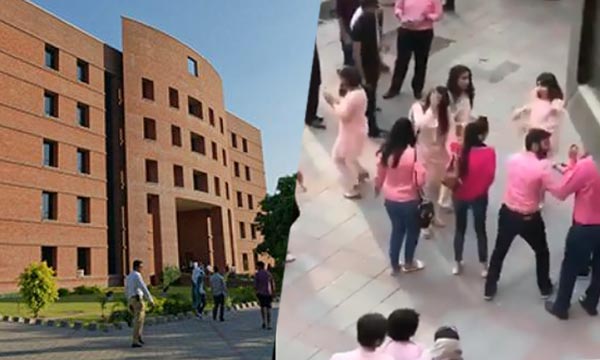 Students of Lahore University of Management Sciences (LUMS) have found themselves in the eye of a social media storm after an inside video went viral on the internet.
The 10-sec clip showcases LUMs students donned in pink and grooving to a tune inside the university's premises.
All hell broke loose on social media after the video made its way on the internet.
Leading Lahore University Imposes New Dress Code for Students
It all started when a senior columnist and commentator Irshad Bhatti shared it on Twitter and condemned it by claiming" 'yeh hai LUMS university ka haal'
یہ LUMS یونیورسٹی کا حال ہے pic.twitter.com/cgP8nu7zr2

— Irshad Bhatti (@lrshadBhatti336) May 25, 2019
Komal Aziz Got Supsended from IBA & The Reason Will Surprise You!
Apparently, the students were celebrating 'Pink Day' in the university and were dressed as per the theme of the event.
The video has ignited a fiery debate and consequently, #LUMS started trending on Twitter.
Throw these shits out of this institution or ban #LUMS which produce nothing but garbage pic.twitter.com/OoEgbk6bp2

— Dr Emaan Khan (@i_EmaanPTI) May 27, 2019
Keyboard warriors were quick to protest against LUMS students dancing during the holy month of Ramadan.
After watching this vid, i jst wanna show uh ✋✋✋👐👐👋
F..k #LUMS

What's the hell is this???
Is this the University of Islamic state?????😡😡😡😡 pic.twitter.com/jwrc2EovMU

— Dr Aeiman Ali😊😇 (@aeiman_ali) May 27, 2019
Idk why people are defending and countering it with rape cases and other criminal activities.
We should all condemn this dancing or whatever in the Holy month of Ramadan
You can't just say it's alright looking at other impurities in the environment…. pic.twitter.com/SG2WmXEv6T

— SHEIKH HANAN🇵🇰 (mangloo's🎂 june 20) (@narcissist_says) May 27, 2019
The rest defended LUMS and claimed that the clip was harmless.
You can't justify the dancing, not in ramazan. No matter how liberal/secular you are. #LUMS

— Asfar Tariq (@Asfar1_) May 27, 2019
The only problem with the LUMS video going viral is how bad their dance moves are!

— Shehzad Ghias Shaikh (@Shehzad89) May 27, 2019
The video of #LUMS students dancing, which has started trending on social media is a typical example of what we call moral panic. The country is literally burning, and some fools are worried about a few kids having a bit of harmless fun. 🙄

— Nida Kirmani (@NidaKirmani) May 27, 2019
Many highlighted that there are far worse problems that social media should be worrying about.
There are actual problems in Pakistan. You know: poverty, illiteracy, severely imbalanced civil-military relations, circular debt. I could go on but the point is just to simply say: what kind of people exist here that thought students dancing at LUMS was actually a "problem"?

— ایمان زینب (@ImaanZHazir) May 28, 2019
Is there a law which says not to dance? There's definitely one against stalking and sharing someone's images online without their consent.

Looks like LUMS is surviving and keeping its freedoms even through the onslaught of continuous moral policing, intolerance and misogyny. https://t.co/Tu3dhdV6mB

— Dawar Hameed Butt (@thelahorewala) May 27, 2019
Those who are trending #LUMS and talking about the dance video and associating it with Ramadan. Well I would just say one thing. In this Ramadan let people live their lives and let Allah only judge people. Stop being Gods 🙏

— Dumbledore Army (@okemname) May 27, 2019
Last month, LUMS came under fire after a 'sexist' Facebook group of LUMS male students and alumni got exposed.
It was reported that the group circulated 'misogynistic' content and prompted its students to protest in front of the Office of the Student Affairs at the University, to take action against the group and students involved.
Later LUMS released a statement to ensure that it promotes" mutual respect' and will "sensitize the community at large on gender issues".
What do you have to to say about the LUMS video going viral? Let us know in the comments below.