There is a new Skittles flavour in town and we can bet you, you will pinch yourself after tasting it. It's this sour! Skittles has been one of the most popular candies amongst children to date hence, its new flavour is also bound to become a hot favourite soon. Let's find out what it's worth!
The All Lime Skittles
Truth be told, Pakistan severely lacks in having any kind of sour – and we mean sour – candy. The situation is so intense that we have to purchase packs of red skittles to pick out the green ones from it! Those were the good old Green Lime skittles. If you loved the green ones before, you're in for a treat.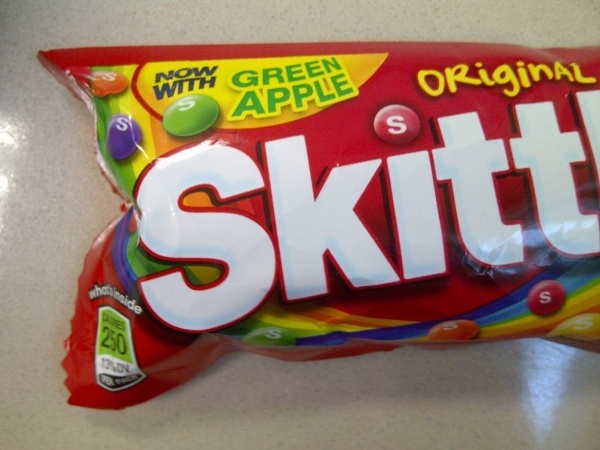 Skittles launched this new flavour 'Green Apple' a while ago. First, they rolled it out as part of Skittles originals in which they replaced lime with this. Fans were severely unhappy and wanted their Lime ones back.
Read more: You Need To Try This New Knorr Noodles Flavour Right Now!
What's The Flavour Like?
Hi everyone, seeing a lot of rumors on the timelines… Wanted to hop on to let you all know we don't hate Green Apple SKITTLES. pic.twitter.com/SUyJsgYxuQ

— SKITTLES (@Skittles) August 27, 2021
Many candy enthusiasts have noted that the Green Apple is a fine skittle specimen. It is made from actual green apple juice and has an added Jolly Rancher flavor to it too. Skittles made a funny tweet from their own page to say they don't hate Green Apple. However, the ironic thing is that All Lime packet is saying that! The packet people love a lot.
Skittles has been rather conventional in their flavours since the beginning. The usual strawberry, blueberry etc. were the highlight of our childhood but pretty conventional. However, nothing beats All Lime Skittles and even Skittles agrees.
The Internet Is Divided
Read more: Mountain Dew's Flamin' Hot Flavour Has The Internet Divided
However, not all experiments can pass with flying colours, at least not on Twitter. Netizens on Twitter and Skittles lovers are divided over it. The fandom is experiencing tectonic activity at the moment. Some are loving the All Lime by Skittles while others are not so impressed. Here are some of the tweets that will show you how hard it is to reach a consensus on Skittles:
Still waiting to get my hands on an all lime pack of skittles 😔

— Leighton_Rocheleau543 (@leighton_458) August 27, 2021
ya'll got lime skittles though, and I NEED THEM!!!!

— bring back lime (@Hs_foreverrr) August 27, 2021
i hate green apple skittles

— ً (@dickgayson_) August 27, 2021
i like green apple skittles

— Jug (@juginstin) August 28, 2021
they're hands down, the worst skittles, it's hard to pick a worst tho.

— hatch but as drained as a sink (@GiveMeHatchh) August 27, 2021
yeah cuz they are the best ones

— ash ♡'s jan (@iLuvBennet) August 27, 2021
Would You Try It?
Skittles is not available in Pakistan in abundance now as it used to. You find some stacked in the corner of only high-end grocery shops. Even there, they cost a kidney – in relative terms – to have one small packet. But after all the heart wants what it wants. If this All Lime comes to Pakistan, would you try it?
Stay tuned to Brandsynario for the latest news and updates.