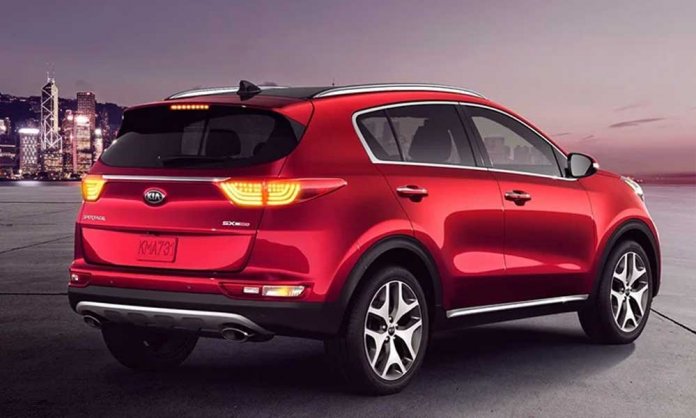 April 17th, 2020: KIA Motors is all set to officially launch its 2020 edition of the Sportage SUV.
Reportedly,  KIA has officially begun its operations within Pakistan, and owners have the option of getting some additional features installed from KIA service centers.
Earlier, KIA Lucky Motors had officially unveiled and launched the highly anticipated KIA Sportage sport utility vehicle (SUV) with a 2,000cc engine.
Cars in Pakistan have engines starting from 600cc going up to 2,700cc. KIA Lucky Motors CEO Asif Rizvi, while speaking at the press conference shared:
THE FWD MODEL OF SPORTAGE COMES WITH A PRICE TAG OF RS4.59 MILLION AND AWD MODEL IS PRICED AT RS4.99 MILLION.
He added:
WE ARE THANKFUL TO THE GOVERNMENT THAT IT INTRODUCED A LENIENT AUTO POLICY FOR NEW ENTRANTS. CUSTOMERS WILL NOW BE ABLE TO SELECT FROM A WIDE RANGE OF VEHICLES.

GONE ARE THE DAYS WHEN CUSTOMERS USED TO VISIT THE MARKET AND ONLY FOUND LIMITED OPTIONS WITH A DELAY OF SIX MONTHS AFTER BOOKING.
KIA Lucky Motors has established an automotive manufacturing plant in Pakistan with a capacity of producing 50,000 units per annum with an investment of $175 million.
Not only did KIA bring investment into Pakistan, but also brought employment opportunities and a chance to give revenue to the government in the form of taxes.
BY IMPOSING TAXES SUCH AS 5% FEDERAL EXCISE DUTY (FED), IF THE GOVERNMENT LOSES ONE CUSTOMER, IT ALSO LOSES REVENUE EQUAL TO 38% OF THE COST OF A CAR.

SO, THE BEST PRACTICE FOR GOVERNMENTS AROUND THE WORLD IS TO EARN LESS ON A MASSIVE SCALE INSTEAD OF EARNING MORE ON THE SALE OF FEWER CARS.
Despite all hurdles, the automotive market in Pakistan has expanded in the last 5 years.  KIA hopes to expand production to 500,000 cars by 2025.
---
---
---
June 30th, 2019: Kia Lucky Motors Pakistan Limited (KLM) has successfully completed the commissioning of equipment and pilot production and recently commenced CKD (Completely Knocked Down) operations at its plant located at Port Qasim, Karachi.
KLM is one of the eight new entrants into the Pakistan automobile industry.
KLM is a joint venture between the Lucky Group and South Korea's Kia Motors. According to the details, the total project cost of the company amounts to Rs. 19.5 billion.
KLM has the potential to produce 50,000 vehicles per annum on a double shift basis.
"The booking of 'Sportage' an SUV being KLM's first model will start from 30th June 2019 and delivery thereof will start from the first week of August 2019," the notification said.
The notification also stated that the company would start the booking of Kia Picanto in August and the delivery would commence from October 2019.
"The booking of 'PICANTO' hatchback being KLM's second model is expected to start in August 2019 and delivery thereof from October 2019."
Kia Lucky Motors Pakistan Ltd had applied for Greenfield status on March 13, 2017, which was awarded on June 19, 2017. The planned investment in the project is $ 190 million.
Lucky's script at the bourse closed at Rs. 380.47, up by 7.30 or +1.96% with a turnover of 606,500 shares on Friday.
Stay tuned to Brandsynario for more news and updates.