Karachi Development Authority (KDA) has launched a full-fledged operation to retrieve the encroached lands worth billions of rupees as per the order of the Supreme Court.
Sixteen plots, seven marriage halls and an under-construction residential project have been demolished using heavy machinery.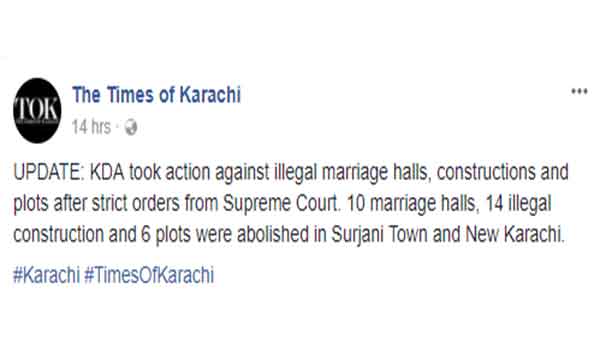 The stalls of the famous Doraji Gola-Ganda were also abolished after a notice was issued by the court.
Yesterday, many marriage halls were brought down by the concerned authorities under the banner of illegal projects.
Some of the demolished marriage halls include:
Galaxy Hall
Hamza Hall
MashaAllah Banquet A and B
After reclaiming the lands in North Karachi and Surjani Town, KDA will start its operations in FB Area, North Nazimabad, Korangi, and Gulistan-e-Johar. In Surjani Town, a residential project with many newly constructed flats was bulldozed.
While talking to Express News, KDA Director-General, Sami Siddiqui, said the operation is being conducted across the city.
"We will get the illegally occupied land evacuated as much as possible.''
According to sources, these illegally captured lands by the land mafia worth Rs. 50 billion and cover approximately 7000 acres, which includes amenity plots, marriage halls, food spots, playgrounds and parks.
Have anything to add to the story? Let us know in the comments below.