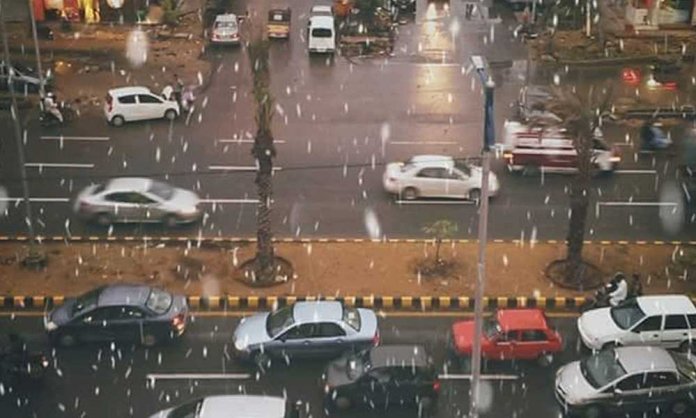 August 5th, 2019: The second spell of monsoon rains is about to hit Karachi from 8th August – 11th August according to the SAG Weather Alert.
Once again, the citizens of the metropolis have been asked to be prepared as severe rain shower is expected to pour down.
According to the notification, the rain has been declared as dangerous and the weather is expected to remain 'very warm' during mid-week as sea breeze is expected to come to a halt.
A thunderstorm is expected which can potentially lead to severe floodings across the city. According to the alert, this spell will be more intense than the previous rainfall that had taken over the City of Lights.
Karachiites are advised to prepare accordingly. Keep a stock of food and other possible supplies that might be needed.
Do NOT go out in the rain unless it becomes a do or die situation for your own safety.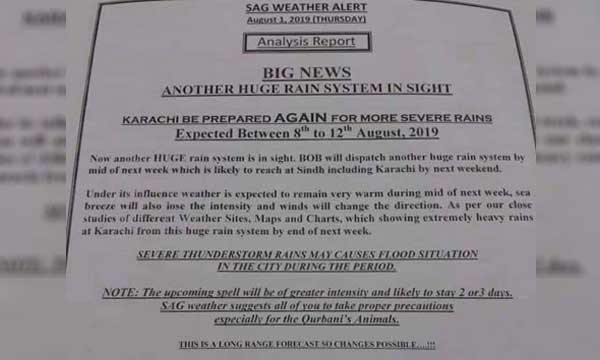 ---
July 25th, 2019: According to AccuWeather, the weather in Karachi is expected to get increasingly windy with blowing widespread dust today and thunderstorms are expected in spots tomorrow.
While according to Pakistan Meteorological Department, Strong monsoon currents from Arabian Sea and Bay of Bengal are penetrating upper parts of the country and likely to spread central and southern parts from Thursday to Saturday.
Pakistani Activist Gets Selected for Switzerland's Film Festival!
As a result of which, citizens of Pakistan are likely to get some relief from the blazing heat as the weekend begins!
The monsoon will attain its active phase from coming weekend, pushing strong monsoon currents towards Pakistan through monsoon trough/low.
Chances of rainfall are between July 25th to July 26th.
Weather Forecast for Thursday (today) – Widespread rains/wind-thunderstorm (isolated heavy to very heavy falls):
The weather is expected to be rainy and windy in the following areas:
Rawalpindi, Sargodha, Gujranwala, Lahore, Faisalabad, Hazara, Malakand, Peshawar, Kohat, Bannu, Mardan divisions, Islamabad and Kashmir.
Scattered rains/wind-thunderstorm (isolated moderate to heavy falls) are expected in D.I Khan, Zhob, Kalat, Sibbi, Naseerabad, D.G Khan, Multan, Sahiwal, Bahawalpur divisions and Gilgit Baltistan during the period.
Heavy to very heavy fall is also expected in Rawalpindi, Gujranwala, Lahore divisions and Islamabad during night.
"These Mangoes Can Cause Cancer" says Punjab Food Authority and Bans Them
Are you all set to enjoy the rainy weather in Karachi?
Let us know in the comments!
Stay tuned to Brandsynario for more updates and news.