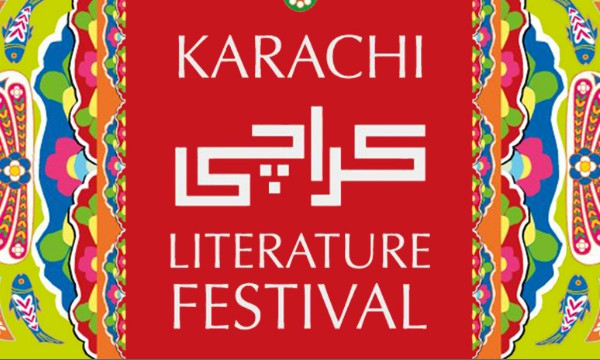 The 7th session of Karachi Literature Festival finally concluded with over 90 interactive sessions, panel discussions and great art activities attended by around 125,000 people.
Organized by Oxford University Press of Pakistan, the event served as a great platform to promote literary culture in the country. Featuring prominent writers, artists, journalists and entertainment personalities, the event gained a lot of attention due to its unique concept.
Although the absence of Indian bigwigs like Anupum Kher and Nandita Das disappointed the attendees, but there was a lot more for them to quench their literary thirst in the festival.
Read on to know why we loved attending Karachi Literature Festival 2016:
Meeting the Oscar winner: Sharmeen Obaid Chinoy
We hardly get a chance to meet with our real life idols – and KLF 2016 served as one such platform for me. I got a chance to meet the extremely talented Sharmeen Obaid Chinoy during the festival. The main garden of the Beach Luxury Hotel was fully crowded with no space to sit at all – the reason was, of course, the presence of great Sharmeen Obaid Chinoy. In an exclusive rendezvous with Omayr Aziz Saiyid, the Oscar winner shared her journey to stardom and it was mesmerizing to see the clippings from her heart-touching internationally acclaimed documentaries.
She also made a big announcement about her next project during the festival. She told the crowd that Meryl Streep would record a song to the music of Faiz Ahmed Faiz in her Sachal Studios.
Screening of Sarmad Khoosat's classic film Manto
Sarmad Khoosat's directorial debut film Manto was also screened during the festival. Based on the life of great writer Saadat Hasan Manto, the film was a visual treat for his fans. After the successful screening, the film cast and crew humbly answered the audience's queries.
https://www.instagram.com/p/BBakMEPx7wa/?tagged=sarmadkhoosat
Zoe Viccaji and Vidya Shah's Performances won the crowd
Renowned Indian singer Vidya Shah came all the way from Delhi to be a part of KLF2016. Day 1 came to an end with her wonderful performance mesmerizing the audience. Shah's performance was a tribute to great singers who got a privileged to record their songs using the gramophone including Gauhar Jaan, Zohra Bai Agrawali, Sarisviti Devi and Begum Akhtar. Vidya Shah, other than singing famous thumris and ghazals, also gave the audience a little brief about the singing legends of subcontinent.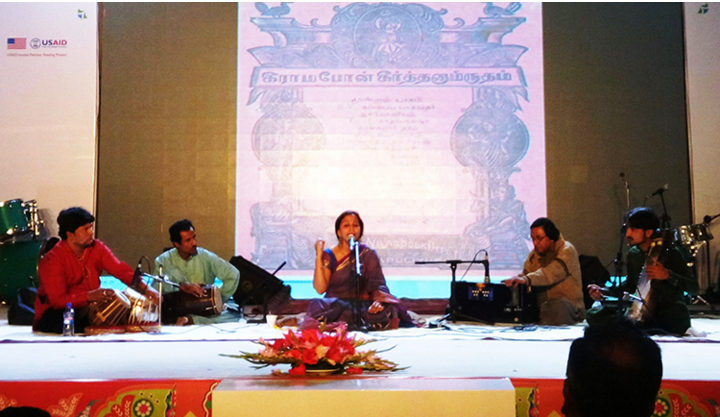 Joining Vidya Shah on the stage was our very own Coke Studio singer Zoe Viccaji. Besides performing on her famous singles, she also sang her new song 'Ashiqi Angar' with Gilgit-based singer Irfan.
Celeb spotting
A lot of popular stars made their way to the three days long happening Karachi Literature Festival. While some were there as session moderators and panelists, a lot of them came with a sheer passion for good reading. Sarwat Gillani, Fahad Mirza and Adnan Jaffar were among those celebrities.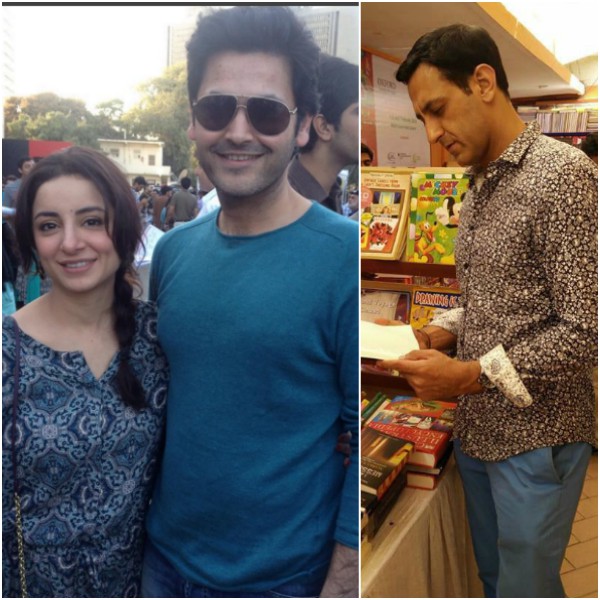 Ace photographer Tapu Javeri was spotted with current affairs program host Omar Khalid Butt.
Film actor Ali Safina was also among the KLF attendees.
#alisafina moderating a talk on #ismailkaurdusheher #KhiLF @AliSafinas @brandsynario pic.twitter.com/WoOZyBcBxy

— Farhat K Mehboob (@FarhatKMehboob) February 7, 2016
Comedy at its best
World's 2nd best comedian Saad Haroon took the center stage on the last day of literature festival to amuse the audience with hilarious but very witty jokes.
Effective brand activations
As usual, the popular brands came out to support the literature festival  – Lay's Plant A Pack activity gained wide attention where people dropped by to play their part to make Pakistan clean and green.
Some interesting brand activity at the lit festival #KhiLF @brandsynario @LaysPakistan @liptonpakistan @LifebuoyPk pic.twitter.com/pIweGo6eFL

— Farhat K Mehboob (@FarhatKMehboob) February 7, 2016
Lipton's Reading Lounge was an excellent plane to enjoy your favorite book with a refreshing cup of Lipton tea.They also had an interesting corner where people were asked to write memorable quotes on the press wall to rekindle the love for literature.
Art Display
Other than promoting the literary culture in Pakistan, the festival served as a great platform to display great artwork. At the entrance, a session was dedicated to little art lovers where they were trained by Indus Valley of School of Arts students in the art of painting.
The beautiful artwork with roti on the wall curated by Canvas Art Galley also grabbed everyone's attention.
Some creative art works displayed at the 7 th Karachi Lit Festival #KhiLF @brandsynario pic.twitter.com/HTI7VLTUPN

— Farhat K Mehboob (@FarhatKMehboob) February 7, 2016
Art Now soothing lounge was also a great place after a tiring session.
The @ArtnowPakistan lounge at #klf2016 is serene n soothing, just what I need after a frustrating panel. Heh #khilf pic.twitter.com/SSVPd0gagH

— Hamna Zubair (@hamnazubair) February 5, 2016
Imran Qureshi's live paintings session was also a sheer delight to attend. Those beautiful art creations were sold off right away in the festival.
Live painting by Imran Qureshi happening now! #KLF2016 (will be sold in silent auction. Proceeds to go to charity) pic.twitter.com/CfWfC4d71r

— ArtNow Pakistan (@ArtnowPakistan) February 7, 2016
UBL Literary Excellence Awards
The highly anticipated UBL Literary Excellence Awards Ceremony was also held on the sidelines of the literature festival. Initiated in 2010, the awards aimed to encourage a literary culture in Pakistan by appreciating the efforts of writers and poets.
Among the three short-listed Urdu fictions, Muhammad Aasim Butt's 'Na Tamam' was declared winner; Imdad Hussaini's 'Dhoop Kiran' clinched Urdu (Poetry) award; Aslam Farrukhi's 'Bazm-e-Raunaq-e-Jehan' got the award for Urdu (Non-fiction) writing; Huma Anwar's 'Surkh Mera Naam' was adjudged as the best book in the category of Urdu (Translation); Najma Parveen's 'Sunehri Kahaniyan' and Akhtar Abbas' 'Dragon Ki Wapsi' shared the Urdu (Children's literature) award, while Hamida Khuhro's book titled 'A children's history of Balochistan' got English (Children's literature) award.
The respectable jury of the awards included Ghazi Salahuddin, Asif Farrukhi, Kishwar Naheed, Asghar Nadeem Syed, Arfa Saeda Zahra, and Framji Minwalla.