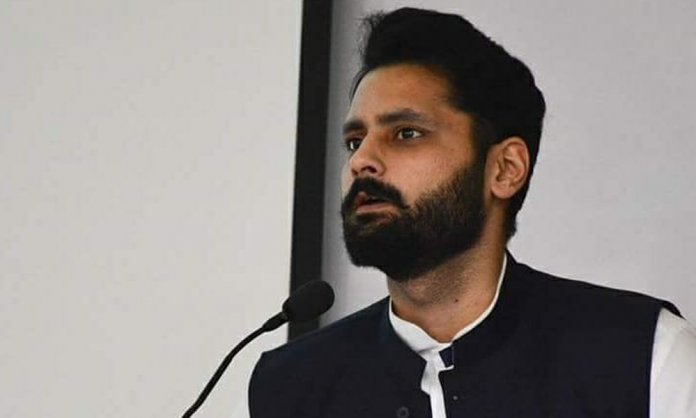 Founded in 2016 by a group of visual art professionals and educators, Karachi Bienalle Trust(KBT)  a not-for-profit platform to promote creativity, innovation and criticality in the visual arts in the metropolis
It works closely with a network of local and international cultural, educational and philanthropic organizations. A flahsgip project of the KBT, Karachi Biennale (KB) has been designed to use art as a vehicle to discover, discuss and respond to Karachi.
Having made its debut in 2017 – highlighting 'Witness' as a theme – Karachi Biennale has returned this year with the theme, 'Ecology'.
One of the installations that garnered a lot of social media attention was Killing Fields of Karachi' for being shut down forcibly on Sunday by alleged LEAs.
The display was by female artist Adeela Suleman, and it mourned the 444 killings done by Rao Anwer, former SSP Malir.
More power to the artist, more power to Art! #adeelasuleman's poignant installation and video, 'Killing Fields of Karachi' upsets the authorities and they sealed the lower hall. Glad to have watched the video this morning before the place was raided. Do we live in a democracy? pic.twitter.com/uzJxmavKzb

— Rumana Husain (@husain_rumana) October 27, 2019
The lower hall of the building, where part of the exhibit was displayed, has reportedly been sealed as confirmed by the artist herself.
Social Activist and Lawyer, Jibran Nasir has never been afraid of speaking up for justice. Hence he held a press conference alongside other members of civil society to discuss why the display was taken down.
"YOU ALL MUST HAVE SEEN PILLARS INSTALLED HERE WHICH SYMBOLISE KARACHI'S BLOODY HISTORY — THE 444 MURDERS WHICH WERE COMMITTED BETWEEN 2011 AND 2018 BY RAO ANWAR. THIS IS NOT A MATTER OF DISPUTE. THIS IS A FACT WHICH IS PART OF POLICE RECORD,"

"THERE ARE GRAVES HERE MARKING THE DEATHS AND THERE WAS A VIDEO PROJECTION WHICH CONTAINED VISUALS OF NAQEEBULLAH'S FATHER, AND VISUALS OF THE PLACE WHERE NAQEEBULLAH AND THREE OTHERS WERE MURDERED.

"AT 11 IN THE MORNING, SOME PEOPLE CAME HERE WHO INTRODUCED THEMSELVES AS BELONGING TO SENSITIVE ORGANISATIONS AND THEY SAID THIS ROOM SHOULD BE CLOSED AND PUT UNDER A LOCK, OTHERWISE ALL THE MATERIALS, LAPTOPS, PROJECTORS, PAINTINGS, WILL BE DESTROYED."
Suleman is an associate professor and head of the Fine Art Department at Indus Valley School of Art and Architecture.
She said that two persons in a civilian dress appeared at around 10am and "pressurised" the administration of the Frere Hall to stop the exhibition, otherwise, they would forcibly stop it.
Hina Munawar becomes first-ever woman Commanding Officer in 106 years history of FC
Addressing the press conference, to speak about her exhibit's closure, she said:
"MY AIM WAS JUST TO TELL A STORY. I WAS, IN FACT, REPEATING AN EVENT WHICH TOOK PLACE A YEAR EARLIER."

"IT [THE DISPLAY] CONTAINED NO SUCH THING WHICH WAS NOT ALREADY PART OF GENERAL PUBLIC KNOWLEDGE," SHE SAID, VISIBLY UPSET.

"IF ARTISTS CAN NOT EXPRESS THEMSELVES IN THEIR OWN WAY, THEN I REALLY CAN'T SAY HOW WE WILL EVER HAVE ANY CREATION OF ART AND WHO WE WILL HAVE TO TAKE PERMISSION FROM."
Here's what DIG South Sharjeel Kharal told Dawn:
"WE HAVE NOT RECEIVED ANY COMPLAINT FROM ARTIST OR ORGANISERS FORMALLY OR INFORMALLY ABOUT [THE MATTER]."

"THIS THING HAS BEEN BROUGHT TO OUR NOTICE AND WE ARE LOOKING INTO IT," ADDED THE CHIEF OF THE SOUTH ZONE POLICE.
What was worse, Jibran's press conference was interrupted and Jibran was physically attacked during his address.
The unknown men threw away mics of media and tried to censor them.
A video snippet from the press conference shows Nasir being interrupted by a man who later introduced himself as DG (director general) Parks.
Nasir, however, refused to budge as expected from a man like him.
Now, social media is not only furious at the removal of the art display but also at the way Jibran was attacked.
Many fans, followers, and influential personalities have began protesting it on social media with the aim to fail the LEA's attempts at silencing the artist and the activist.
here's a glimpse of adeela suleman's installation at the karachi biennial that's being censored by the powers that be.

share it as wide as you can. if you have videos and images of it, link them in the replies.

won't let art become another victim of rao anwar.#HandsOffOurArt pic.twitter.com/rZ5SBEc00C

— Faizan. (@thoraoffbeat) October 27, 2019
Adeela Suleman's installation The Killing Fields of Karachi unacceptable to the authorities. This is the true interface of art and society. Luckily saw the film and sculptural work, constructed gravestones and wilting flowers in copper / steel (?) . Most compelling work at KB19 pic.twitter.com/UktaYnQ1MA

— amra ali art critic (@amraalikhi) October 27, 2019
Today I once again feel proud to have been his supporter, election campaigner and polling agent! Jibran Nasir – the name of courage, bravery and hope in this fascist era! This is how the State publicly protects the killer #RaoAnwar and then expects people to stay loyal. https://t.co/rLaU8lpAMJ

— Ahsen Jamali احسن جمالی (@AhsenJamali) October 27, 2019
What are your thoughts? Let us know in the comments.
Stay tuned to Brandsynario for ore news and updates.