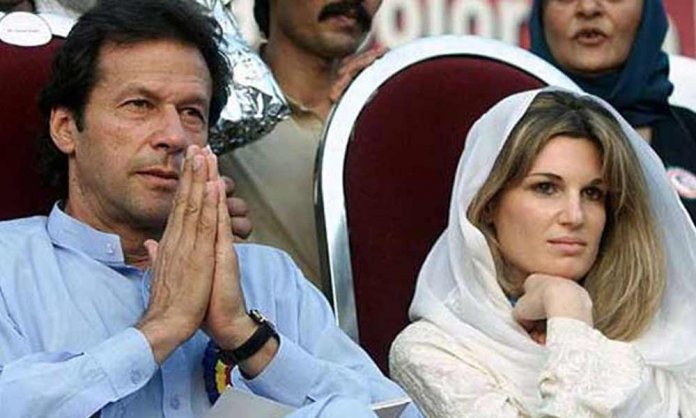 Prime Minister Imran Khan's former wife, Jemima Khan will forever rule over the hearts of Pakistanis.
Her love for our homeland and deep affection for its natives has made the British heiress a fan-favorite. What's more, she has been an ardent supporter of Khan even after the couple parted ways in 2004.
The couple has two sons from their marriage, Sulaiman, 22, and Qasim, 20.
Recently, in an exclusive interview to The Times, Jemima revealed a lot about her life in Pakistan as Khan's wife and her latest TV documentary, The Case Against Adnan Syed.
Expressing her dislike over being called 'socialite', she revealed how she has been working her whole life and raised her children while in Pakistan.
For a start, apart from the two years when my children were very young and I was living in Lahore with my husband's extended family, I've worked my entire life.

And let me tell you, those years I was bringing up my children in Pakistan, there were not many parties. In fact, I'd go so far as to say there were none
While she is still Jemima 'Khan' to the world, she also talked about the possibility of officially changing her name back to 'Goldsmith'. 
I keep meaning to change back my name. But neither name really is about who I am anymore. Maybe I should change it by deed poll to Jemima Neither?"
What's more, she also spilled the beans of being falsely charged by the government of Nawaz Sharif in 1999.
I was 24, pregnant with my second child and the offense they'd charged me with was non-bailable, meaning if they threw me in jail, I wouldn't get out until there was a trial, and nothing ever goes to trial in Pakistan.

Everyone told me, they will leave you in jail for as long as it takes to get Imran to pipe the hell down, so I just got on a plane and left.
She also added she was the 'Achilles' heel' for political opponents to get to Imran Khan
 I was the younger woman and I was a very effective way to get at Imran
Jemima Responds to Fan's Annoying Question About PM Imran Khan
Jemima also revealed why she shuns away from uploading pictures of her son on Instagram.
Well, it's not fair, is it? Having chosen not to be on social media, unlike their mother, they've always remained under the radar, so what am I doing putting up pictures of them?
Currently, her documentary The Case of Adnan Syed has created a massive buzz on the internet. It is a re-investigation of an old case of a high-school teen, Hae Min Lee, and ex-boyfriend, Adnan Syed convicted of her murder.
According to its official synopsis, the series:
"offers a cinematic look at the life and 1999 murder of Hae Min Lee and conviction of Adnan Syed, from the genesis of their high school relationship to the original police investigation and trial, through to the current day, when Syed faces a new trial after serving 18 years in jail.
Ali Sethi's Coke Studio track Umran Langiyaan is also a part of the project.
Her complete interview can be read here.