The recent monsoon spell in Pakistan has caused massive damages to the country. Not only did it result in financial loss, but it also claimed the lives of many residents.
One of the most recent damages the rain has caused the departure lounge's ceiling at Islamabad Airport to collapse.
A viral video was obtained by Geo News in which it is obvious to see parts of the ceiling falling to the ground. We can also see rainwater falling from where the debris fell.
So far, there have been no reports of any injuries. However, an inquiry has been ongoing in regards to the alleged faulty construction of the new airport for two years now.
Reportedly, the damages caused by rainwater have been a frequent dilemma for the airport. Moreover, Pakistan Civil Aviation Authority (PCAA) said its director-general had taken cognizance of the damage caused by the rain at IIAP.
PCAA tweeted:
DG CAA has issued directions for a comprehensive report along with a permanent solution within three days.

According to the Airport Manager and his maintenance staff, heavy leakage occurred due to torrential rain resulted in overflowing of drains at the rooftop of the passenger terminal building.
The authority further added that:
multiple solutions are under consideration, including adding more water pipes for quick flushing of rain water into multiple drains or changing the entire drainage design over the roof top.
New Islamabad Airport Lounge Video
Here's the viral video that has been making rounds on social media:
https://youtu.be/nN_UXjz5osw
Social Media Reacts To The Viral Video
Here's how social media has reacted to the viral video:
this type of incident can happen anywhere, remember new Kolkata Airport after opening. Water leaks in Delhi Airport Terminal. It can happen anywhere, construction faults are not new and will be there always.

— Saurav Agarwal (@sauravkol86) August 17, 2020
Will the SC please call the contractor for Islamabad airport for an explanation?

Or not? pic.twitter.com/HilwKXhQAr

— omar r quraishi (@omar_quraishi) August 16, 2020
New Islamabad Airport Saga:
No Action Taken:
FIA fixed responsibility on 34 accused—10 r primary & 24 r secondary accused—2 Retd brigadiers r among primary & 8 other Retd army & air force officials r secondary accused.Accused include:Brig Iftikhar Ali & Brig Bilal Hameed 1/4

— Zahid Gishkori (@ZahidGishkori) August 16, 2020
This is the state of Islamabad Airport.
This is reflective of the corruption done in all mega projects by Nawaz Sharif and his cronies.
The SC should take notice and full fledged investigation is the need of the hour.
اناں ونڈے ریوڑیاں مڑ مڑ اپنیاں نوں pic.twitter.com/VDDJFhjvwl

— Dr Fatima K – PTI (FOLLOW 4 ANY MEDICAL ADVICE ) (@p4pakipower) August 16, 2020
Islamabad Airport Saga: Two powerful committees of Defence Ministry & FIA recommended action against accused in 2013. SC ordered action too.First committee was headed by Lt Gen Shahid Niaz & other by Huusain Asghar who served in FIA at that time.But nothing happened so far.

— Zahid Gishkori (@ZahidGishkori) August 16, 2020
As mentioned, this is not the first time the New Islamabad Airport has found itself in a tight fix. In May 2020, the airport was left in a bad state due to a spell of heavy rainfall.
The heavy rainfall led to structural damage. The building was equipped for over Rs. One hundred billion, which is instead an excruciating amount for an underdeveloped country. Many have the opinion that the investment was made by the government rapidly to gain political mileage.
The storm had shattered windowpanes in the domestic departure lounge and also affected various spots in the sealing.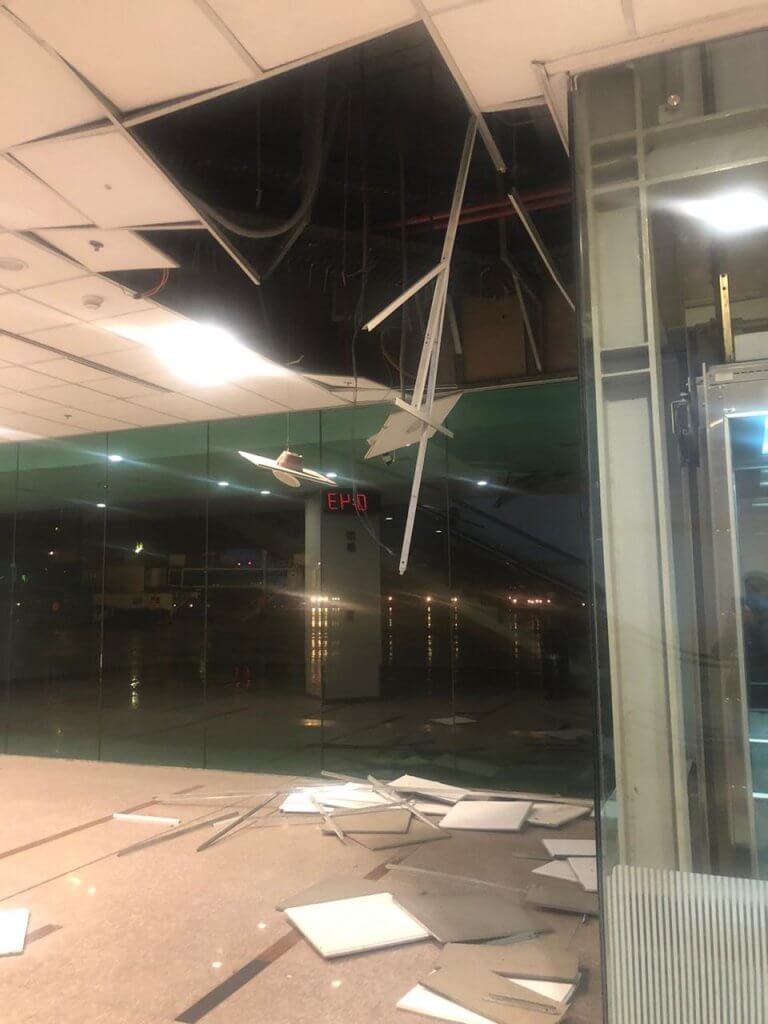 The glass was also shattered all over the lounge.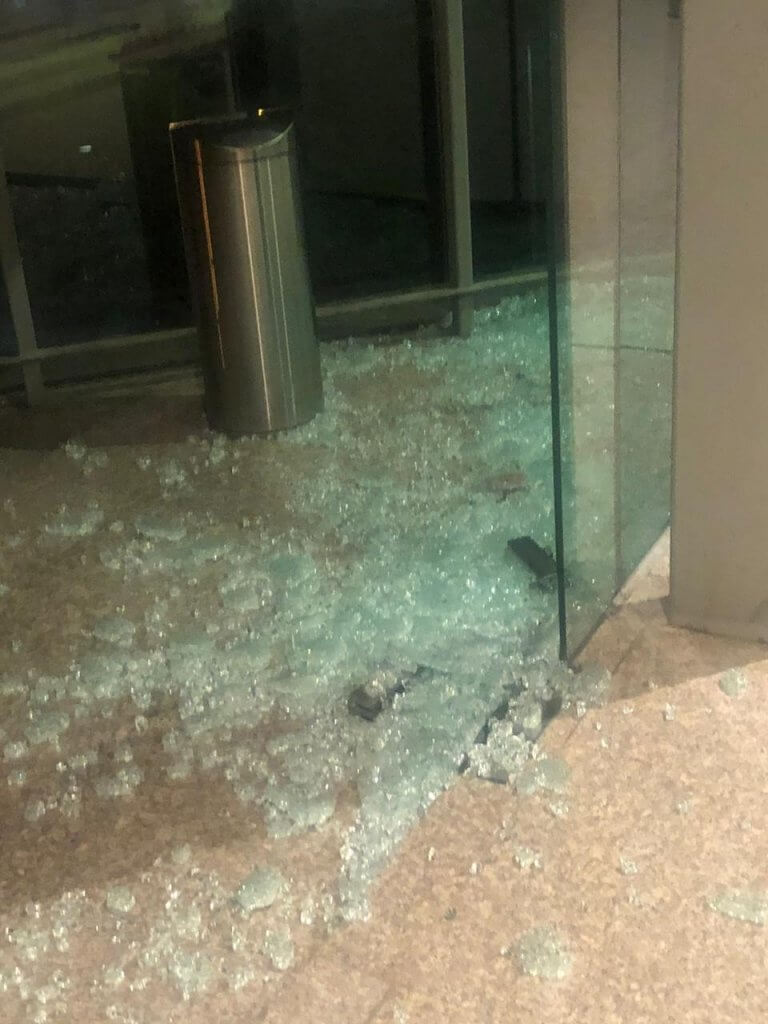 Islamabad Airport Wrecked Once Again After Heavy Rainfall [View Images]
Before this incident, the airport became a victim of littering and vandalism on its very first day of operations.
Reportedly, one of the converter belts was not properly functioning, which led civilians to lose their cool. Many of the men were seen making their way inside the straps to grab their luggage after waiting several hours.
Not just that, the bathrooms were left in a devastating state, cigarette buds were thrown in plant pots, and litter was thrown all around the airport despite having necessary trash facilities.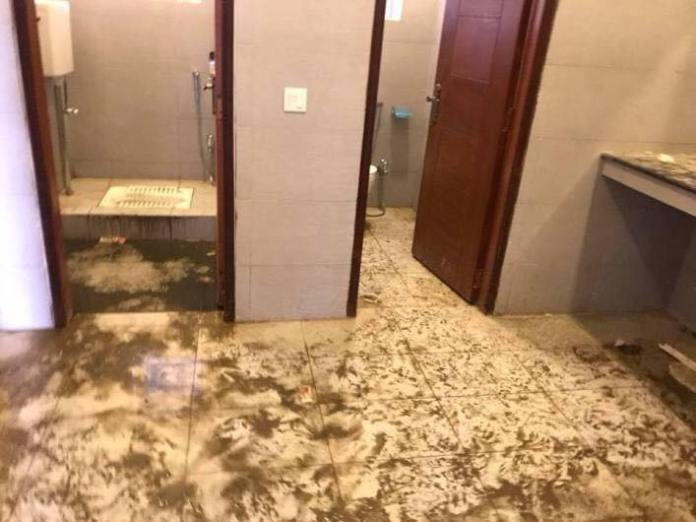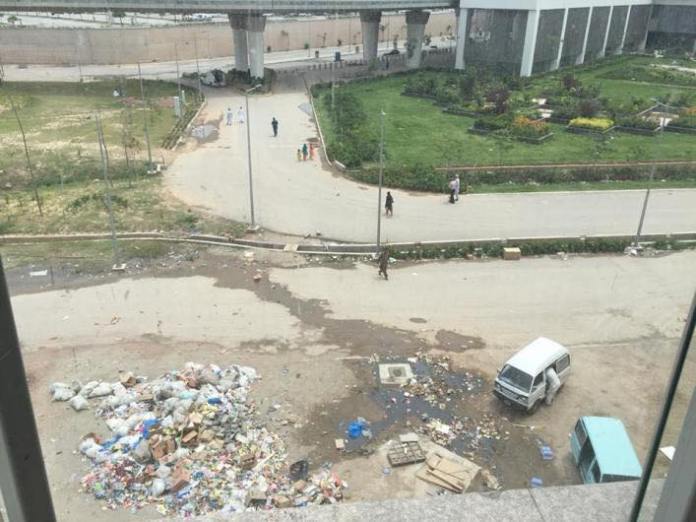 Twitter User Ali Arif shared a video about how the airport was being flooded with rainwater, and nothing can be done.
We can see powerful winds blow and rain covering the floors, filling each level with the water. There seems to be no sewage system. Nonetheless, the ceiling was not prepared for such an event.
New Islamabad International Airport after rain.
KOI SHARM HOTI HAI
KOI HAYA HOTI HAI.#Rain pic.twitter.com/15yO2RIWLb

— Ali Arif 🇵🇰 (@ialiarif) June 5, 2018
Truly it feels awful to know that a project built with high hopes, many resources, and a lot of time has ended up in such a condition.
If this is the current state of the airport, we cannot even anticipate what the condition might be like another month down the road.
Islamabad Airport Security Officer Spits, Throws Chair at Civilian [Watch Video]
Stay tuned to Brandsynario.