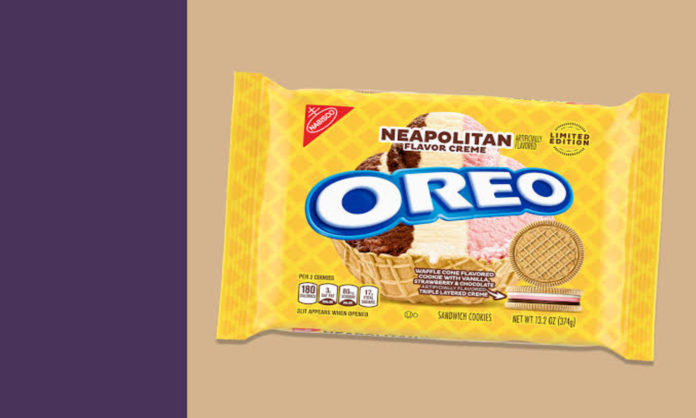 Oreo has announced that its newest limited-edition flavor is inspired by Neapolitan ice cream. The news broke on the TikTok app. The classic three-flavored ice cream is honestly a genius new Oreo variety. I mean, who doesn't love cookies and ice cream?
The new flavor features three layers of creme—vanilla, strawberry, and chocolate—sandwiched between two waffle cone-flavored cookies. Talk about satisfying a sweet tooth.
TikTok got the inside scoop first 🤫

🍨 Our newest limited-edition flavor, Neapolitan, has a waffle cone-flavored cookie with vanilla, strawberry, and chocolate triple-layered creme 🤍💗🤎 pic.twitter.com/zqSYodGwaR

— OREO Cookie (@Oreo) June 15, 2022
Oreo's Latest Addition 
When you picture snacks for summer, you probably first think of cooling treats like fresh slices of watermelon, cones from the ice cream truck, or the many flavors of Slurpee. But with too many ice-cold summer snacks, you'll end up with a head freeze.
There are plenty of other iconic summer foods to get you in the mood for sprinklers, barbeques, and beach days. Meanwhile, the snack brands are always ready to drum up a new flavor for the summer months. In the coming months, when you're going to the grocery store to pick up something to bring to the next social gathering, you'll have the option of a brand-new flavor of Oreos to bring to the table.
With a single layer of chocolate, vanilla, and strawberry crème sandwiched between a delicious waffle cone-flavored cookie, who needs a trip to the local ice cream shop when you can just head straight to your cabinet?
Read More: Retail Brand Zara Under Fire For Disrespecting Food
Launch Date
While the fans couldn't wait to get their hands on the limited-edition flavor, Oreo announced that the new Oreo Neapolitan cookies will hit mid-July in the market. When it does hit, however, don't hesitate on picking it up as this limited-edition treat is only available while supplies last.
mid-july ‼️

— OREO Cookie (@Oreo) June 15, 2022
Read More: 5 Delicious Savoury Mango Recipes That Are Worth Giving A Shot
Oreo Limited-Edition Flavors
Oreo began introducing special limited-edition flavors after their 100th anniversary in 2012 when they had a special Birthday Cake cookie to celebrate their centennial. Since then, according to People, they've released 65 limited-edition flavors, such as Gingerbread for the Holidays, Easter Egg, and Tiramisu. Oreo loves to play around with its fans on social media, teasing upcoming flavors. On June 14th, they tweeted that there would be a flavor announcement on Tiktok the next day.
Last month, the brand came out with a special collaboration with another superhit product on the market – the Ritz cookie.
50% sweet, 50% salty, 100% 🤤 1000 packs. Available 5/26 at 12pm ET. Be there or be salty. #RITZxOREO pic.twitter.com/c4hD7uj1dz

— OREO Cookie (@Oreo) May 24, 2022
Stay tuned to Brandsynario for the latest news and updates.