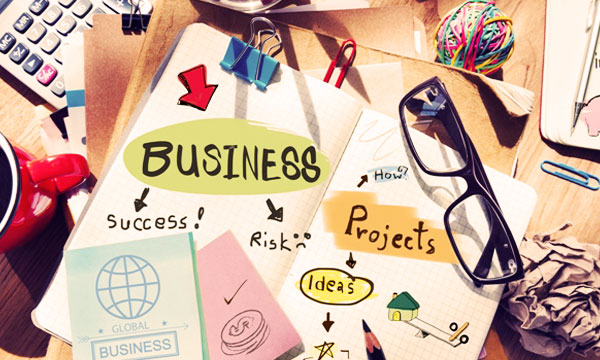 For every university student, there comes a time when they start thinking about their future and what they can do to make the ride into professional life a little less bumpy. One good way to get a jump start on those career opportunities is to throw yourself into an internship and get the vital work experience before you graduate and step into the workforce.
For such students, we've compiled a full list of internships and MTO Programs that are currently available for application. So apply now and enrich your resumes.
AAJ TV Internship Program – Click here to apply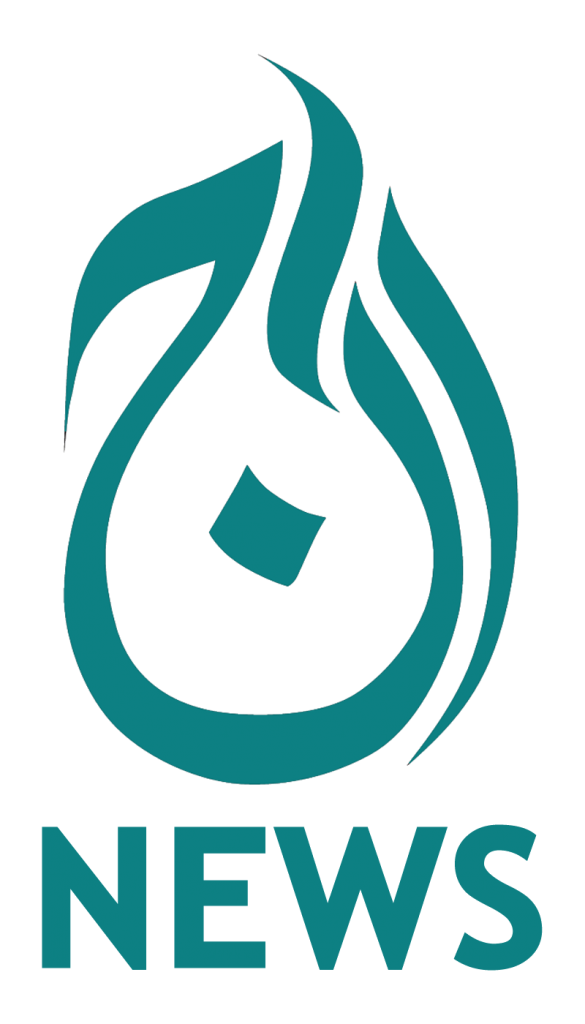 Job Specification
– Proficiency over written and verbal English.
– High degree of interpersonal and communication skills.
– Expert level command over Microsoft Office.
Category: Arts, Entertainment, and Media
Shift Timings: Morning Shift
Requires Traveling: Yes
Career Level: Student (Undergraduate/Graduate)
Required Experience: Student
Required Gender: Any
Location:Karachi
Apply before: 22nd May, 2016
Lucky Textile Mills – Click here to apply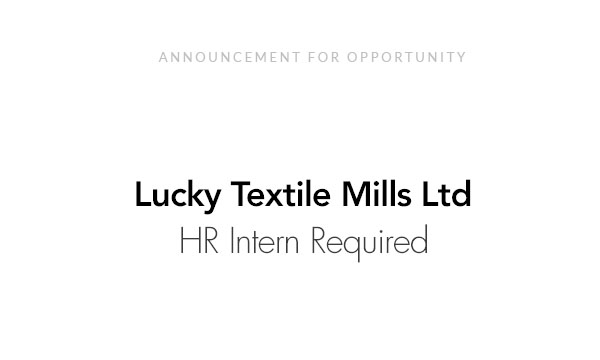 Job Description: 
Looking for some exceptional profiles for HR Intern Role (Can lead to a Permanent Position) in Lucky Textile Mills Ltd (FB Area. Karachi). If you have the knowledge for HR Functions and Operations and are a doer we will provide you the opportunity to Learn and develop! Females are also encouraged to apply.
Requirements: Candidates with BBA/MBA HR/ MPA/ MSc Organizational Psychology are encouraged to apply.
Location: Karachi
Apply before: 22nd May, 2016
Arpatech Technology Ventures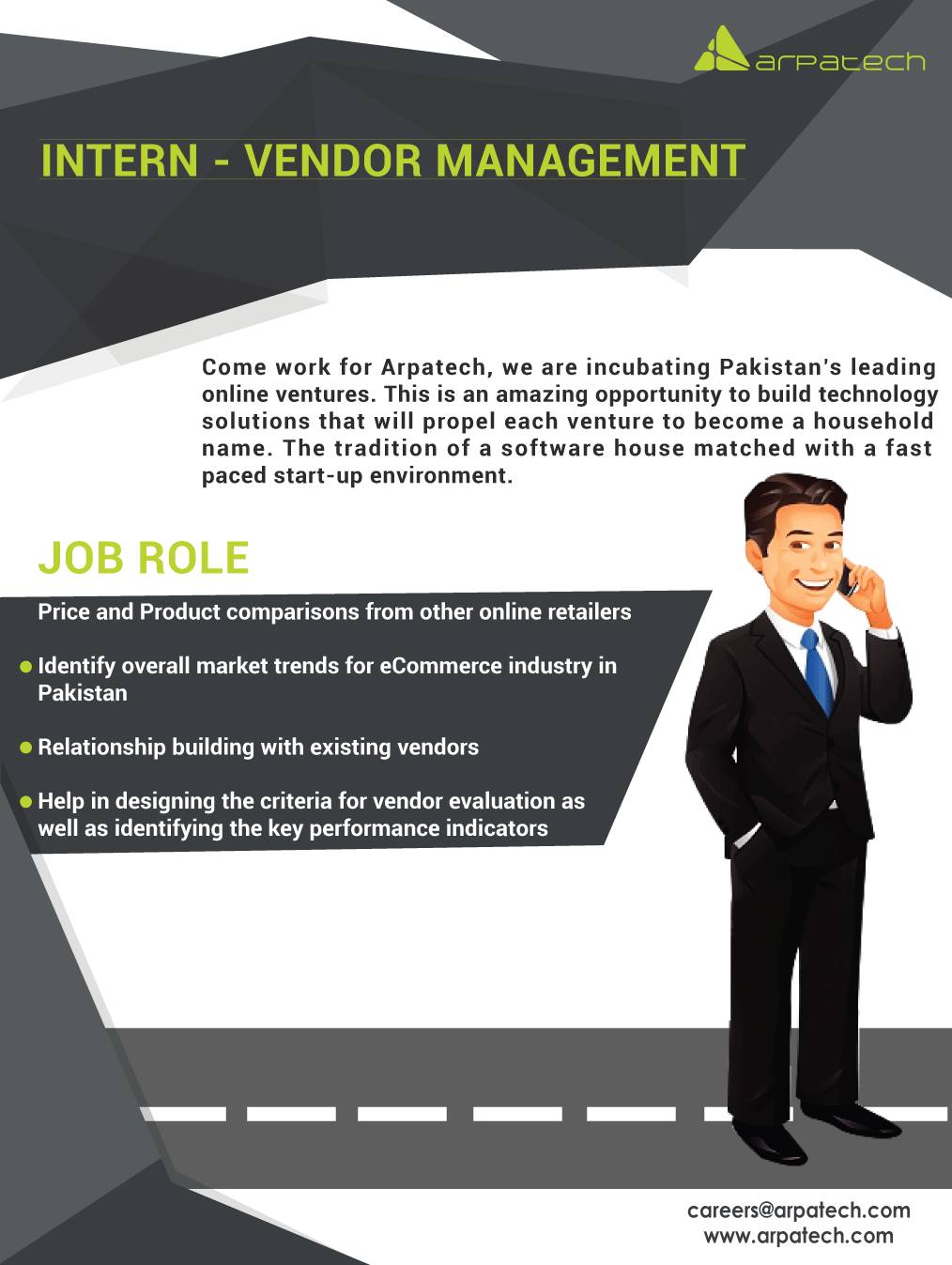 Duration: 2 Months
Stipend: Rs. 7,000/- per month and a Certificate
Qualifications: BBA/BSc/ [Marketing, Mass Communication, Media Sciences]
Must be well-groomed, Good communication skills. Apply at Abdullah@arpatechventures.com with proper subject line.
PTCL Summer Internship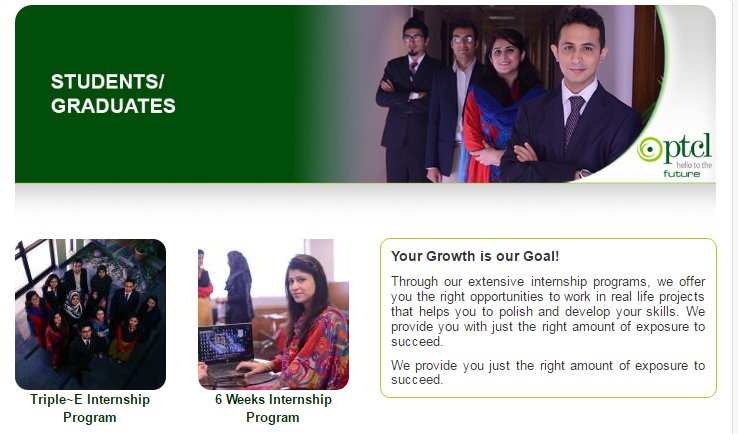 Duration: 6 weeks
Departments:
Legal
Finance
Human Resource
Information Technology and Services
Technical
Marketing and Communication
Requirements:
Applicant must be between 18 to 25 years
Business, IT, Finance Graduates and Engineers must have scored at least CGPA 2.80/70 percent aggregate.
The year of graduation should be either 2015 or 2016
Last date to apply June 16, 2016. Apply here.
AMAN Foundation: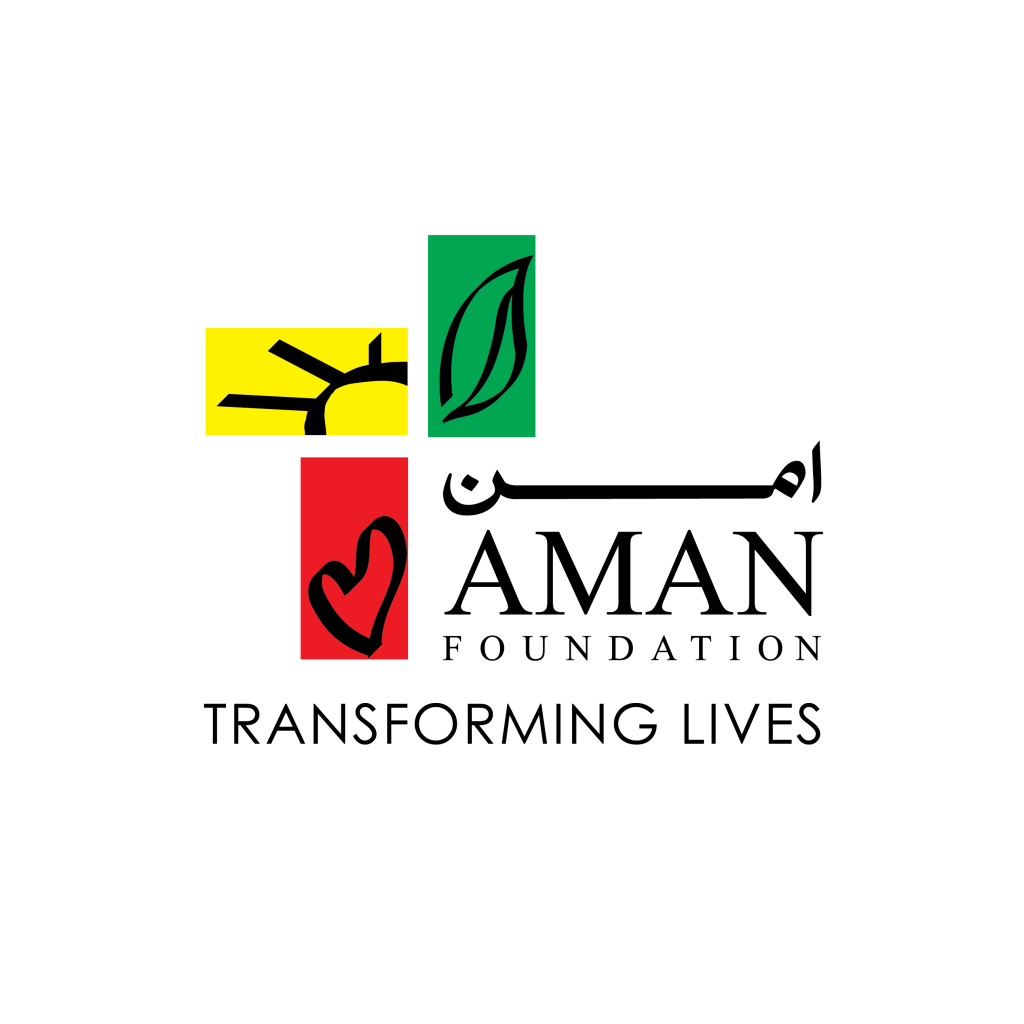 Eligibility Criteria: Minimum 4 semesters or 2 years of graduation completed
Duration: 6-8 weeks.
Location: based in Karachi
Compensation: PKR 3000 per week for the duration of the internship.
Applying: Applications will be considered on first come first served basis. Apply with 'Internship 2016' and your preferred department mentioned clearly in the subject line. Email: internships@amanfoundation.org
GSK Project Trainee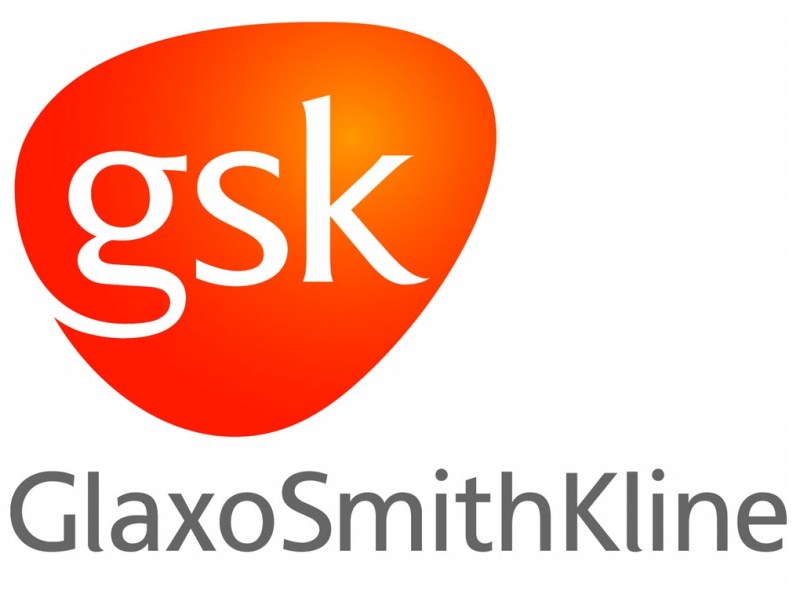 Position: Project Trainee Department: HR
Duration: 3 to 9 months
Criteria: – BBA / MBA in HR (final year student or graduating student). – Minimum one internship experience in HR Department.
Stipend per month: 21K
Send your resume to nadia.ansari@szabist.edu.pk with the subject "GSK – Project Trainee(HR) " . Latest by May 12, 2016. In the body of email mention the following: – Your complete name -Registration number -Program -Name the electives that you have studied -Internship detail in one line (name of organization and task that you have performed) -Month and year of passing.
State Bank of Pakistan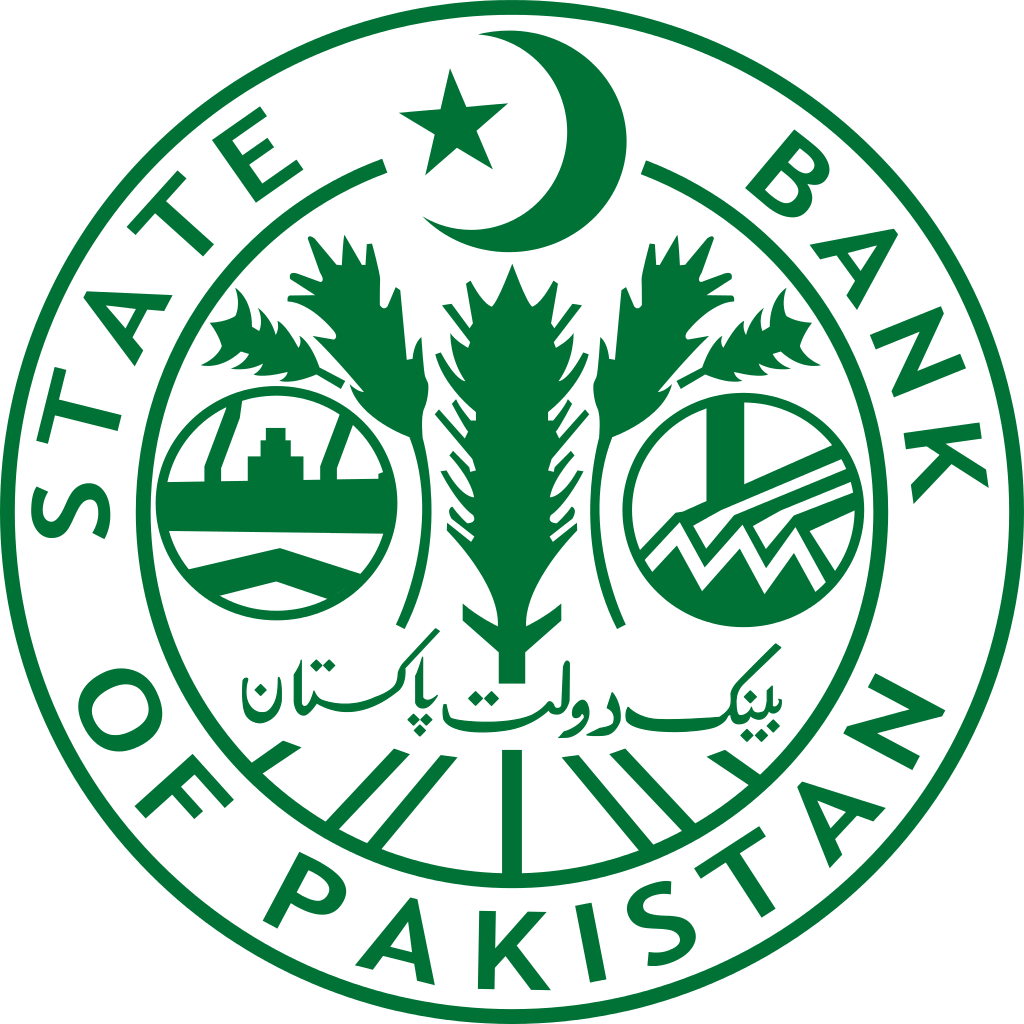 Duration: 6 weeks
Requirements: CGPA: 3.00 GPA Status: Last Semester Bachelors/Masters Student Disciplines: Business, Economics, Finance and Commerce
Disciplines: Business, Economics, Finance and Commerce
Salary Range: PKR. 7,500
Apply By: 5/6/2016
Job Location: Lahore
Telenor Summer Internship Program 2016 – Click Here to Apply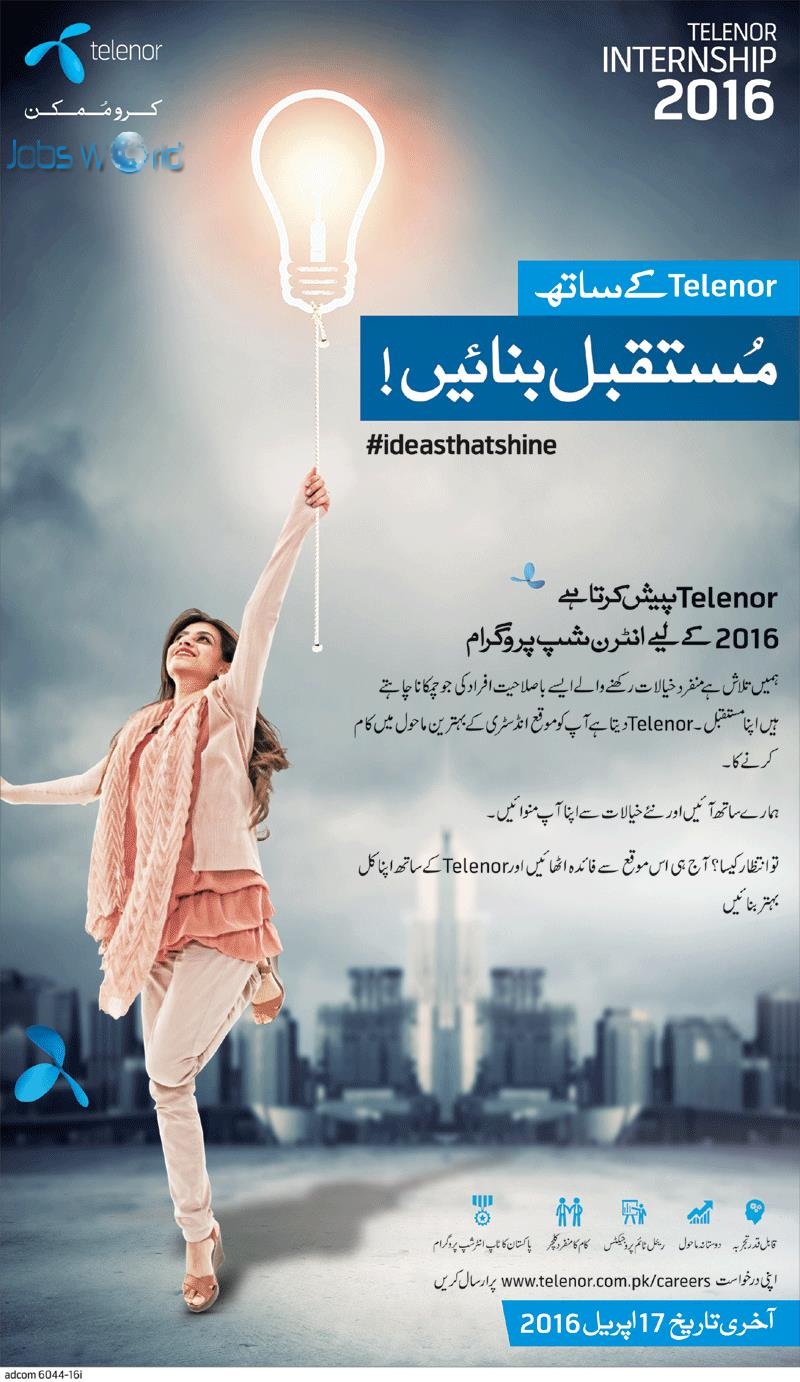 The Summer Internship Program by Telenor is available in all Major cities.
Areas of Interest:
Audit
Accounting & Finance
Business Development, Business Planning & Analysis
Customer Management, Customer Care
Health, Safety & Environment
Human Resources
Information Technology
Software Development & Engineering.
Job Location: All Major Cities.
Gender: Not Specified
Eligibility: Candidates do not need a prior work experience for this program. Recent graduates and post graduates are eligible to apply in their areas of interest as per their qualifications.

Details: A full time position aiming to give the youth a platform to hone their professional skills. Candidates with disabilities are strongly encouraged to apply. On the commencement of the internship a stipend will be given to interns for their services.
Apply By: 17-04-2016
 Oxford University Press – Click here to apply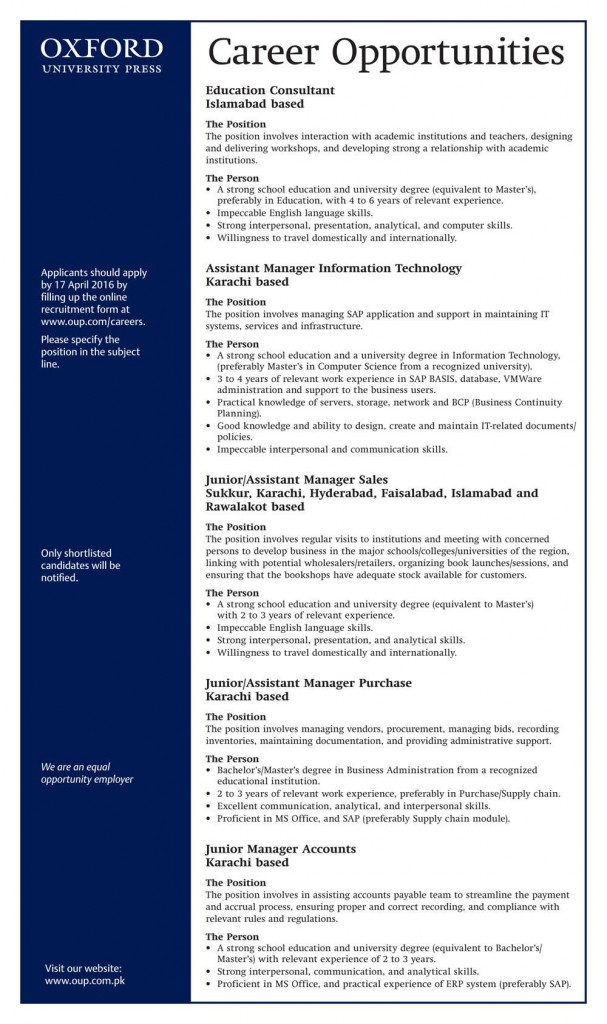 OUP offers a variety of opportunities to prospective applicants in Editorial, Design, Sales, Marketing, Production, Finance, IT, and other departments.
Positions Available:
Education Consultant (Islamabad)
Assistant Manager Information Technology (Karachi)
Junior/Assistant Manager Purchase (Karachi)
Junior Manager Accounts (Karachi)
Interested candidates may apply online for specific positions (as listed) by filling in the form provided here. Students are welcome to apply for internships.
Apply by: April 17th, 2016
Unilever – Click Here to Apply
Internship opportunities at Unilever are available in a number of business areas and give interns a hands-on experience of what it is to work at a worldwide leading consumer good company.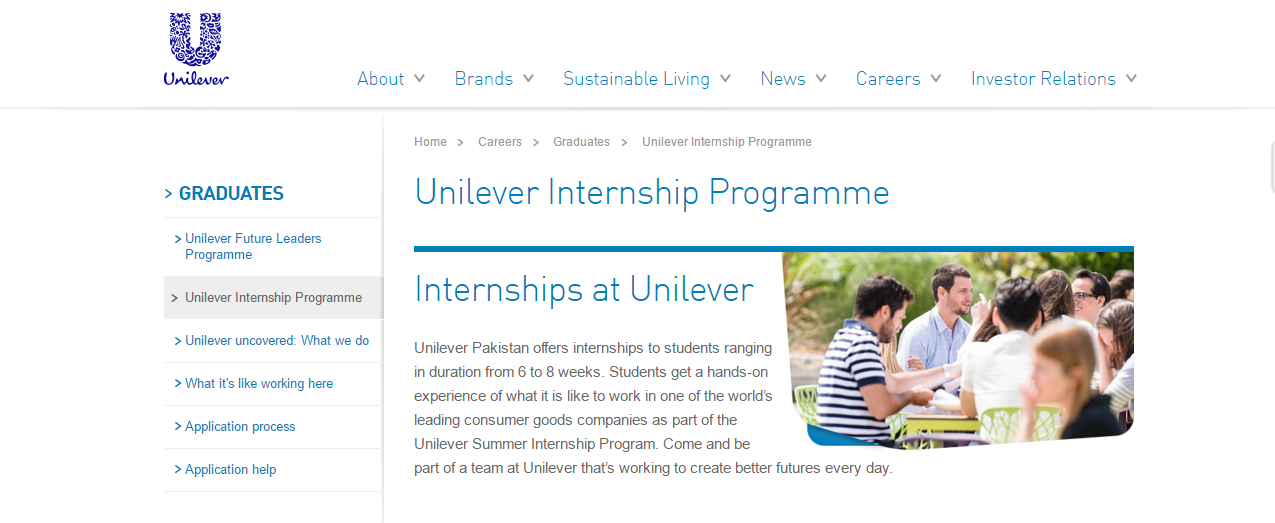 Duration: 6-8 Weeks.
Departments:
Marketing
Supply Chain
Research & development
Customer development
Finance
Human resources
Information technology
Requirements: Students in their second last year of study in both graduate and undergraduate programs are eligible.
The application process involves filling out an Application Form and e-mailing it to uflp.pakistan@unilever.com. this will be followed by an internship test and interview.
Reading Room Project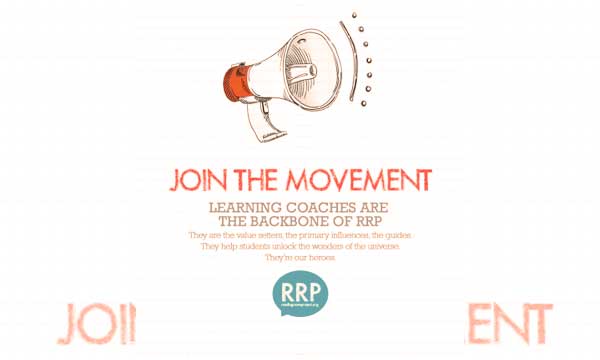 Full Stack Developer Intern – Click Here For Details
The Internship requires someone with programming and coding experience, ideally a computer science major.
Starting Date: Immediate
Duration: Minimum 3-month commitment (preference given to those applying for 6-12 months)
Hours: Minimum of 20 hours per week (preference given to those applying for full-time positions)
Location: Head Office in Clifton, Karachi
Compensation: This position is unpaid
To apply send Github profile link/CV and cover letter to future@readingroomproject.org. Put DEVELOPER in the subject line.
Curriculum Intern – Click Here For Details
Primary responsibilities include curating and creating content for an English speaking and listening module. Candidate should ideally be in interested in the education as internship will provide experience in educational product development.
Starting Date: Immediate
Duration: Minimum 3-month
Hours: Full Time (40 Hours per week)
Location: Head Office in Clifton, Karachi
Compensation: This position is unpaid
Send in the resumes and cover letter to future@readingroomproject.org.
Interwood – Sales Engineer Program 2016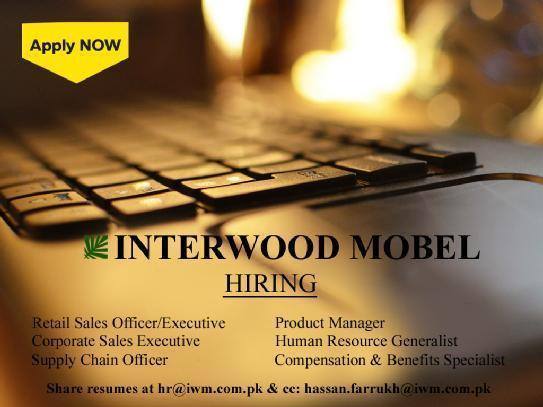 IT Intern:
Requirements: Fresh Graduates/Undergraduates
Must be willing to pursue a career in:
Networking
Software Development
Web Designing/Development
Candidates must also possess excellent written communication & content development skills.
Human Resource Intern:
Requirements: Fresh Graduates/Undergraduates
Candidates must possess a decent understanding of Learning, OD, Talent Management, Performance Management. They must also have excellent written communication skills.
Those who are interested can click here for more details on the firm.
Mondelez International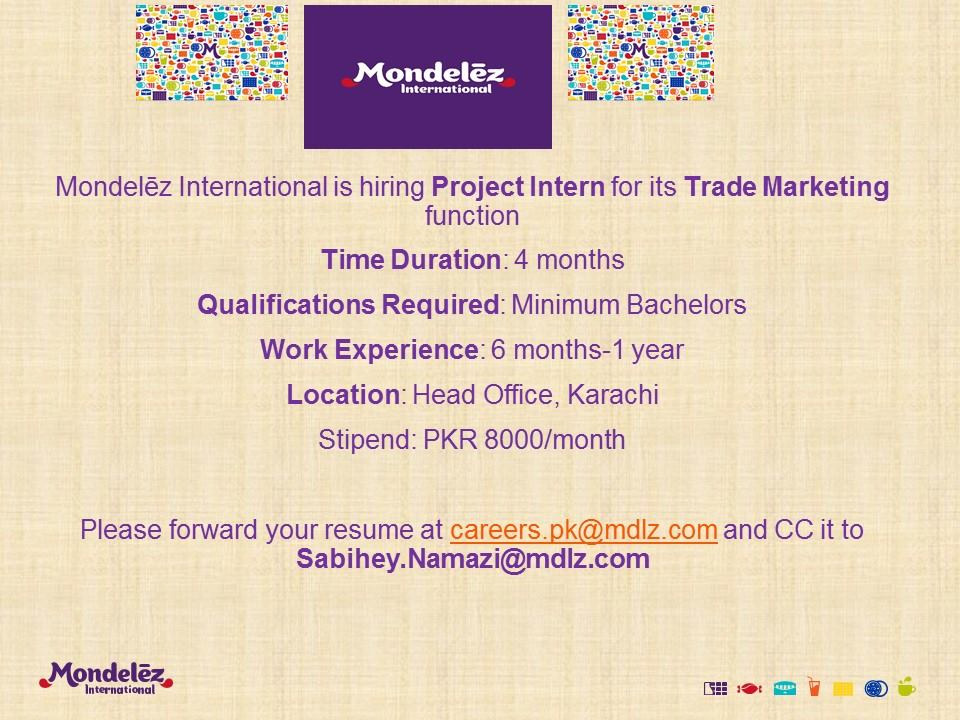 Mondelez International is in need of Project interns for the trade marketing department; the details are mentioned above. Those who are interested can e-mail their resumes to careers.pk@mdlz.com.
 Premier Group – QnE.com.pk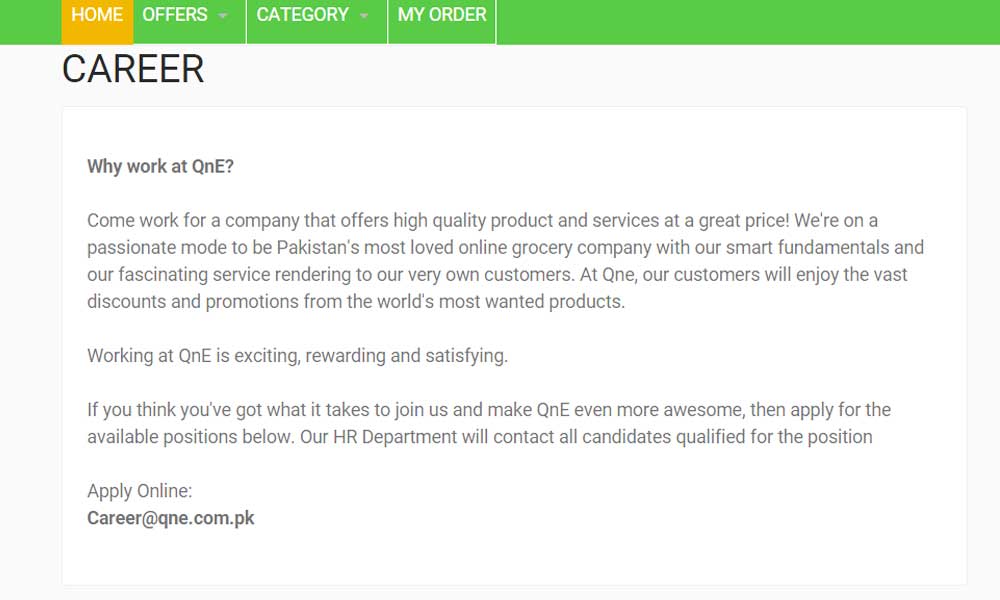 QnE.com.pk is one of the fastest growing online grocery companies and is a sister company of Premier Group. There are internships available in three separate fields.
Content Writer
Graphic Designer
Data Analyst
Duration: 6 – 8 weeks (can be extended with mutual consent)
Qualification: BBA (students in final year of BBA can also apply).
Interested candidates can send their CVs to jobs@premiergroup.com.pk and should write "CV for Internship as Content Writer/Graphic Designer/Data Analyst" in the subject line.
 Internships in Corporate Banking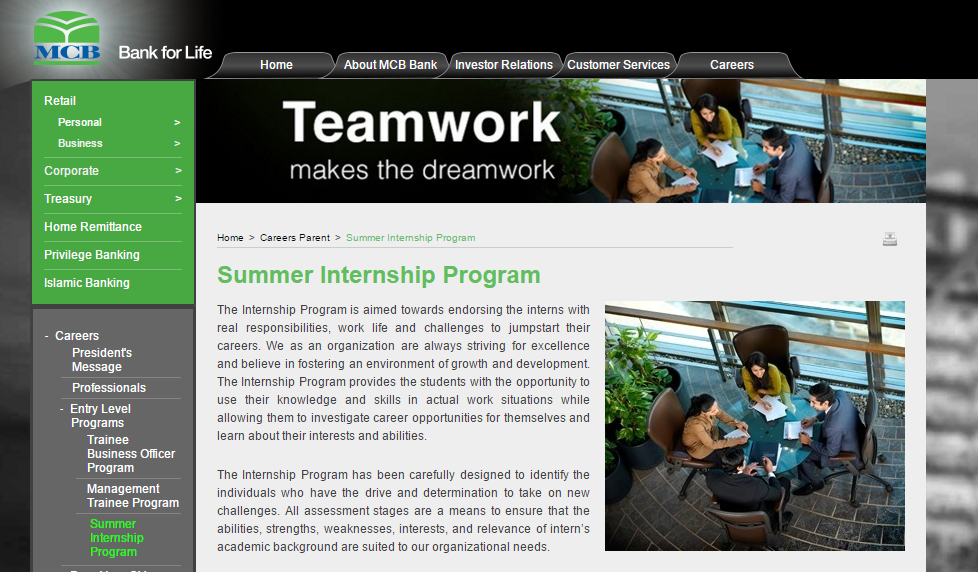 Requirements: BBA or BSSS. In semester 6 or 8.
Candidates must have good communication skills and knowledge of Banking industry is mandatory.
The Brand Consultants

Starting operations in Pakistan in the year 2008, previously known as M&M Consultancy Services, The Brand Consultants (TBC) is all about creating and grooming brands. Click here for details.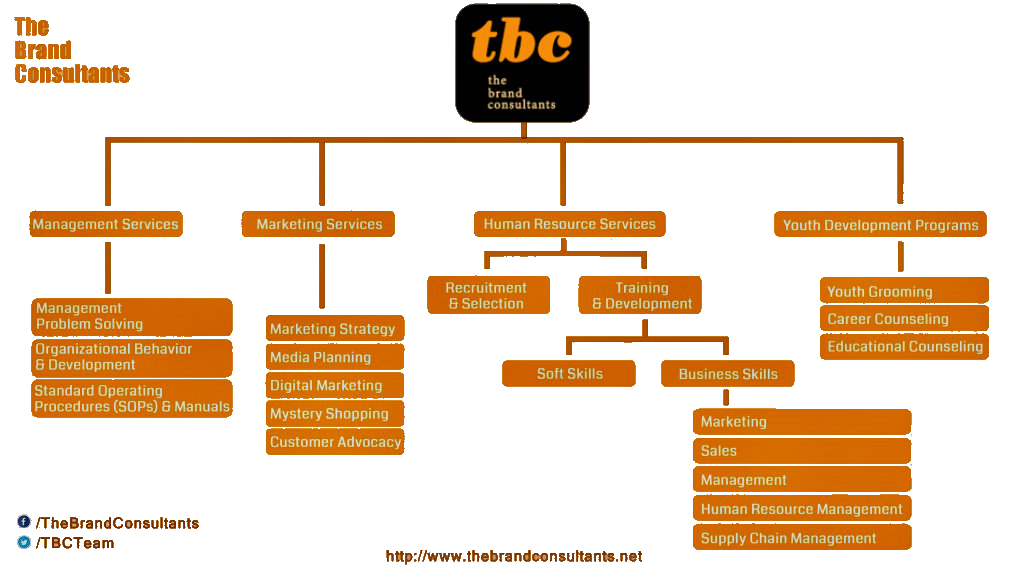 Position: Marketing Intern
Qualification: Bachelors/ Masters
Major: Marketing
Duration: 2-4 Months
Stipend: Market Competitive
Requirement: Excellent Communication and Computer skills.
Interested candidates can e-mail resumes with the position in subject line to nazish@TheBrandConsultants.net and cc to Careers.TBC@gmail.com.
Cybeinc.com
Cybeinc.com is a tech company that started operations in July 2015 with an aim to change how the retail industry works by introducing state-of- the art web applications and digital advertising practices in the country. Cybeinc.com has multiple businesses in the portfolio and garners brands that are both B2C and B2B in nature.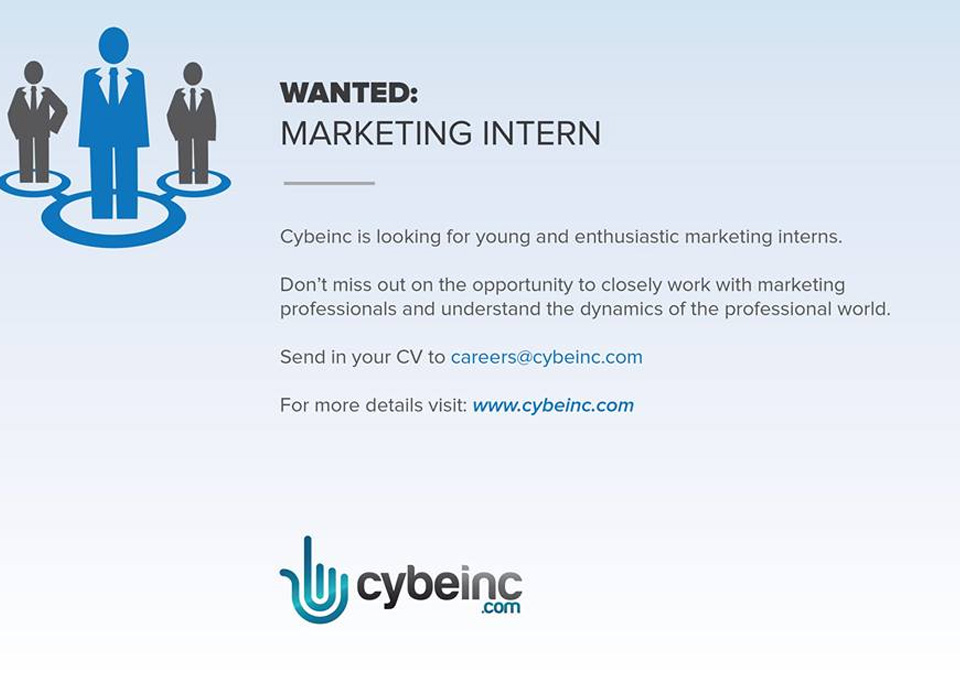 Cybeinc.com needs enthusiastic marketing interns; so do not miss out on the great opportunity to work in a dynamic world of professionals.
Interested candidates can send their CVs to careers@cybeinc.com. Click here for more details.
 Gul Ahmed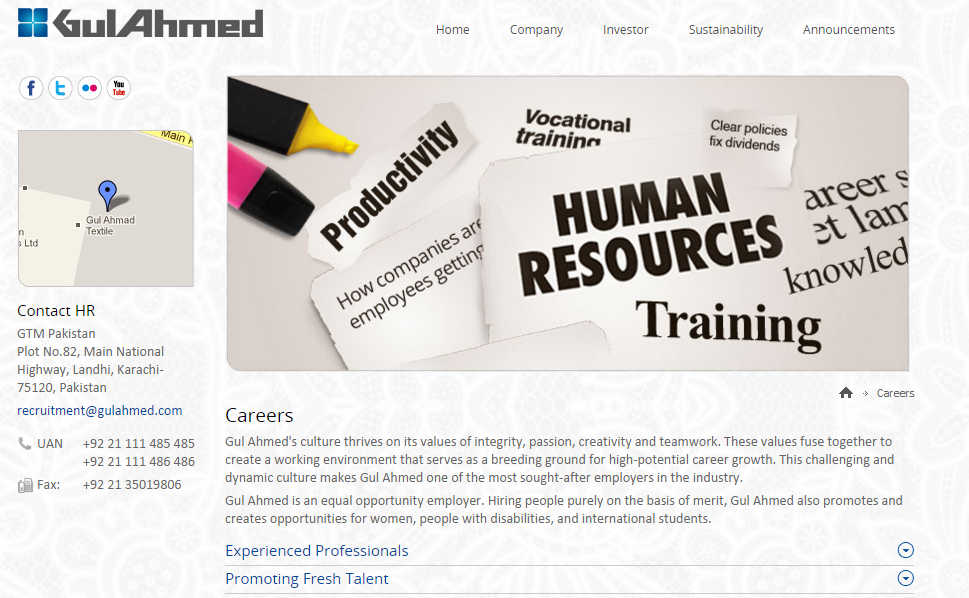 Position available as a Human Resources Internee.
Requirements: BBA, MBA-HR.
If performance during the internship is satisfactory there is a chance for the interns to be hired as a permanent employee. CVs to be e-mailed to dilpazeer.zehra@gulahmed.com.
We hope this list was useful in helping you jump start those career opportunities.
Sukoon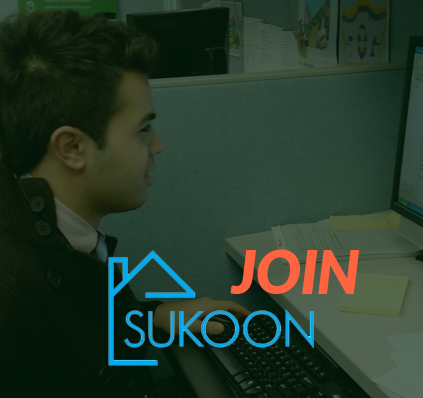 Internships Available for:
Content Writing
Graphic Designing
Marketing Department
Customer Service and Aftersales
Sales Department
Backend operations and capacity building
Benefits: 
Competitive salary and bonuses
A transparent and fair open culture
Health coverage
Flexible vacation policy
Frequent happy hours, team outings & retreats
Duration:  6 weeks.
Responsibilities: 
"Get the sale" using various sales methods (Meetings, cold calling, presentations etc)
 Evaluate customers needs and build productive long lasting relationships
Meet personal and team sales targets
Research accounts and generate or follow through sales leads
Report and provide feedback to management
Maintain and expand Partner Account database within your assigned territory.
Eligibility:
Will to achieve targets.
Must be an undergraduate student or above.
Stipend: PRK 7,000
Job Location: Karachi
Click here to apply. 
National Foods Summer Internship Program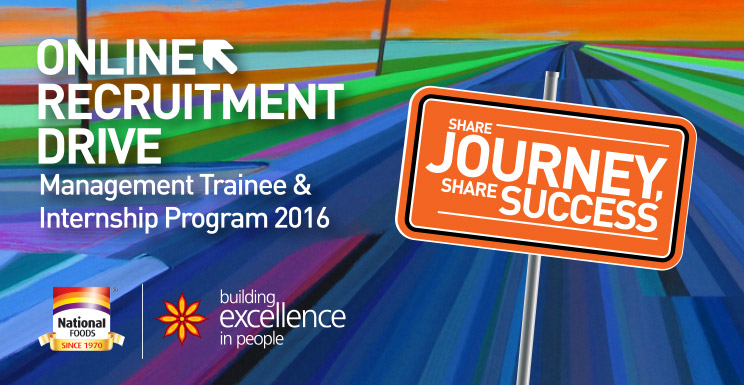 Eligibility Criteria:
Undergraduate & Post Graduate Students in their penultimate year of study
All disciplines and majors
Application Process:
Create an Online Account here
Take the Online Test
Results will be announced within two weeks
Shortlisted Candidates will be invited for Assessment Center Round in KHI, LHE & ISB
Offers will be extended to selected candidates
Duration: 6 – 8 weeks.
Zong Graduate Trainee Program 2016
Zong takes pride in promoting a talent development culture. Inducting fresh talent and developing them to become indispensable resources has been the hallmark of the CMPak human resources development program.
This Program entails off-job trainings, a formal mentorship program with certified mentors working in-house at CMPak. This will not only open doors for more opportunities but it will also add value to student's profile and help them climb the ladder of success.
Last date to apply online is 22nd April,2016.
For details regarding the program, please click:http://bit.ly/23onX7t
To apply, please click on: http://bit.ly/1SZ5OEX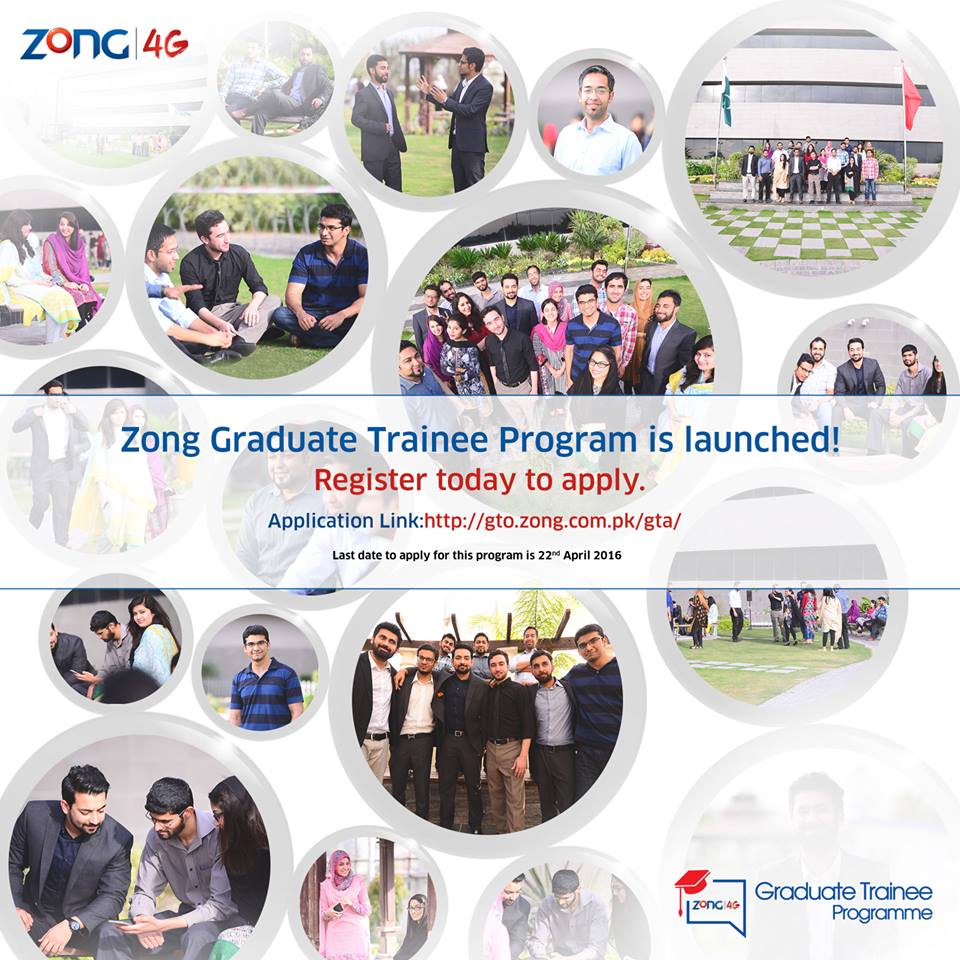 Summer Internship Program 2016 at Hum Network Limited

Hum Network Limited is pleased to announce the Summer Internship Program 2016 for the students of IQRA UNIVERSITY. Below are the departments for which interns are required:
· Marketing & Distribution
· Sales
· Programming (Hum TV, Masala TV, HUM Sitaray, HUM Films, Special Events)
· Finance
· Interactive
· Legal
· Creative
· Engineering
· PR & Publications
· Human Resources
· I.T
In line with the internship program, we would like the students to apply by sending their resumes at hr@hum.tv.
Please note that the students must mention the Department in the subject line for which they are applying.
Brandsynario
Brandsynario is now looking for passionate team players specialized in categories:
1. Entertainment
2. Lifestyle
Students of BBA /MBA /Mass Communication with excellent command over English writing.
All Interested send your CVs on: write@brandsynario.com.
Please mention the area of your interest in the subject of the email.
Only shortlisted candidates will be called for the interviews
Stay tuned to Brandsynario for more updates.