Are you a chocolate fan? More importantly, are you a KitKat fan? Because if you are, the most recent campaign by Wunderman Thompson is surely for you. They have focused the campaign for TikTok and given that the platform only recently celebrated 1 billion users globally, it makes sense.
Called 'Have a Bite', the campaign was based on the idea that there are different types of KitKat eaters in the world. Some people nibble at the chocolate bar while others break off the sections on it. But there are some who just bite onto the bar.
But what is the right way?
Read More: KitKat's Recent Campaign Takes 'Break' A Bit Too Literally
TikTok and KitKat
This debate had been an ongoing issue with each category assuming they were on the right. Nestle decided to officially acknowledge the debate. The company had KitKat Australia and New Zealand run polls on various social media platforms. Within 48 hours of it, the official hashtag #rulebreak had 4.3 million views across TikTok and Instagram.
Extremely famous TikTok stars such as @milligram96, @rybkatwinsofficial, and @tomford19 were seen using the hashtag #rulebreak.
@milligram96
@rybkatwinsofficial
@tomford19
João Braga, the chief creative officer at Wunderman Thompson, said, "As Australia's favourite chocolate bar, we know that people have some serious love for the iconic treat, but we wanted to discover new ways to engage with the fanbase online. What better way to do this than by jumping into the heartfelt and passionate debate over the true, right and 'correct' way to eat a KitKat."
The debate overtook other platforms too
TikTok stars were the major highlight of the campaign but other celebrities were also a part of it. Famous Australian actor Michael Caton dressed as a wizard, was seen biting on the chocolate bar as a whole and then asked the audience, "Is this wrong?"
The ensuing debate had morning shows cashing on the hype as well with the hosts showing their own way of 'having a bite'.
Joyce Tan, Nestlé head of marketing, said: "We knew it was time to finally weigh in on the conversation regarding how to properly eat a KitKat and acknowledge the weird and wonderful ways Aussies eat theirs."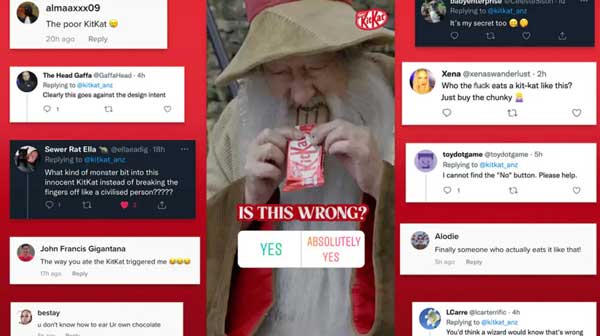 Why though?
It turns out that the campaign is to help introduce a limited-edition candy bar. The product does not require you to snap like you have to for a KitKat bar.
Read More: 10 KitKat Flavors You Won't Believe That Actually Exist!
The associate creative directors Simon Koay said:
"Rather than trying to engineer a discussion from scratch, use social to shoehorn a brand message or kickstart the next branded dance craze, we just fed into the existing debate."
Another associate creative director, Steven Hey said:
"With such strong equity built into the product, it gives people a kick to mess with it and make it their own."
Stay tuned to Brandsynario for the latest news and updates!