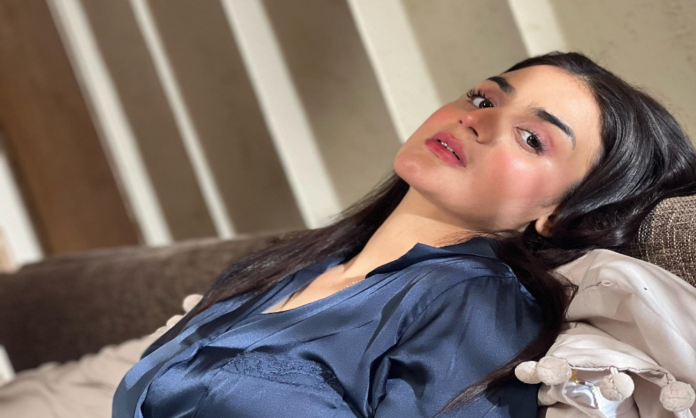 Pakistani actor Hira Mani, known for multiple passions, once again embraced the challenge of singing, taking centre stage at Yashma Gill's extravagant birthday celebration over the weekend. Despite humiliation on multiple fronts, Hira Mani didn't hesitate to command the mic.
She not only rendered songs with her distinct voice but also added flair with energetic swirls and grooves. "This is especially for you, my baby," the Do Bol actor dedicated a song to the birthday girl.
The audience enthusiastically grooved and sang along to the catchy beats of Indian music track 'Muskaanein Jhooti Hai' by Suman Sridhar and the timeless hit 'Aankhein Milane Wale' by the legendary Nazia Hassan.
While the guests seemed to be encouraging Hira Mani, netizens are still convinced that singing isn't really her forte.


Some continued to question her passion for singing, humorously suggesting that the late Nazia Hassan might be turning in her grave at the thought of Hira Mani performing on her songs.

Despite the ongoing critiques, one user acknowledged Hira Mani's confidence in continuing to sing, even in the face of criticism.

Several netizens took a lighthearted approach, poking fun at Hira Mani's uninvited stage appearances in the past.

Read: Hira Mani Gets Heavily Trolled For Singing At A Noori Concert
Some users joked that Yashma Gill might be regretting the invitation, alluding to Hira Mani's history of spontaneously taking the stage.

To support this assumption, it's pertinent to mention that Hira Mani wasn't the only performer as Yashma Gill had invited Ali Tariq along with a proper band for a musical interlude.
Also read: Hira Mani Gets Trolled This Time For Her 'Live' Performance
Stay tuned to Brandsynario for latest news and updates.