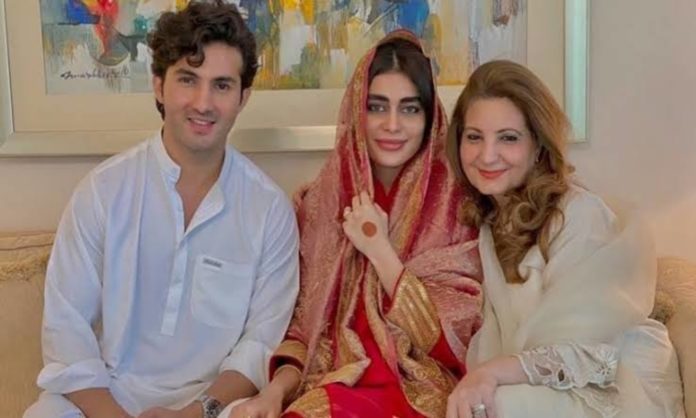 The cat is out of the bag, and all the rumours regarding Sadaf Kanwal's pregnancy are laid to rest as Behroze Sabzwari confirms the news himself.
Sadaf Kanwal Expecting Her First Child
Sadaf Kanwal and Shahroz Sabzwari are expecting their first child, and the news was shared by none other than Behroze Sabzwari himself. The actor appeared at a Ramadan transmission and cleared the air regarding all the speculations about Sadaf's pregnancy.
"Sadaf is such a sweet child, and we want all the prayers. She is expecting, and this is a piece of great news for all of us." Said the actor.
He then mentioned that he is all up for giving and spending significant quality time with his grandchild, the same way he spends a lot of time with Nooreh.
Read More: Sahiba Clears Her Stance On Recent Controversy Of Not Wanting Daughters
The rumor mills have been speculating about Sadaf's pregnancy ever since the couple made an appearance on the game show Jeeto Pakistan. The infamous 'Aram se Ana' caught quite a stir on social media, and, along with that, many other clues gave away the news initially.
How Do Netizens Feel About The News?
Netizens have been the backbenchers in the whole Syra, Sadaf drama. There wasn't a single moment when Syra wasn't praised, and Sadaf wasn't criticised. Even after two years, they cannot come to terms with the fact that the Shahroz is now married to Sadaf and hence the constant criticism and backlash.
"Syra wali quality phr bi Sadaf main na thi na kabu aye gi." One user wrote.
Meanwhile, the whole interview was nothing less than an over-exaggeration and netizens couldn't help but wonder why the host was so excited?
"Why the host is so overexcited?" One user wrote.
"Behroz se zyada khush host lag rae ha." Another wrote.
"Too much of overacting to get some attention while the news was already shared on Jeeto Pakistan." The netizens' remarks are never-ending and what makes us wonder is if Sadaf's name has been written in the bad books for life?
Read More: "I never wanted a daughter" – Sahiba Rambo Receives Severe Backlash
Stay tuned to Brandsynario for the latest news and updates.