A video went viral on the internet last night. Popular TikToker, Hareem Shah, can be seen slapping a controversial cleric involved in numerous controversies, Mufti Abdul Qavi.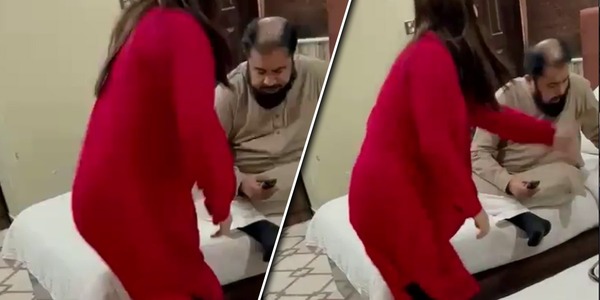 Tik Tok star #HareemShah slaps #MuftiQavi, Who do you think is wrong?#MeToo pic.twitter.com/17DM1GY35E

— WASEEM TARIQ (@wasimtariq_) January 18, 2021
Details About The Incident?
In the video, a woman in a red dress can be seen slapping Mufti Qavi, sitting on a bed. Soon after the video went viral, people identified the woman in a red dress as Hareem Shah, and many started to predict the cause behind the video getting viral.
Hareem Shah later spoke to SAMAA News and expressed that Mufti Qavi was allegedly passing inappropriate remarks that she could not tolerate. The slap was retaliation for his inappropriate remarks.
Soon after the video went viral and Hareem Shah reacted on the news and gave statements regarding the incident, Mufti Qavi didn't hold himself back and gave his side of the story.
Such things must be stopped.#HareemShah #MuftiQavi pic.twitter.com/sF6QBUwnBH

— Anjum Iqbal – PTI (@AnjumIqbalPTI) January 18, 2021
Soon after the news broke out, several recorded TikToks of Mufti Qavi and Hareem Shah started going viral, with many pointing out that it could be of the same day when the whole "slap" ordeal took place.
#HareemShah Vs #MuftiAbdulQavi
Before slaping 🙉 👇#MuftiQavi #ProudToBePakistani #mksw85official #ImperialNews92 #HareemShahScandal #slaping #Karachi #GTV #programme #news #inna #Karachi #Pakistan #TikTok #TikTokviral #VIDEOS #VideoViral pic.twitter.com/ISAFEXTFl6

— Mian Khurram Shahzad 🇵🇰 (@mksw85official) January 18, 2021
First Qandeel Baloch and now Hareem Shah, guys I'm sure that this man is not Mufti he is Tharki,
So please don't call him Mufti its Toheen of word Mufti..#WeMetOnTwitter#HareemShah#MuftiAbdulQavi#Hareemshahscandal #HareemShah #MuftiAbdulQavi #muftiqavi pic.twitter.com/GmEYQKthp7

— M.SHOAIB ✍️ (@SHOAIB_write) January 18, 2021
Twitter Reacts To The Controversy Of Mufti Qavi Getting Slapped:
Soon after the video went viral, many Pakistanis took to Twitter and shared their sentiments and poked fun at the situation.
Mufti Qavi right now🙂 pic.twitter.com/w1VdZmxDNq

— SaNaa❇️ (@fuckin_cuote) January 18, 2021
But it takes 1 man to be mufti Qavi.

— Shuaib Kan (@kan_shuaib) January 18, 2021
Thapar was Fantastic 😂 😂 😂#HareemShah #MuftiQavi https://t.co/sTIMFvStKy

— Ali Naqi (@aly_naqi) January 18, 2021
Life is Hareem Shah and I am Mufti Qavi.#HareemShahScandal #HareemShah

— Deadly Doraemon (@deadlydoraemon) January 18, 2021
Me watching #HareemShah bitch-slap #MuftiQavi for 985489th time. pic.twitter.com/1yR1c9P5kj

— Hassan Zauq (@hasanzauq) January 18, 2021
Why does this Mufti Qavi and Hareem shah thing looks like another stunt?

— anastipu (@teepusahab) January 18, 2021
#HareemShah#MuftiQavi
Mufti Qavi's only reply : pic.twitter.com/RfskQPJuPZ

— شایان🇵🇰 (@DeadShahh) January 18, 2021
After Qandeel, This scoundrel Qavi is now with Hareem. Lanattttt! #HareemShah #HareemShahScandal #MuftiQavi https://t.co/Ef43evK1vq

— alinakhalid (@alinakhalidd) January 18, 2021
Public to Mufti Abdul Qavi and #HareemShah after Leaked Slap Video Scandal.
👇👇👇 pic.twitter.com/odJrWgVldr

— Meme_Creatoor (@memecreatoor) January 19, 2021
Pehlay TikTok Phir Chaparain! All in a day's work! #latenightthoughts #HareemShah #MuftiQavi

— Barrister Hamid Azim Kh. Leghari (@HamidAKLeghari) January 18, 2021
Even though many people were making jokes and memes about the incident, and many even took sides between the two, it is important to note that Mufti Qavi and Hareem Shah have a long list of controversies in their pasts. The duo previously had an audio recording leaked, which brought both of them into the spotlight.
Hareem is Pakistan's one of the most followed TikTok stars and gained a lot of fame after a controversy with Federal Minister Sheikh Rasheed went viral.
There were numerous videos and call recordings leaked, which prompted a lot of reaction and became a huge controversy for the Federal minister.
Mufti Abdul Qavi, on the other hand, has had a long list of controversies himself involving the late social media star, Qandeel Baloch, who was murdered by her own brother. Mufti Qavi had been suspended from Pakistan Tehreek e Insaaf and Ruet -e-Hilal Committee due to his tendency to get involved in controversies.
Who do you think is to be blamed for the controversy between Hareem Shah and Mufti Abdul Qavi? What do you think actually happened?
Let us know under the comments.
Follow Brandsynario for more news & updates