Hania Aamir has recently had the honour of unveiling Hussain Rehar's latest collection. The actress looks every bit regal with a strong touch of desi as she poses for this collaboration. However, netizens are not the least bit impressed. Why have her pictures become the target of incessant trolling? Find out here.
Hania Aamir's Latest Shoot
Aamir has shot with Hussain Rehar several times. She fits the ace designer's vision of a casual sense of luxury which also touches upon our desi roots. The kajal and paranda are quintessentially desi and only a few can pull them off— Hania Aamir being one of them. Dressed in a deep green suit laden with delicate embroideries and touches of pink, the actress is a sight for sore eyes.
View this post on Instagram
In the first outfit shot so far, Hania Aamir is standing next to a taxi as she poses in the designer label. We bet she didn't know a prop as simple as a taxi would become the hot target of trolling but alas, here we are.
Netizens Come Trolling
Netizens saw Hania Aamir standing with a yellow taxi and that's all it took for them to start roasting her. The comments pertaining to the model's poses and the prop keep coming in under all social media posts that are a part of Hussain Rehar's media campaign. Have a look at what people keep saying: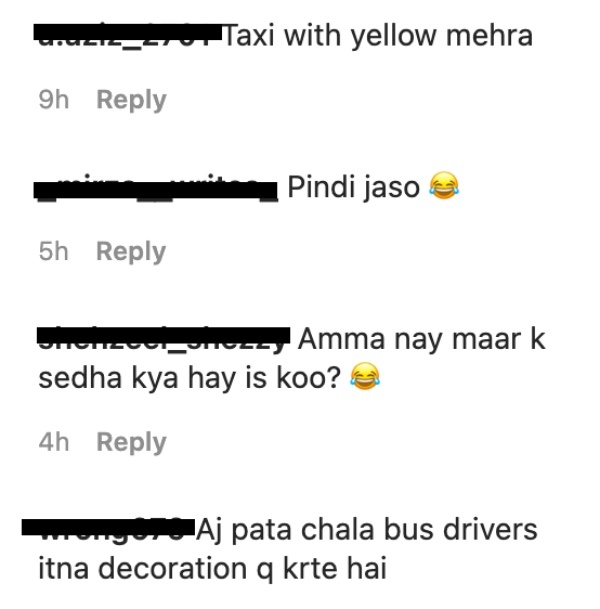 Hania Aamir – Is Modelling Next?
Hania Aamir is undoubtedly blessed with good looks and she knows it! She may have made her name through her acting but modelling can also be a fruitful profession for her. For some time now, she has not been seen in any acting projects but her modelling partnerships are on the rise. The actress may just be turning into a model and why would she not? She has the looks for it and she knows how to use them to her advantage!
View this post on Instagram
Her recent pictures on her Instagram are all from her modelling ventures. Her latest editorial with Waniya is also simply art. The actress looks herself yet so fashionable at the same time that we can't help but drool over the clothes too.
Read more: Hania Aamir's Latest Video Goes Viral, Public Calls It 'Indecent'
View this post on Instagram
Moreover, it appears that bridal and heavy clothes are loved by designers for her provided that most of her shoots involve such clothes. We're not complaining— keep them coming, Hania Aamir.
Read more: Did Ayeza Khan Just Take A Dig At Hania Aamir?
Stay tuned to Brandsynario for the latest news and updates.