The Hania Aamir controversy keeps spiralling out of control with digs coming from left, right and centre. In the latest development, Ayeza Khan has something to say (although indirectly).
Ayeza Khan's Two Cents
Taking to Instagram stories, the 'Mere Paas Tum Ho' actress shared her two cents on the situation. Ayeza Khan has always managed to keep her private life extremely discreet and well… private! Thus, we totally get where she is coming from and why she would say that.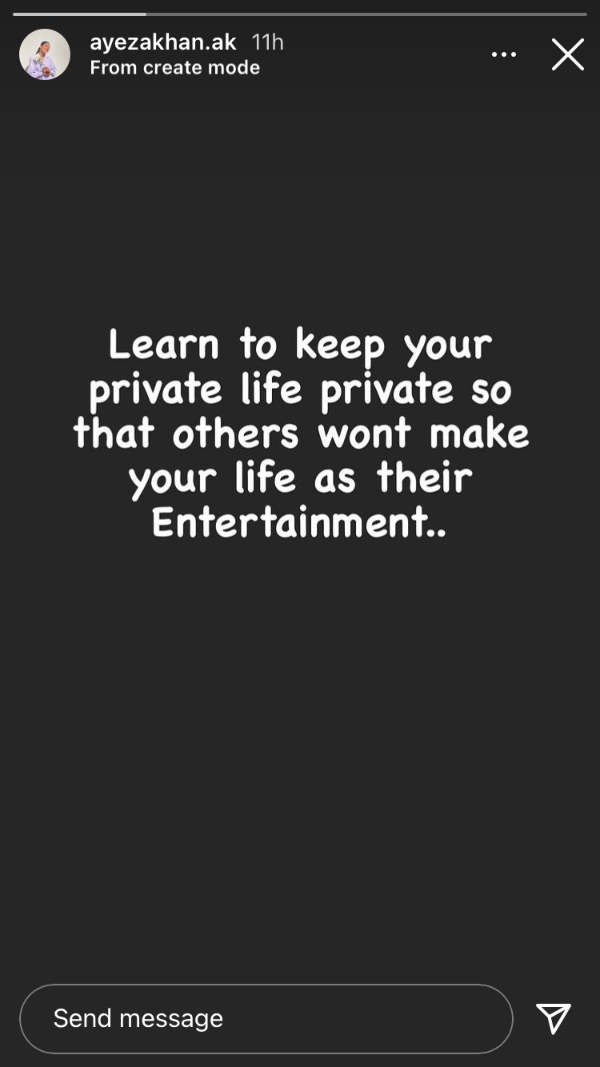 Ayeza Khan's message was basically that one needs to keep their private life private. If you do not manage to do so, others will use it for their entertainment. Ayeza Khan never usually interferes in an ongoing controversy nor does she ever find herself in one. Hence, her speaking out this time is unusual!
Does This Apply To Hania Aamir?
This message could be relevant to the ongoing controversy involving Hania Aamir and Aashir Wajahat. They did not keep their private life, aka their 'brother and sister-ness' private which is why the entire social media is having a field day.
View this post on Instagram
However, this message is even relevant in our day to day lives. Choosing who to confide in and share your personal woes with is important. Not everyone is sincere and many use what you trust them with as an excuse for gossip.
Blowing Up on Social Media
The Hania Aamir issue genuinely blew up on the internet. Since then, many have come to her defense and spoken up about cyber-bullying. Indubitably, Pakistanis lose all moral conscience and heart once they start criticising someone. Yet, what else was Hania Aamir expecting?
In a country and culture where married couples also shy away from holding hands in public, why would anyone tolerate 'friends' so close together? Putting this video online was not going to change the landscape rather just make it worse. It gives people another excuse to see platonic friendships between opposite genders as always leading to 'behayai'.
Celebrities Stand Together
It is also heartwarming to see many men in the fraternity come together and defend Hania Aamir. Amongst them, Ali Zafar, Daniyal Zafar, Ali Rehman Khan and Mirza Gohar are speaking out.
I will reiterate the same for @realhaniahehe. Keep shining girl. You're a ⭐️. #HaniaAamir https://t.co/GrucsKuRsy

— Ali Zafar (@AliZafarsays) June 6, 2021
@realhaniahehe you go girl 👑 we're here for you 💙 pic.twitter.com/Tc7Q8aDifu

— Danyal Zafar (@DanZafOfficial) June 6, 2021
It's time we stand up and call out disgusting individuals who make sick hateful comments/jokes at a woman's expense. Hold them accountable for inciting hate so that we can make sure they never do to again. Online harassment/bullying needs to stop. https://t.co/fd3wRC7HeD

— Ali Rehman Khan (@alirehmankhan) June 6, 2021
Disgusted with the way people are treating actresses of our industry if you dont like what they do you have a choice not to follow them but stop judging and trolling …#respectwomen

— Fahad Mustafa (@fahadmustafa26) June 6, 2021
Being a part of this fraternity where we respect our women, where we treat them equally, using your celebrity status for bullying a girl, hanging your dirty laundry in public is unacceptable and vile. Being people of influence don't be petty, misogynistic and disrespectful https://t.co/bn57wprvVv

— Mirza Gohar (@GoharRsd) June 6, 2021
Most importantly, even a large number of netizens are also happy to see men coming forward for once to defend a woman. What are your thoughts on the whole issue?
Stay tuned to Brandsynario for the latest news and updates.