Hania Aamir's most favourite place to be is…. In hot waters! The actress has landed herself in a tight spot again as a video circulates on Twitter which people are calling 'indecent'.
Just Chilling?
The video shows the 20-something actress lying on top of Aashir Wajahat, Wajahat Rauf's son and Hania's very close friend. The cherry on top is another teenage looking back also entangled with the two, stroking Hania Aamir's hair as she jams to a song. 
The video is as uncomfortable to watch as is its description and we doubt there can be any explanation for this. Surely Netizens' disappointment over the actress' behaviour is not founded on unreasonable grounds.
Ye bhi acha h 😒#haniaamir pic.twitter.com/4RBADNZNG0

— Ubaid khan (@Ubaidkhanw) June 5, 2021
Removing Traces
The video apparently initially was posted on her Instagram account either as part of a live or a story. Someone screen recorded it and started circulating it on Twitter. When it started blowing up, Aamir removed all traces of it from her account.
Many are now also speculating whether it's fake!
وَتُعِزُّ مَن تَشَاءُ وَتُذِلُّ مَن تَشَاءُ ۖ بِيَدِكَ الْخَيْرُ ۖ إِنَّكَ عَلَىٰ كُلِّ شَيْءٍ
TU JISKO CHAHE HUKUMAT DE AUR JISSE CHAHE CHINLE OR JISKO CHAHE IZZAT DE AUR JISE CHAHE RUSWAI DE TERE HI KABZA HAR BHALAI HAY BESHAK TU HAR CHAHE PR KUDRAT RAKHNEWALA HAY#HaniaAamir pic.twitter.com/2OFUvEJJAQ

— 🇵🇰🇵🇸🇹🇷Ghulam Muhayyudin Malik (@MuhayyudinMalik) June 5, 2021
Netizens Are Divided 
Netizens are divided over the video. There are many who are disappointed and disturbed by what they see in the video. Not only is it inappropriate but it's also strange to see such a friendship. Aashir Wajahat is a young teenage boy while Aamir is well into her twenties. Would this be okay if the genders were reversed?
What is this behaver #HaniaAamir pic.twitter.com/rxGhnFI2TU

— Agha sohail (@SohailAgha4) June 5, 2021
If you want to check the islam in Pakistanis just know that yesterday they were bashing #MalalaOnMarriage while today #HaniaAamir is trending coz of viral video.
what hypocrisy is this pakistanio 😐#malala #hania

— Adnan (@shamsispeaks) June 5, 2021
These sickozz. Bhae tm logo nay onka hisaab nhi dena. AP apnay Amaal par focus kro #HaniaAamir

— TheWoman | FREE PALESTINE🇵🇸 (@NotSoIfrahaha) June 5, 2021
Thank you @realhaniahehe for inspiring our youth who are following you. Actually there is no difference between you and your mate Malala. Keep it up these cheap shit acts#haniaamir #HaniaAamir #boycotthania https://t.co/cBQIu53il1

— Asad Rehman (@faranianasad) June 5, 2021
However, others are calling out the angry netizens for being too critical. They are being blamed for always being in search of a target. Hania Aamir is also trending on Twitter now!
She was just chillin WTF is wrong with you all?! Bloody mind your own business. #HaniaAamir

— 𝙆𝙖𝙨𝙝 /trailblazer/ (@Earthian07) June 5, 2021
What's Being Taught To Whom?
The main issue with celebrities endorsing, participating or showcasing such behaviours is that it is influential.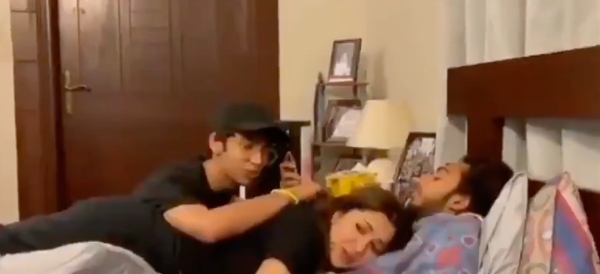 In today's world, surely there is nothing wrong with friendships between opposite genders. However, the 'lying-on-top-of-each-other' attitude can send off the wrong message. Moreover, normalising this can also render many vulnerable to sexual misconducts by predators and harassers.
Trying to Make It Big?
There have been many talks of how strange Hania Aamir's friend group really is. As the video shows, she is the oldest in the group of 'friends' she is hanging out with. People have never seen a celebrity hang out with such a younger crowd before and they also haven't seen teenagers be friends with an older person like this.
View this post on Instagram
Dananeer, the 'pawri horahi hai' girl, is also a part of this group. Aashir Wajahat is obviously an integral part also. Given that Hania Aamir just landed a script with Aashir Wajahat's mother, could this all be for an ulterior motive?
Stay tuned to Brandsynario for the latest news and updates.