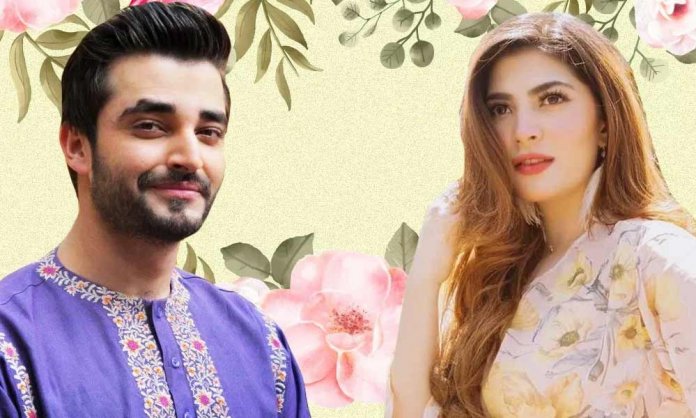 Last week, the handsome hunk Hamza Ali Abbasi tied the knot with his ladylove Naimal Khawar in a glitzy ceremony and people just couldn't stop adoring them.
The ceremony was attended by his family and close friends and their fans sent them best wishes through their social media account.
Soon after their ceremony, a major twist has taken place and now their fans and followers are totally heartbroken.
A netizen has surfaced online and claims to be the first wife of Hamza Ali Abbasi! She also claims that they kept their relationship under the wraps.
Yes, you read it right!
I couldn't marry him due to all the police involvement in whole scene. I had to leave Karachi and move to lslamabad where l got married to Punjabi guy Hamza Ali Abbasi. He got married recently to Naimal because he failed to protect me from harm caused to me.

— Anila Veryamani (@anila_hamza) August 29, 2019
Pakistani Comedian to Star with Angelina Jolie in Upcoming Marvel Superhero Movie!
The girl named Anila Hamza took to her Twitter account and wrote that Naimal Khawar brainwashed Hamza Ali Abbasi and married him.
She deliberately came in between Hamza and me!

— Anila Veryamani (@anila_hamza) August 28, 2019
In the series of tweets, she wrote:
NAIMAL YOU AND HANIA PLAYED GAME WELL AND YOU TOOK AWAY HAMZA FROM ME. NO MATTER WHAT HAPPENS L WILL BE THE FIRST WIFE AND LOVE OF HIS LIFE AS LONG AS HE SHAL LIVE. WE LOVED EACH OTHER AND YOU CAME OUR WAY BRAIN WASHED HIM AGAINST ME. NOW YOU ARE GOING TO MARRY HIM TONIGHT.
She also added:
I WAS FIRST IN HIS LIFE AND IT'S MY RIGHT TO LIVE IN THAT HOUSE AND YOU SNATCHED IT FROM ME MY HUSBAnD. ACCORDING TO LAW. MAN CAN'T TAKE ANOTHER WIFE NOT UNTIL HE TREATS HIS FIRST WIFE RIGHT AND HAMZA DID NOT GIVE MY RIGHTS SO HE DOESN'T HAVE RIGHT TO KEEP YOU WITH HIM.
Here is the tweet:
I was first in his life and it's my right to live in that house and you snatched it from me my husbamd. According to law. Man can't take another wife not until he treats his first wife right and Hamza did not give my rights so he doesn't have right to keep you with him.

— Anila Veryamani (@anila_hamza) August 28, 2019
She also asked Hamza Ali Abbasi to give her all the rights and wrote:
HAMZA GIVE ME MY RIGHTS!!! YOU TAKE YOUR RESPONSIBILITY AS MAN! GIVE ME PROTECTIPN, SAFETY, LOVE AND CARE. JUST LIKE RIGHT OF ANY OTHER WIFE!
I see you were after Hamza for very long time called to your exbition was just excuse to divert his attention from me. I had warned him your intentions and l was right through and through. You quit acting because you knew Hamza won't marry you. What a clever game you played

— Anila Veryamani (@anila_hamza) August 28, 2019
She called out Hamza on social media telling him that he will never find peace, while talking vilely about the nature of his relationship with Naimal.
It's was shaitan's decision to marry Naimal not ALLAH TALLAH's. Because you fought with me in the afternoon and same evening in deep anger you went to propose Naimal.

— Anila Veryamani (@anila_hamza) August 26, 2019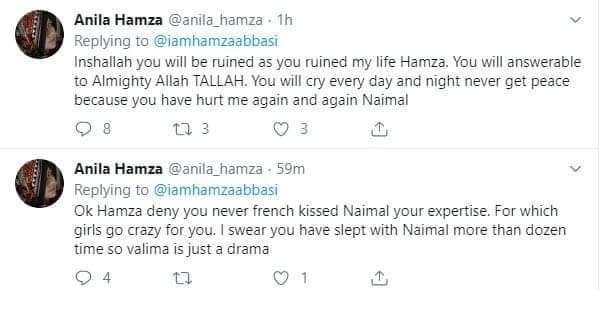 Today l came to see Hamza's real face he is just gold digger he always called himself smooth operator who loved to french kiss girls and that's makes him popular

— Anila Veryamani (@anila_hamza) August 21, 2019
Some of her older tweets also talk about her feelings for the star.
People says distance make relationships weaker. I say it's test of our own selves, our own mind and heart. We know his/her importance as l feel Hamza Ali Abbasi being most important part of my life. Everything is connected to him without him everything is worthless!!

— Anila Veryamani (@anila_hamza) July 14, 2019
Here's how she replied when she was asked why would he mary her.
Jab shadi ki thi tab mein Jawan aur khobsoeat thi aur Hamza ki pehli mohbat

— Anila Veryamani (@anila_hamza) August 28, 2019
Have something to add to the story? Let us know in the comments section below.
For more updates and details, stay tuned to Brandsynario.
This post was originally published on VeryFilmi.com