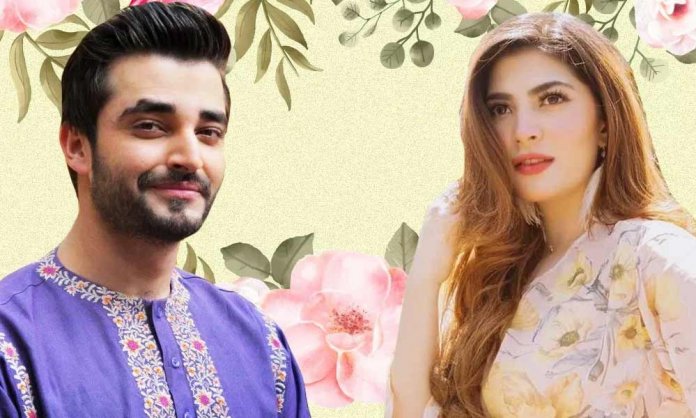 The news of Pakistani actor Hamza Ali Abbasi proposing to Naimal Khawar is taking the internet with storm since yesterday.
Naimal said yes and many have been celebrating their union since then. However, many have also been criticizing it, pointing out red flags in Hamza, and in general just showing worry and pity for his bride to be.
So Hamza decided to pen down a note in response to all the hate he has been receiving since the news of his upcoming wedding.
However, instead of shutting people down, his note seems to have stirred up a mixed reaction on his stance on marriage.
I adore this hamza-naimal couple and hamza's views are quite inspiring n all. But this guy uses Islam to justify everything be it politics,terrorism n now marriage, so islamic still part of a showbiz.Encourages yasir's kisses for iqra yet vocalize islam for everything. Hypocrite!

— SamaviaSays (@malik_samavia) August 22, 2019
Many on social media are expressing disgust over Hamza Ali Abbasi, saying that it isn't fair to ask someone for marriage just because getting married is a religious obligation.
The audacity of this guy to claim that he is solely doing this to please Allah!! DUDE why not stop acting or give charity or something. He will be using the same excuse to marry 3 other girls as "4 wives is sunnah". I am appalled#HamzaAliAbbasi#Naimal

— Anwaar Ahmed (@EL_CHA_PO) August 22, 2019
Imagine getting married to a self righteous narcissist who makes the marriage all about HIS beliefs and how noble HE is. And publicly declares that he doesn't love you and is only serving his religious interests through you.
YUCKKK. Heartfelt sympathies for Naimal Khawar.

— Ayesha S. Gardezi (@AyeshaSGardezi) August 21, 2019
What was the convo like
Hamza: listen u r just my friend and I don't love u but do u wanna marry me for Allah?
Naimal: OMG YEAH!!! But like…FOR ALLAH

— m (@mehravarr) August 21, 2019
falak stays with her cheating, emotionally manipulative, loser husband because "that's what allah would have wanted." hamza is marrying naimal "for allah." correlation kidhar hai bhaiiii?

— cruel irony (@edgygirlrants) August 21, 2019
While many are also defending him with all their heart.
Yeah… Hamza didnt propose u but Naimal..sad… amazing how these hypocrites desi liberal feminists are deriding Naimal Khawar for making her choice to marry someone just because they dnt apprve him? Baji, where is freedom? Independence of women? Aurat raj? Etc etc https://t.co/gnQHTmY42v

— selfless magician (@Hussain111Rida) August 22, 2019
So, I checked my twitter after a whole ass day and all everyone talked about was Hamza Ali Abbasi and people literally bashed him for marrying Naimal.
Um, well, everyone has reasons to marry someone. I think it's extremely low of you lot to judge someone based on those reasons.

— Taha (@itahasafdar) August 22, 2019
However, the truth is that there will always be mixed reactions about anything and everything.
You cannot please everyone so it isn't even worth trying. We wish the couple all the best for their future and wait to see if Naimal Khawar breaks her silence on the matter.
Have anything to add to the story? Let us know in the comments!
Stay tuned to Brandsynario for more news and updates.