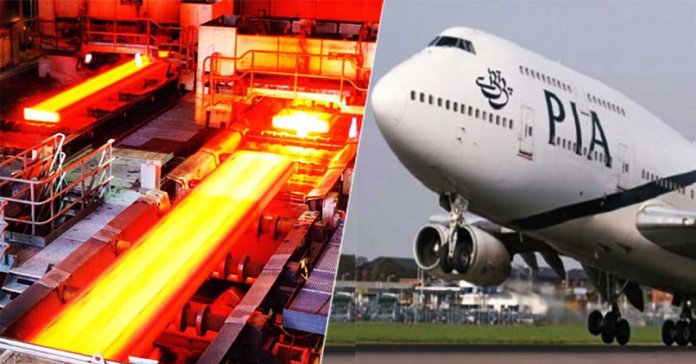 The Federal Government of Pakistan has announced its plans of privatizing 49 organizations in the next 5 years.
This decision was made at a session of the National Assembly's Standing Committee for Privatization under Syed Mustafa Mahmood.
Secretary for Privatisation Rizwan Malik also gave briefing during the session. The Minister mentioned that 15 companies have been taken out of the privatization list while on the other hand 8 have been added.
Currently, Pakistan is in talks with Russia as well as China to run Pakistan Steel Mills (PSM) under public-private partnership. The aim is to increase its production capacity from 1.1 million to 3.5 million per year.
During the session, the committee was also informed that PSM and Pakistan International Airlines (PIA) have a combined loss of estimated Rs 600 billion out of which PIA is at a loss of Rs 400 billion.
According to the new report, PSM reported a profit of Rs 9.5 million during the fiscal year of 2007-08. During the era of PPP and PML-N, the mills suffered a massive loss as its financial health deteriorated. In June 2015, it was closed.
According to Secretary Privatisation Rizwan Malik, out of the 49 organizations, PIA and PSM are also a part of the list.
The steel mills will be sold on public-private partnership, to enhance its production capacity from 1.1 to 3.5 million tonnes per year. – Rizwan Malik
Aviation Graphix Expresses Regret Over PIA's Re-branding Failure
Organizations to be privatized in the first phase spanning the next one and a half years:
1. SME Bank Limited
2. First Women Bank Limited
3. 1223 MW Balloki Power Plant
4. 1230 MW Haveli Bahadur Power Plant
5. Mari Petroleum Limited (divestment of remaining shares)
6. Jinnah Convention Centre, Islamabad
7. Lakhra Coal Mines (now Lakhra Coal Development Co)
8. Services International Hotel, Lahore.
Organizations to be privatized in the second phase:
1. House Building Finance Corporation
2. National Investment Trust Limited (NITL)
3. National Insurance Company (NIC)
4. Pakistan Reinsurance Company (PRC)
5. State Life Insurance Corporation (SLIC)
6. Oil and Gas Development Corporation Limited (OGDCL)
7. Pakistan Petroleum Limited (PPL)
8. Government Holding Private Limited (GHPL)
9. Pakistan Mineral Development Corporation (PMDC)
10. Faisalabad Electric Supply Company Limited (FESCO)
11. Islamabad Electric Supply Company (IESCO)
12. Lahore Electric Supply Company (LESCO)
13. Gujranwala Electric Power Company Limited (GEPCO)
14. Multan Electric Power Company Limited (MEPCO)
15. Peshawar Electric Supply Company Limited (PESCO)
16. Hyderabad Electric Supply Company Limited (HESCO)
17. Quetta Electric Supply Company Limited (QESCO)
18. Sukkur Electric Power Company (SEPCO)
19. Kot Addu Power Company (KAPCO)
20. Jamshoro Power Generation Co Ltd – JPCL (GENCO. I)
21. Central Power Generation Co Ltd – CPGCL (GENCO – II)
22. Lakhra Power Generation Co Ltd – LPGCL (GENCO – IV)
23. Northern Power Generation Co Ltd – NPGCL (GENCO – III)
24. PIA.IL (Roosevelt Hotel, NY & Scribe Hotel, Paris)
25. National Fertilizers Corporation, its units and subsidiaries
26. State Engineering Corporation, its units and subsidiaries
27. Heavy Electrical Complex (HEC)
28. Pakistan Machine Tool Factory (PMTF)
29. Pakistan Engineering Company (PECO)
30. Pakistan Industrial Development Corp (PIDC) and its units
31. Sindh Engineering Limited (SEL)
32. Morafco Industries
33. Republic Motors Limited (RML)
34. Pakistan Industrial and Technical Training Centre
35. Export Processing Zone Authority
36. Port Qasim Authority (PQA)
37. Karachi Port Trust (KPT)
38. Pakistan National Shipping Corporation (PNSC)
39. Telephone Industries of Pakistan, Haripur (TIP)
40. Pakistan Telecommunication Co. Ltd. (PTCL)
41. National Book Foundation (NBF)
Have something to add to the story? Share your thoughts with us in the comments below.
Stay tuned to Brandsynario for more news and updates.
PIA Officially Discontinues Markhor Logo & Restores Old Slogan!