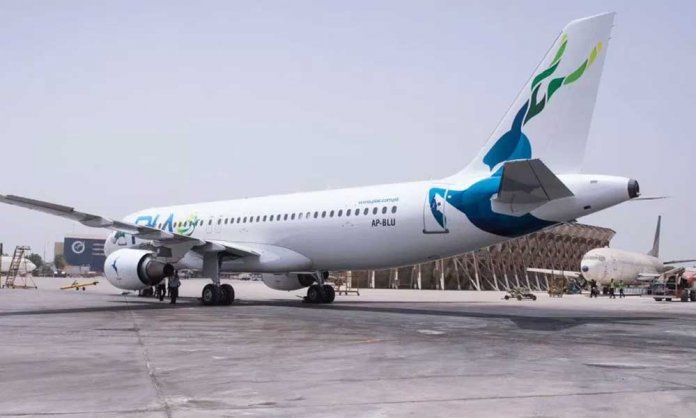 Last year, Pakistan International Airline (PIA) announced the rebranding of its aircraft after retaining its old design for a decade.
With a new livery sporting Pakistan's national animal 'Markhor' and a new logo, the new design looked magnificent on the aircraft's tail and engine.
The Curious Case of PIA's Re-branding & Why it Never Happened
Apparently, the Ireland-based Aviation Graphix was amongst the companies behind the refurbishing of the PIA Aircraft. The company operates only in the aviation industry. It designs and manufactures liveries and exterior decorations for many of the world's leading airlines.
PIA even rolled out a video to explain the ideology behind the rebranding and while it all seemed impressive the whole plan was never able to see the light of the day.
Unfortunately, a whopping budget was already pumped into the execution of the plan. It is reported that the rebranding cost PIA roughly $1.5 million per plane.
However, in May 2018, the Supreme Court issued strict orders to PIA barring the use of the Markhor symbol on the airplane. According to Dawn, the apex court was concerned that the national carrier had already accumulated losses of Rs360 billion till December 2017 and that the total liabilities amounted to Rs406 billion against assets of Rs111 billion.
By Jan 2019, PIA officially restored its old branding and slogan, 'Great People to Fly With' and discontinued its new blue Markhor emblem.
The new logo was officially discontinued from all documents, billboard, and even stationary products.
Taking to LinkedIn, the Owner of Aviation Graphix, Andy Legge expressed his regrets over the rebranding fail of PIA.
What's more, he termed it as one of the most controversial projects that Aviation Graphix had ever executed.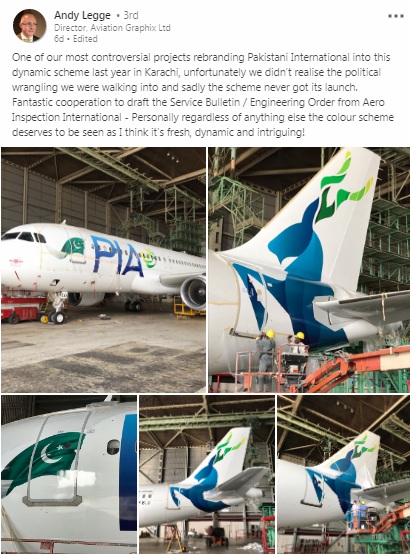 According to Andy Legge, his company was responsible to only produce and install the design. 
As I said it's not my design we just printed it and installed it. Personally, I would have loved to have got involved with the painting team at PIA to help improve things because there are some excellent people in the airline and I have actually only got good things to say about the people we met. Thing is from a location point of view PIA is well placed to be an excellent player globally and really make a success of the airline. I liked the design others don't and I totally get that
He stated to his followers on Linkedin:
"I have no idea how they came up with the actual scheme I heard it was designed with both Qantas and Qatar in mind and it's easy to see those elements. It certainly was impressive standing beside the aircraft and purely from a non-Pakistani point of view, I thought it was a big statement of intent, coupled with the proper interior cabin upgrade it was a big move in the right direction. Although it's clear from the debate on here that the whole situation is much more complex than what we see at face value…… from the point of view of a punter transiting to Asia or Australia it would catch your eye and possibly your hard earned dollars – we'll never know now though"
Stating the reason of taking over this risky project, Andy stated in comments:
We took them at face value as a national airline, to be honest, and we were swept up in the excitement of an exciting project, there is much much more to this experience than I can ever say on social media but let's just say we had no experience of Pakistan and how much the color scheme would divide opinion. When we flew to Karachi we began to understand many of the airline's problems were far greater than a new livery. In defence to the rebrand team they had planned well outside of the livery to improve the airline and there were plans taking place for full interior re-fit. You can argue all day about where to start but being in the business 30+ years the first impression is the external livery so I can understand the theory.
Listening to Andy's tale, it is clear that his team invested a lot of blood and sweat into the rebranding of PIA.
They were also planning to revamp the interior of the aircraft. However, that too never happened.
Federal Govt is Moving PIA Head Office to Islamabad from Karachi
With a history so sublime and a present so rocky, what does the future hold for PIA? 
This week, Prime Minister Imran Khan conducted a high-level meeting to discuss major proposals to revive the national flag carrier and rescue it from financial troubles.
But will PIA finally emerge from its troubled times and reclaim its lost glory? Let's wait and watch.
Stay tuned to Brandsynario for more updates.