Generation is a brand whose work spans decades and millions of wardrobe staples. What do they not have going for them? They're inclusive, they have a loyal fan base, and their collections are superb. However, all that glitters may not be gold. Generation was recently accused of copying a small brand and they also responded. Here's what went down:
Read more: Sana Safinaz Receives Backlash Over Its 'Strange' New Campaign
What Happened?
A woman posted on Facebook asking if anyone knew the creative director or someone relevant in Generation. This is because her friend owns a small-scale brand called 'Sohimo' and Generation has been copying their designs 'shamelessly'. She also said this keeps happening and they also copy the name of her collections. This is for sure a big accusation and she also supports it with evidence.
She puts a picture of both the 'shalwars' next to each other as evidence. Have a look at the post and the pictures here: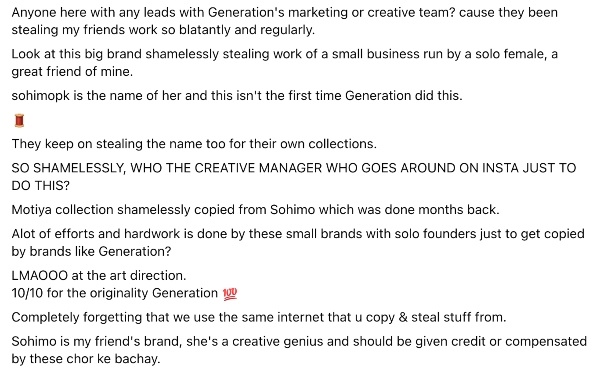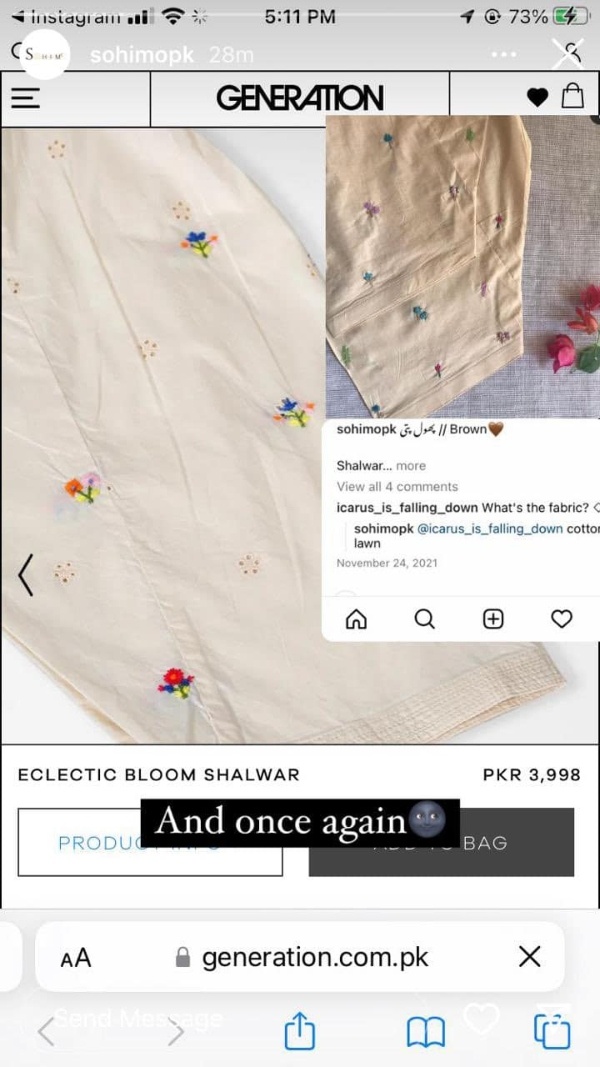 There's more:
Generation Responds
However, Generation isn't a brand that would sit quietly in the name of such accusations. They immediately responded to the post through their representative. She mentioned thoroughly and logically how the friend behind the brand never reached out. How can this be the case if someone is copying your designs?
Besides that, they made strong points about how Generation whites, Generation's small embroidered shalwars, and their collections are uniquely done by them alone. She also mentioned that all the collections are designed and shot months in advance so even the timelines don't match. The final conclusion from their end? That this similarity is purely coincidental. Have a look at what they said: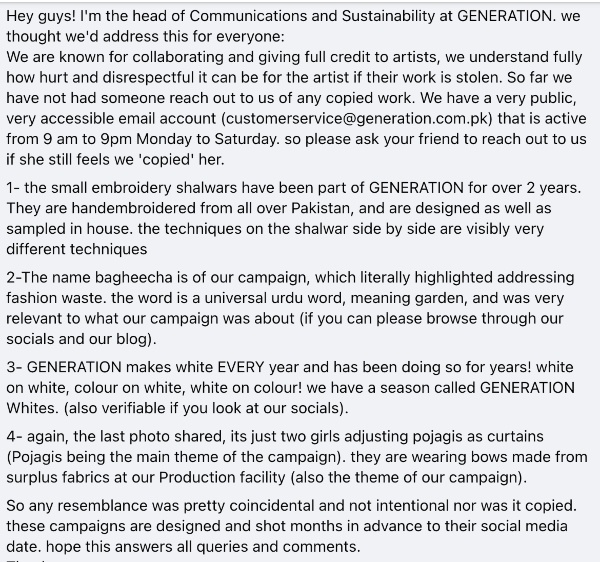 What Should Be Done Here?
In this case, Generation is seeming more convincing. The brand has never been accused of copying someone else. They always collaborate with artists and give due credit! Moreover, if the designs really were being stolen, is it not required of the person being stolen from to first contact the brand?
What we do appreciate is the respect with which Generation's respondents responded to the complaint. Moreover, the fact that all of this was clarified in public is even better! There are witnesses everywhere who can decide for themselves.
Read more: Pakistani Brands That Are Truly Making A Difference By Promoting Inclusivity
Stay tuned to Brandsynario for the latest news and updates.