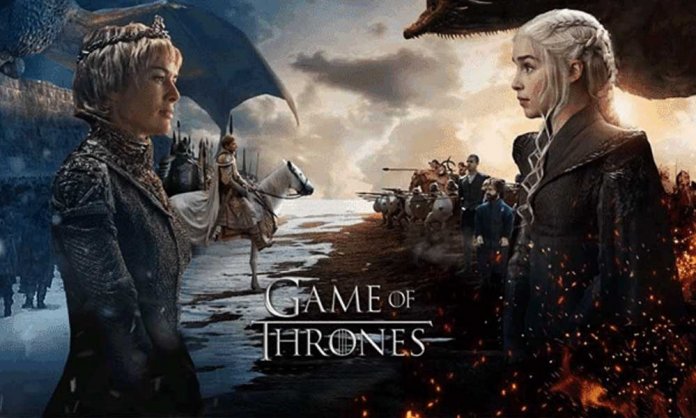 Game of Thrones (GoT) Season 8 Episode 4 has been leaked, so have the juicy spoilers! So, if you want to spare yourself you must stop reading ahead, but if you are as tempted as you are right now, let's get started!
Episode 4 seems to be an epitome of spoilers with a handful of them. Before we get to the spicy details, the episode was reportedly leaked online.
It was available on torrent websites for illegal download and on illegal streaming websites as well.
#GameofThrones Season 8 Episode 4#GameofThronesSeason8 #GameofThronesseason8episode4 #GameOfThronesleak #GameOfThornes #GameOfThornes8 #GOTS8E4 #GOTS8E4 link #GOTS8E4 leak #GOTS8E4 leaked
Game of Thrones – May 05, 2019
Watch Full Episode : https://t.co/bjzQxUaN76

— peggyasbell (@peggyasbell) May 6, 2019
However, security experts have shared that pirated episodes of the series have serious malware which can cause massive damage leaving PCs, laptops and lots of smartphones compromised.
Nonetheless, for GoT addicts, we all know that it is a sacrifice which can surely be considered and is WORTH IT! Furthermore, the trailer already gives away many things, including Khaleesi (Daenerys) and Cersi head-to-head.
Daenerys is heard telling her supporters: "We have won the great war, now we will win the last war." At the end of the trailer, Cersei warns: "We'll rip her out root and stem."
#got #gotleak #gameofthroneslink Game of Thrones Season 8 Episode 4 Leak https://t.co/uKgDXLm16s

— Promise Tyler (@tylerpromise3) May 5, 2019
Game of Thrones Final Season: Brands Get Creative With Out-of-the-Box Campaigns!
Game of Thrones Season 8 Episode 4 SPOILERS!
Consider yourself warned! Here's a list of every spoiler from GoT S8 E4:
Jaime betrays the North
Dany and her army capture Jaime
Sansa reveals Jon's lineage to Tyrion, and Tyrion, in turn, tells Varys
Varys betrays Dany because he thinks Jon would be a better leader
Dany has Varys executed for his betrayal
Dany attacks King's Landing and it's a one-sided hell, becoming, in all intents and purposes, a "Mad Queen"
Tyrion begs Dany to show mercy, Dany refuses
Tyrion frees Jaime and tells him to get Cersei out of the city
Drogon burns Euron's fleet. King's Landing is destroyed
Clegane Bowl happens. Both brothers die
Jaime kills Euron but is mortally wounded in the process
Jaime makes it to Cersei and they die together
Tyrion tries to convince Jon that because of his lineage his family will never be safe, as he is a threat to Dany's rule
Jon tries to reason with Dany, but she justifies her actions
Jon pledges himself to her (again) but then stabs Danaerys
A council decides on who should be the next King, Tyrion gives a speech, and they chose Bran (!?)
In the epilogue, Jon takes the black for being the Queen Slayer, Arya leaves, Sansa rules the North, and Bran oversees his council of Tyrion, Bronn, Davos, and Sam
Game of Thrones Season 8 Episode 5 Trailer
https://youtu.be/F1fqet9V494
Hope you enjoyed the intriguing leaks, stay tuned for more on Brandsynario.