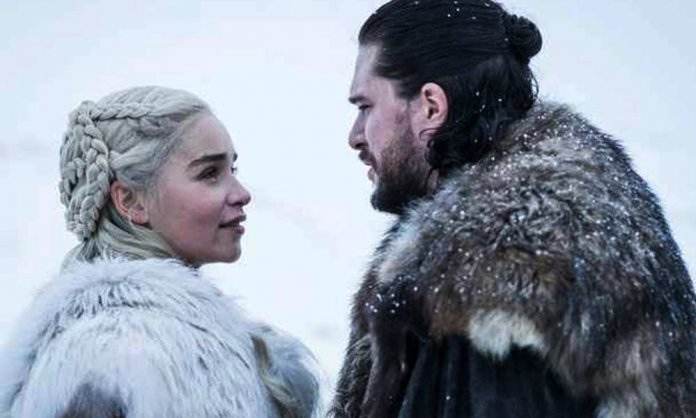 UPDATE: Game of Thrones episodes have a pattern of being leaked just hours before their release.
Last night, season 8 episode 2 went viral on the internet six hours early before it went on air. Now reports are, that even episode 3 has been leaked and all hell has broken loose on social media.
Clearly, the internet has become a danger zone for Game of Throne fans who are trying hard to dodge spoilers.
GOT Episode 3 Leak – GOTS8E3 Leaked Link

Watch – https://t.co/3xetRLsny8

GOT Episode 3 Leaked Free

GoT Season 8 Episode 3 Leaked

Game of Thrones S8E3 Leak Link

Got Episode 2 and 3 Leaked Online#gots8e3leak #gameofthrones leak #GoT leaked #GameofThrones episode 3 leak pic.twitter.com/HYLkPVya7q

— justsosook (@justsosook) April 22, 2019
LMAO As if Game of thrones episode 2 leak is not enough, episode 3 has leaked too 😭😭#GameofThrones #got

— jozzhie (@jozzhie_) April 21, 2019
Gosh someone leak episode 3 im dying in here cuz of too much excitement #GameOfThrones

— Evaine (@evainerx) April 22, 2019
#GameofThrones #GameOfThornes #GamefThrones #قيم_اوف_ثرونز #Got8x02 #GOT8 #Got8x03
watch game of thrones episode 3 leakhttps://t.co/cP316vbEwy

— BOXE (@boxeyx) April 22, 2019
Earlier, link to the leaked episode 2 was taken down.  However, people had already viewed the episode as it made its way to a plethora of torrent websites.
You are watching: Game of Thrones Season 8 Episode 2 Leak https://t.co/a3rIOpblLS

— Emil Gasimov (@EmilGasimov13) April 22, 2019
---
UPDATE: Yet another video of Game of Thrones Season 8 has been leaked and is making rounds on the internet.
The clip is heavily focused on Jon Snow and the upcoming showdown against the White Walkers.
GOT Fans are getting major goosebumps viewing the scenes!
NEW GAME OF THRONES PROMO pic.twitter.com/OK0PTAT8VM

— ً (@targarcyn) April 1, 2019
---
Game of Thrones season 8 is just days away from its premiere and the first episode has already been leaked, reports Express UK.
Apparently, a Reddit user TheRealFikiDoctor has managed to obtain the synopsis of the opening episode and shared it on the internet.
Fans of GOT who have now seen the video by the Reddit user are mind-blown after knowing it all!
Just saw the new episode of Game of Throne. It leaked!!! Crazyyyy!!!

— Jes♛ (@UncleJesse85) March 27, 2019
Dude the leaked summary of the first episode of game of thrones is intense FUCK

— Mikey Targaryen (@LukeSkypimpin) March 27, 2019
Did first episode of game of thrones leaked online?
If yes then do the honors of sending me the link… Paaallliiiizzzz

— Zuhair Tahir (@TahirZuhair) March 27, 2019
However, the rest are warning fans to not post any spoilers till the episode airs.
Whoever leaked @GameOfThrones first episode may you have diarrhea!! I've waited for two years for this I'll wait 3 more weeks. And anyone who posts spoilers I'll block you.

— Fire & Ice🔥⚔️❄️ (@itsmisskadia) March 26, 2019
Reportedly there are Game of Thrones episodes leaked (again). I haven't even felt tempted to go see them. I've got 20 episodes left in 20 days to re-watch and I'm gonna stick to my plan. Plus I'd rather watch it on my 65" Bravia than the computer.

— Kyle Lamb (@kylamb8) March 26, 2019
For now. HBO has blocked the video from the Reddit user but has not given any statement on the matter.
However, other websites were quick to copy the story and have uploaded it for those who cannot wait to know what will happen next.
Brandsynario will not be posting spoilers here.
With six episodes remaining, Game of Thrones season 8 will air from April 4 on HBO.
Stay tuned to Brandsynario for more updates.