Tragedies, one after the other, keep striking the world. After the pandemic, the forest fire, the rat infestation, and whatnot, there are floods in Germany now. The flood has been, for a lack of a better word, disastrous. It has left numerous dead, infrastructures in ruins, and many people are still missing.
Floods In Germany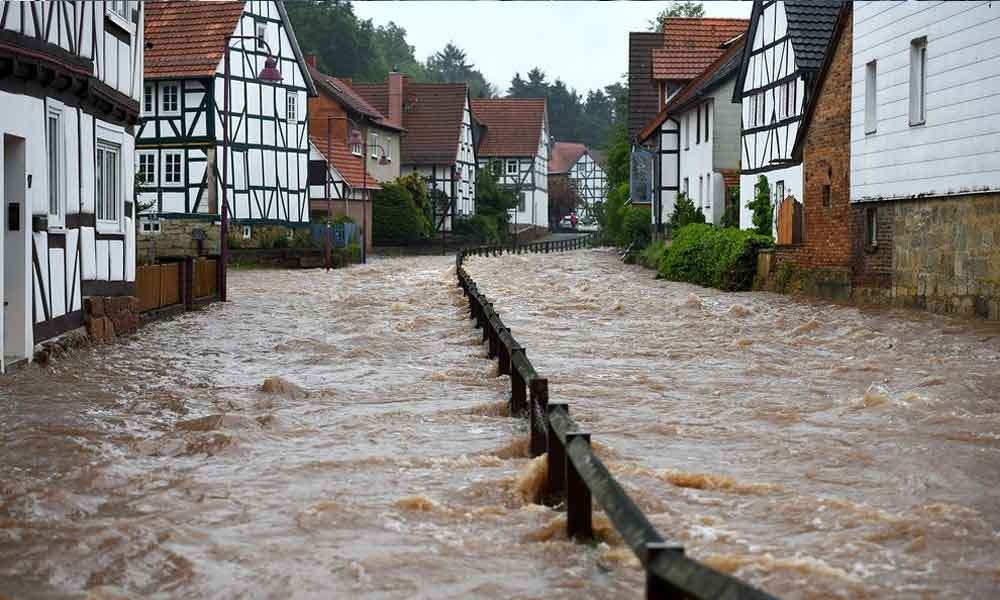 As the water struck the German cities with full force, it created huge ditches in the middle of the road. Not to mention, how the streets were covered with fast-flowing water, restricting movement. Due to this, numerous people were unable to get to safety. In the pictures surfacing, it is clear that they sought refuge in hurry at any high altitude they could find, in hopes that 'their' building would not be swept with the water.
As we compiled a list of videos and pictures of the affected areas, we were left with goosebumps wondering how people would have navigated life in those few days. They must have experienced fear of the unknown; how much water would flood the house, would the house floor give way, or maybe a ditch is formed in the center of their abode.
Videos and pictures of Germany reshared on social media
The people stuck, started making videos and shared them on social media. Those videos began going viral. We have compiled the videos that will jerk you awake at the tragedy of the poor residents.
This flooding in Germany today is hard to wrap your head around. It really seems like the planet is trying to tell us something pic.twitter.com/o5vCEpk8mk

— Read Parable of the Sower by Octavia Butler (@JoshuaPotash) July 16, 2021
Flooded Rhineland Palatinate; Nicos Panoptikum shared a horrifying video of how you cannot see even a glimpse of land with all the water.
Shocking images of the flooding in parts of Germany

This is #Ahrweiler in Rhineland Palatinate (video via @NicosPanoptikum) pic.twitter.com/hYnK2wAdmf

— Thomas Sparrow (@Thomas_Sparrow) July 15, 2021
Breaking of a dam is the scariest for people living nearby.
It's happening; ⚠️ URGENT 🔄 UPDATE 🇩🇪⚡ Germany: The Wuppertal Dam has been broken because of the heavy rainfall in the region.

The death toll from the heavy flooding in Germany rises to at least 42, police said.

Admin note: I live only few kilometers from there, – pic.twitter.com/Ie2KktImGt

— eatlovepray21 (@eatlovepray211) July 15, 2021
Severe flooding hits western Germany, killing dozens https://t.co/GEK4PC7ej0 pic.twitter.com/PSYCZegeVS

— BBC News (World) (@BBCWorld) July 15, 2021
Oh no 😳#Flutwelle #Germany #floods #flooding #NRW #Hochwasserkatastrophe #Klimakatastrophe #Unwetter pic.twitter.com/pW2Lq6ArpW

— Jonas Koppers (@Jonas_koppers) July 16, 2021
Horrific flooding in Germany today. At least 19 reported dead. The climate emergency is here, now.pic.twitter.com/GEmpxoCLmB

— Read Parable of the Sower by Octavia Butler (@JoshuaPotash) July 15, 2021
This is the stuff of nightmare, surely.
Germany

Heavy thunderstorms have caused widespread damage & flooding in many parts of Europe in the last two days with Germany, Switzerland, Netherlands, Norway & Belgium suffering heavy flooding. pic.twitter.com/qPoYBN5vzY

— UncleRandom (@Random_Uncle_UK) July 15, 2021
One thing that does not make sense, however, is that floods are not new for Germany. Then, why did their emergency alert system not work?
Stay tuned to Brandsynario for the latest news and updates!