Summers might have gone, but that doesn't mean you have to let go of all the thing that makes you happy. Since it's the pomegranate season, it is only given that we make the most of it because the season doesn't last long anyway. While you might not be willing to go traditional, I'm tempted to switch you to pomegranate popsicles because who says they are just for the summers? Let's take a look at some pomegranate popsicle recipes, which you can make and enjoy at home.
1. Pomegranate And Limeade Popsicle 
These aesthetically pleasing and delicious popsicles are everything you need this season. I mean, look at those frozen seeds in the popsicle. Who would not want to indulge in one?
Ingredients
Instructions
Mix 1/3 cup of lime juice, 1/2 cup of sugar and 2 1/2 cups of water thoroughly until all the sugar is completely dissolved. This recipe for limeade is a bit sweeter than I like, but you need to make your popsicle base on the sweet side as it will not taste as sweet when frozen.
Add the juice to your popsicle mould, but do not fill each one. We are going to add pomegranate seeds next.
Seed 1 pomegranate.
Add the arils to the mould. You don't want the pops to be jam-packed, but the seeds should be evenly dispersed throughout.
Freeze for at least 7 to 10 hours as you want these pops to be rock hard. The pomegranate seeds will slightly compromise the pop structure, so they must be frozen solid to prevent breakage.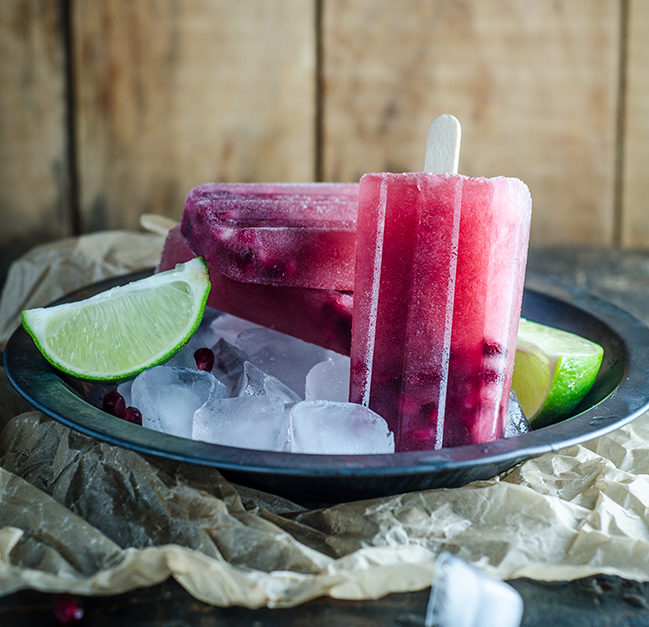 2. Three-Ingredient Pomegranate Popsicles
Here is a simple three-ingredient recipe of mind-blowing popsicles to cool down yourself. The recipe will take only ten minutes but will make you wanting for more.
Ingredients
2 tsp Sugar
1/2 cup Water
Instructions
De-seed the pomegranate and take the seeds in a mixer grinder jar. Leave a few seeds for later. Squeeze half a lemon juice and add sugar as per taste.
Add water and blitz until it becomes juicy.
Strain the juice with a strainer and taste it. If required, add sugar or lemon juice.
Prepare the moulds by adding a few pomegranate seeds in each mould.
Pour the pomegranate juice into popsicles moulds.
Place a pop stick in the centre and refrigerate it for a few hours.
Once frozen, remove the pomegranate pops from mould and serve chilled.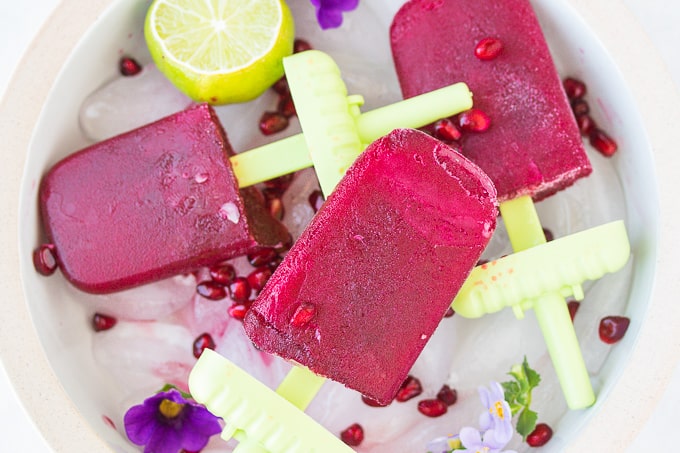 Read More: 6 Places To Find The Fluffiest Pancakes In Karachi
3. Sugar-Free Pomegranate Popsicles
What could be better than an icy-cold Pomegranate Popsicle made with 100% juice for a healthy, superfood treat with no added sugar? This healthy treat is perfect for kids and adults.
Ingredients
2 cups

 100% pomegranate juice

2 tablespoons

 freshly-squeezed lime juice (from about 

one

 medium lime)
Instructions
Combine the pomegranate juice and lime juice into a pitcher. Stir the liquid.
Divide the pomegranate juice evenly into approximately six popsicles moulds.
Freeze them for about 4 hours before removing them from the moulds and serving cold.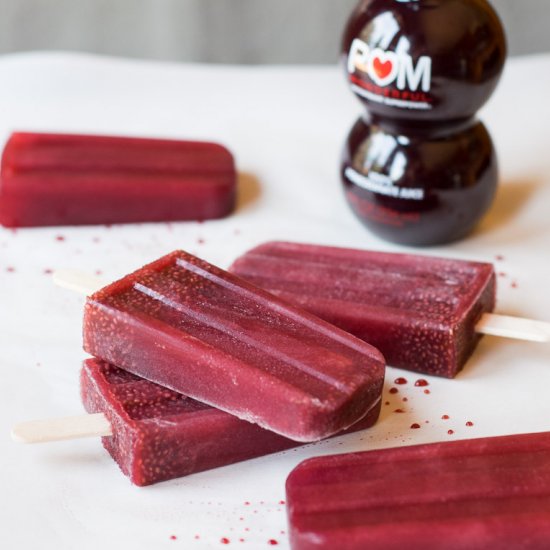 4. Pomegranate-Yogurt Ice Pops
This is a colourful treat perfect for children and their parties. The combination of creamy yoghurt and sweet/sour pomegranate is wonderful yet healthy.
Ingredients
2/3 cup pomegranate juice

2/3 cup yoghurt

One tablespoon honey

One vanilla bean

Seeds from 1 pomegranate
Instructions
Pour equal amounts of pomegranate juice into 1/4 cup ice pop moulds, filling each one halfway. Freeze for 1 hour, or until the liquid is beginning to harden but is not entirely frozen.
In a bowl, combine the yoghurt and honey. Split the vanilla bean lengthwise and scrape the seeds into the bowl. Stir to combine.
Remove the moulds from the freezer, push in the sticks, and top up with the yoghurt mixture. To get a marbled effect, stir the pomegranate and the yoghurt together briefly. Finish with a sprinkling of seeds. Return to the freezer for several hours or until completely frozen.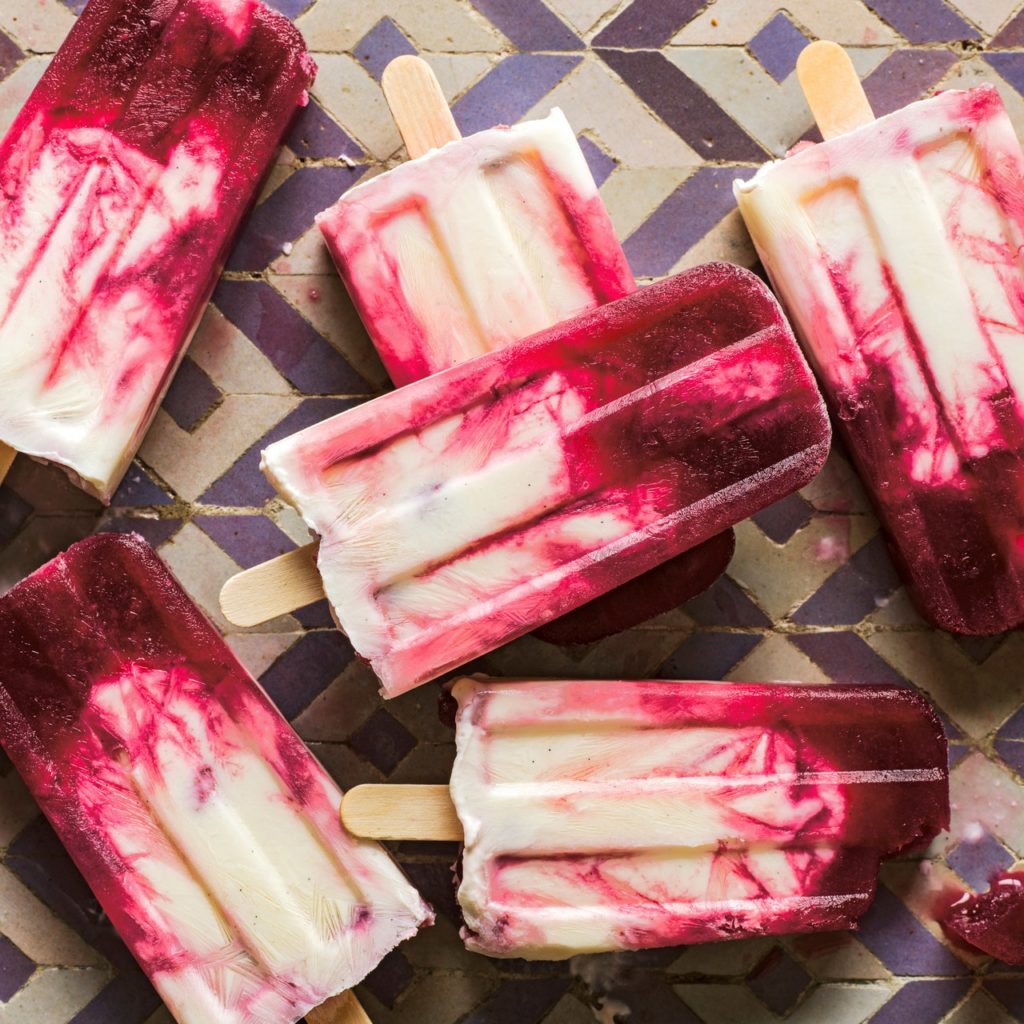 Read More: 6 Delicious Recipes You Can Make With Mountain Dew
5. Pomegranate Coconut Water Popsicles
Last but definitely not least, we have for you the Pomegranate Coconut Water Popsicles.
Ingredients
4 tbsp

 pomegranate seeds

250

 ml coconut water
Instructions
Place one tablespoon of pomegranate seeds into the bottom of each popsicle mould and then fill to the top with coconut water.
Place in the freezer for about an hour or until the coconut water has started to freeze. Remove the mould from the freezer and, using a knife, stir the coconut water and pomegranate seeds. The seeds should have naturally sunk to the bottom, but by sirring everything now when the coconut water has become more solid, you should be able to disperse them throughout the whole popsicle. Pop the lid back on the popsicle mould and insert the wooden stick.
Return to the freezer for another 2-3 hours or overnight.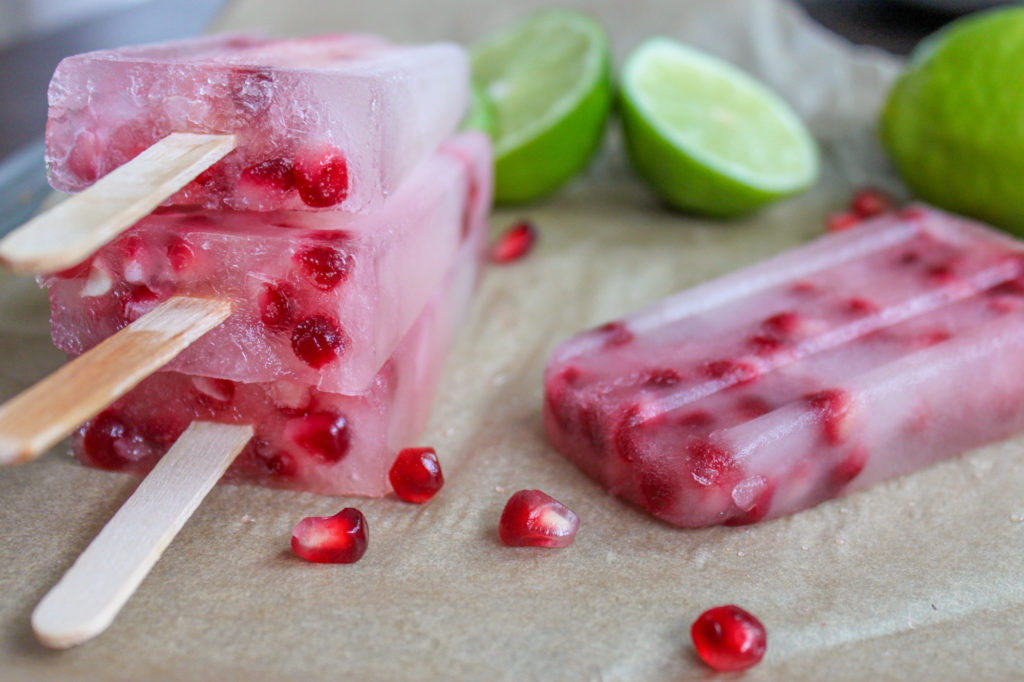 Stay tuned to Brandsynario for the latest news and updates!