Fauji Fertilizer Company's (FFC) new TVC featuring Farhan Ali Agha caught our attention. Created by BBDO Pakistan and Epic Pictures, the TVC became attractive not for having a popular actor attached to it but for something even grander; for the emotional message that was a part of it.
Read More: Featuring Ayeza Khan, New TVC By Airlift Express Is Award-Worthy
Interesting aspects of the ad
The ad begins with incredible visuals. It starts with a raindrop falling on the agricultural land and a singular plant popping out. This is probably the most perfect cinematography and editing skills I have ever been so inspired by.
Read More: Latest TVC By Swiss Premium Cheese Sparks An Online Debate
As the ad progresses, you see choreographed steps in a whole new light. Up until now, choreographed and synced steps were not new but always featured as a dance number to promote products like electronics, fairness creams, and even tea. But this time we saw synced choreography as something that was not a dance; or rather, it was a dance of life; the mechanic steps that ensue when one repeatedly performs an action.
For a farmer, or a farmworker, that is the dance of life, isn't it?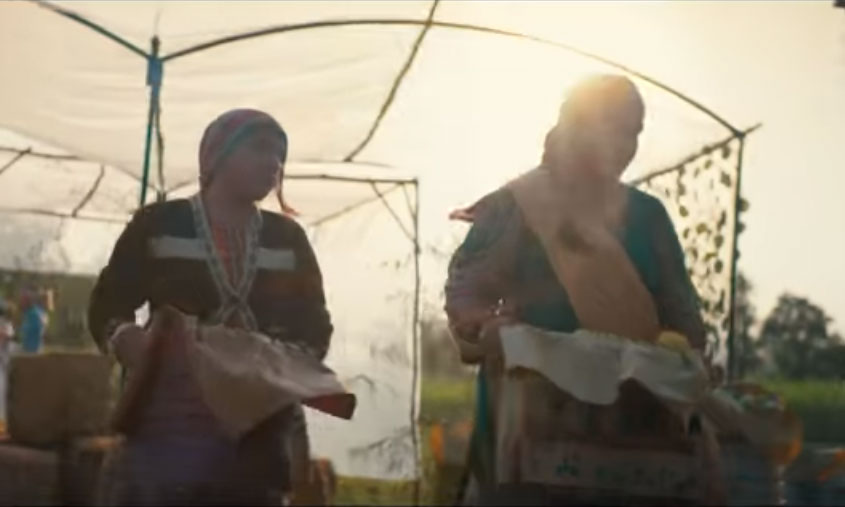 The message
If the TVC was not already moving enough with the deep voice of the narrator, the ad takes yet another step. The storyteller telling the story of that crop created from that one raindrop takes it to the next stages; when that crop is turned into a cuisine.
He sheds light on the efforts of that farmer who waited months for the harvest. He sheds light on that cook who takes hours to create that final product. And then he links it to our ungrateful nature which disregards all that effort when in an instant, we express dislike for the food or throw it all away.
The ad signals at stopping for a second right before we are throwing it away, and think about that farmer, the researchers, all the people involved in the creation of the ingredients of that food.
Take a look at the TVC and tell us if you did not experience goosebumps:
https://www.facebook.com/sevenfilmspk/videos/2430152947121746/
Unnecessary aspects
While we appreciate the great parts of the TVC, there is one thing that did not make sense; casting Farhan Ali Agha as the farmer. With the fast pace at which the visuals come and go, we do not really get to connect with Farhan's performance, so it did not really matter to have a known industry face here.
Stay tuned to Brandsynario for the latest news and updates!