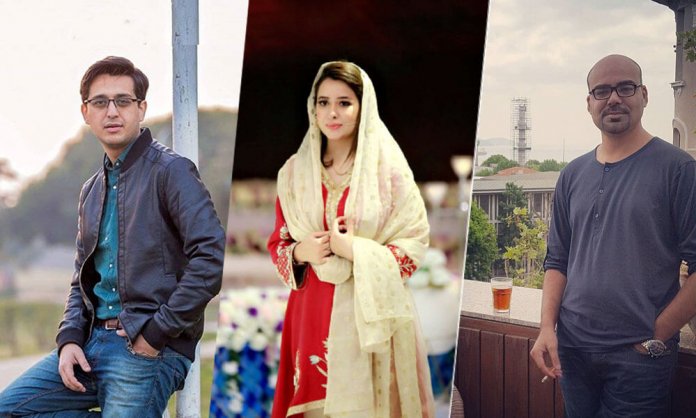 Famous TV anchor Rabia Anum has hinted towards a leading comedian and social media celebrity of being a harasser.
A number of harassment allegations have come up in recent time against many reputable people after the successful initiative of #metoo movement and this is the latest one.
Rabia Anum, who works at Geo News and hosts the popular TV show Lekin, took to Twitter and spoke on behalf of several young girls who have accused the comedian of harassing them and then pressuring them to stay quiet.
Visually Impaired Student Exposes Punjab University For Allegedly Denying Admission
In an explosive tweet, Rabia did not name and shame the social media star but exposed him nonetheless!
So Several Young Girls are speaking out against the Sexual harassment attempts by a Known Social media Guy and a Comedian. He not only lied to a dozen girls but now also pressurising them to stay quiet. Some of the girls have reached out to me for help.
Kya karna chahye?

— Rabia Anum Obaid (@RabiaAnumm) October 9, 2018
According to Rabia, these girls are reaching out to her and asked for suggestions regarding this case.
She added that these girls have proof but they are too scared to face the judgemental society.
Adding to this. Almost every girl has proofs against him but they are too scared to go public because "Log Kya kahengay"

— Rabia Anum Obaid (@RabiaAnumm) October 9, 2018
Some people suspected it to be Syed Shafaat Ali who also fits into the description, but Rabia has cleared that its not him.
@iamshafaatali is the most amazing person I know. A true family guy. Obviously it isn't him.

— Rabia Anum Obaid (@RabiaAnumm) October 9, 2018
Syed Shafaat Ali has also broken silence regarding the matter!
Thanks Farah, you are generous https://t.co/hb3jEVYVHt

— Shafaat Ali (@iamshafaatali) October 9, 2018
Twitterverse is now suspecting that she is talking about Junaid Akram, who is a leading standup comedian and has got a huge fan following on social media.
Wait? People are saying this is about Junaid Akram? No wonder she's hesitant to go up against him. I mean the guy has become quite a big deal and it's a hard to digest accusation. But no matter who it is the matter should be brought forward and dealt with accordingly https://t.co/LXDIMhN4vR

— Abdullah Raja (@rabdullahkhan) October 10, 2018
I always used to tell people that I don't like this guy because I know more about his gandi swag through a friend, more than his ganji swag but they thought he is a saint. Now they know! So glad I never followed him#junaidakram

— MommyKnows (@MomyKnows) October 10, 2018
After Rabia's tweet, several other girls came forward to support her statement, sharing their own opinions.
Never liked Junaid Akram and have never found him funny. Always wondered why do people even consider working with him and inviting him to different events. Glad he is finally being exposed for the pervert that he is.

— Maham Ali (@Mahamali05) October 9, 2018
Some people think Rabia should not have advertised this matter publicly and should have waited till a formal complaint was lodged against the alleged.
Professional etiquette demands you to remain silent until you have lodged a formal complaint to the police regarding this matter. The girls came to you for help in confidence, you've started advertising it. No wonder they are afraid to take the matter further!

— . (@Wade73605662) October 9, 2018
First! Lodge FIR under harrasment laws.

Next:Report it without mentioning survivors and accused names until investigation is completed.

Final: When verdict come, report it with mention of the perpetrator.

— Izharullah (@Izhar2u) October 9, 2018
While many think she should have directly named the guy, considering what happened in India recently!
She is talking about Junaid Akram. About time we name and shame people, parosi mulk se kuch seekh len hum yahan. https://t.co/E3ZZlbmlrZ

— Sidra Aziz (@NamkeenJalebi) October 9, 2018
Half of the people guessing Shafaat, the rest taking names of Junaid akram. Behter tha madam naam hi le len warna saray comedian dubak k bethay hongay🤣 https://t.co/GHSUpsP9cQ

— ㅜ. (@TabindaSamar) October 9, 2018
And they think its high time these harassment allegations should be taken seriously!
Fear is never an option.

If men like Junaid Akram or the likes of him harassed you or made you feel uncomfortable, now is the time to openly tell your story and shame the hell out of him! The #metoo movement is strong and it's not going to stop!

— Z. Hassan (@Zafaryabism) October 9, 2018
Junaid Akram? Seriously? My god. If it really is him, I hope all these girls find the strength to shame him publicly. No harasser deserves the kind of influence and following he has.

— 🐧 (@_yesoffence) October 9, 2018
Rabia Anum has not named anyone and it is too soon to target a particular someone without any proof. Though Junaid Akram has faced harassment allegations in the past as well no evidence has been revealed against him yet.
Board of Secondary Education's Examiner Allegedly Exposed in Viral Video
But is Rabia really talking about him in her tweet? Let's see what turn this story is going to take.
Stay tuned to Brandsynario for more updates and news!