Elan is an internationally recognized couture brand in Pakistan that revolutionized bridal wear. Today, it stands at the top of the food chain when it comes to sartorial choices for women however, is a decline in sight? The brand, its owner, and its sister brand are under fiery criticism for being a scam. Here's what's unfolding and why it's a typical representation of Pakistani brands.
Read more: 7 Things You Would Never See A Luxury Brand Do
What Happened?
The owner of Junoon restaurant in Lahore, Adeel Chaudry is the whistleblower of Elan. The man spoke out against the brand for taking a heft amount of money for a girl's Barat and then failing to deliver it. They are also not refunding the family! Imagine not getting your bridal jora on your wedding day, we can't even imagine the despair it would cause to the entire family.
View this post on Instagram
Since then, hundreds of people have spoken up against Elan. People within Pakistan and from abroad are complaining about the same thing. Hundreds of outfits, be it bridal or pret, are undelivered and also not refunded. The customer service is perhaps the worst that we have seen so far and people's hands are tied.
The Scandal Before
Atikah Gardezi, an upcoming model, also started a movement before this. She worked for Khadijah Shah's Elan's sister brand, Zaha, and was not paid! It had been months and her payment was pending despite the brand releasing several collections. Could it be a lack of funds? Definitely not. It was simply entitlement and lack of ethics.
View this post on Instagram
Many also spoke under her post in solidarity and shared their similar experience. After that, the brand got in touch with her and agreed to pay her immediately. What was the catch? That she remove the post!
The Owner Hits Back
It is also insane how the elites manage to never let their tails get stepped on. One person can lie, maybe two can. But hundreds? That's a hard pass. Khadijah Shah took to her personal account to legally threaten people who are spreading "false information" on social media.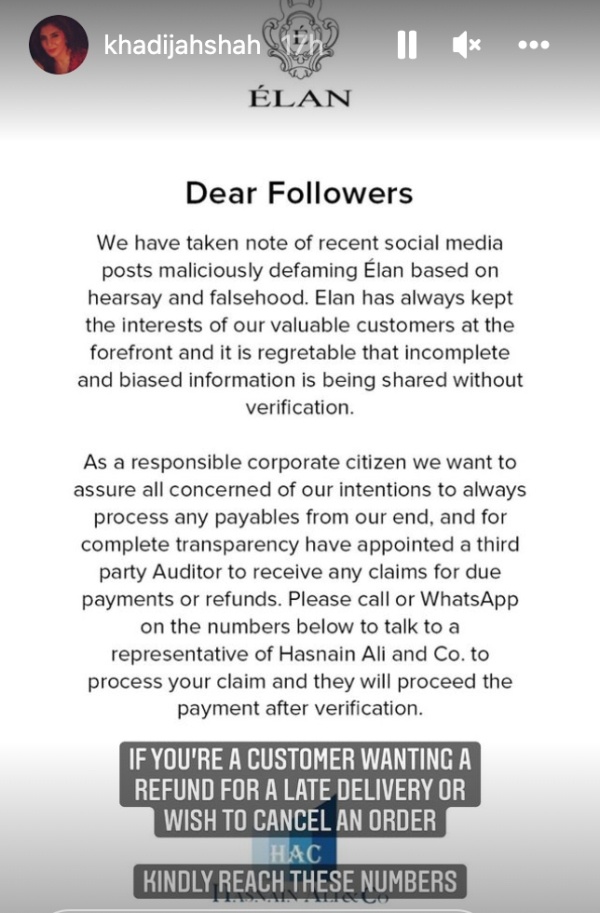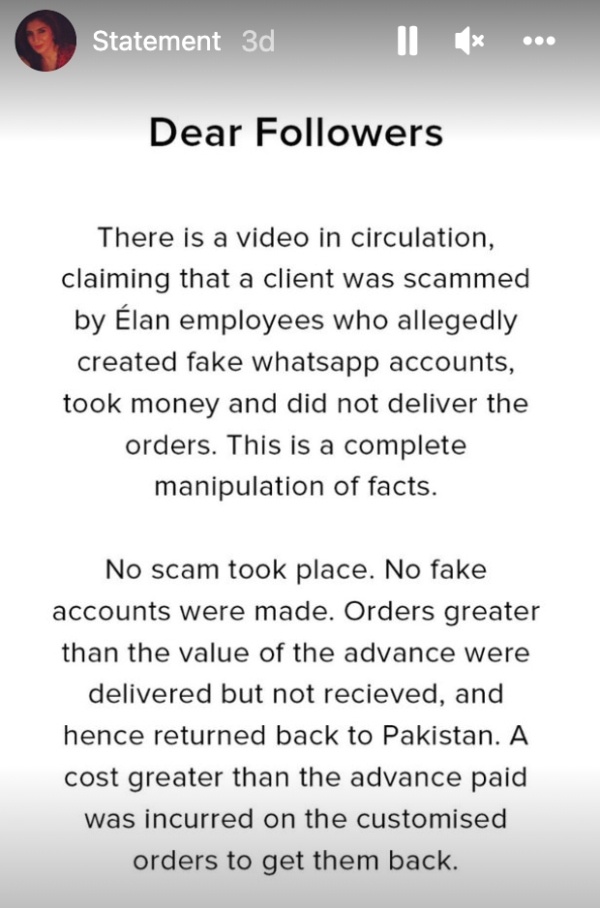 Now, after all this "defamation" Elan has offered to pay back anyone who would like a refund. Too little, too late? Watch this space as the story unfolds.
Read more: According To Research, Women Are Better Leaders Than Man
Stay tuned to Brandsynario for the latest news and updates.