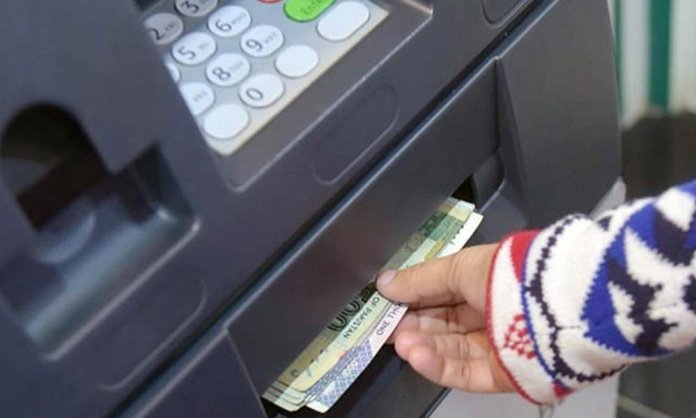 Eid 2019 is here, and Muslims all over the world are celebrating the festive event as well as looking forward to the long weekend.
Eidi is a major part of this festival and is looked-forward to the most as the nation rushes to the ATMs right before the Eid Holidays to withdraw crisp notes for Eidi distribution.
However, since the past week, just as Eid holidays were approaching, customers began complaining about issues with their ATM cards and online banking services.
Bank consumers are taking to their social media accounts to express their frustration at these Pakistani banks.
Some are complaining that they are unable to withdraw funds from their respective ATMs.
Dear Sir. I tried to withdraw cash from ATM MACHINE of Madyan branch
The process was not completed but I received a message of debiting my account by cash withdrawal of Pkr 2000+1000. When I checked my account balance it was debited by PKR 3000. The transaction was done on 27-5-0

— Shah Nawaz (@ShahNaw93733291) June 2, 2019
Hello @HBLPak mene new account khulwaya h or biometric b kraya h pr jb me Atm se paise niklwa rha hn tou 'General Processing Error' aa rha h. Mene Bank se maloom kiya tou wo bole ap k account p 192 or 112 condition laga di gyi h? Why?

— Afzal (@soomrospeaks) May 29, 2019
Some are pointing out that they cannot carry out online transactions and interbank transfers.
Interbank transfer is not available, have been trying since morning, "service unavailable" whenever I want to add beneficiary
Thanks@MeezanBankLtd

— Sarfraz (@sarfrazniaz) June 3, 2019
Had the worst possible experience with @HBLPak today. I cannot perform online transactions/transfers because of a "special condition"on my account.

Biometic verification ✔️
Home/postal address verification ✔️
Account in branch since 4 years.

— Fahad Farooqui (@agencykabanda) June 2, 2019
@HBLPak Ye masla hal.ka daiyen, ab ap ki app mostly nahi chalti pic.twitter.com/9VqdSHjOod

— محمد عمیر دبیر (@UmairDabeer) June 2, 2019
While some are worried because their bank has deducted funds from their account when the transactions have not actually completed, and the amount has still not been reverted back to their accounts.
@HBLPak HBL. This is Hamza from Korea. There was a wrong transaction made in Lahore due to the link down at one of the ATMs and the amount has not been reversed yet. It's been more than 24 hours now. Please look into this and get in touch with me for my details.

— Hamza (@hamzainseoul) May 28, 2019
@BankAlfalahPAK I ordered 5 mobiles on 16 may 2019 against Order no 16000004390 from alfa mall & payment of 5 Samsung a10 mobiles deducted from credit card
Uptill now I received 1 no mobile
Kindly deliver 4no mobiles  or returns balnce amount so that I can avail credit limit

— Nadeem Abbas (@NadeemA12478821) June 2, 2019
It is also to be noted that many employees, government and otherwise, have not yet received their salaries.
@HBLPak is a worst #bank for government employees for their salaries, @HBLPak never transfer salaries of government employees on right time. #CWC19 #JummahMubarak #Government #hbl

— amanullah (@amanullah2113) May 31, 2019
Considering that strict orders to transfer employees' salaries before Eid from the Government had been issued, this kind of incompetence is unacceptable.
Employees to be Paid Salaries Before Eid-ul-Fitr 2019: Sindh Govt
@HBLPak i did not receive my salery yet all other employees has been got thier salaries, what is the issue

— SamaAlertz 📶 (@SamaAlertz) May 30, 2019
Dear @HBLPak I had to open an account in your bank for Salary transaction. My first impression in Customer dealing has been very pathetic. I brought a letter from my org [to whom it may concern] & they rejected it. The BS was using Cell in middle of conversation & was rude #help pic.twitter.com/ii1MElseFK

— Sami Khan (@Koza_Gar) May 29, 2019
Moreover, many customers are also highlighting issues with slow customer service at the branches and service regarding their debit cards.
Wow HBL really has the worst possible services + customer care. Monday's the last working day and I'm not able to activate my debit car, haven't received my cheque book either. FU @HBLPak

— Z (@ZayHussain) June 1, 2019
Have wasted over 40 minutes on the phone to talk to a @HBLPak phone banking officer. 8 calls later still trying to get beyond the recording. They're all out Eid shopping, I suppose?

— SarahDrama (@SarahDawood) June 1, 2019
This is how @MeezanBankLtd treats their customers. Only one counter open on the last working day before eid and when I asked the manager why only one counter is open he said the other guy is on leave. So unethical while elderly in line too. Branch Lalazar, Tulsa road Rawalpindi pic.twitter.com/zuMNDymZDG

— Ali Yaqoob (@Aleyaqoob) June 3, 2019
@BankAlfalahPAK
The slowest banking in Bahria town phase 7 Rawalpindi.

— 🍁Classy🍁 (@BottleofWine8) May 31, 2019
@ABLpk i have to report my lost debit card. No one is answering your helpline. After 5 minutes of wait… IVR starts again with urdu k liye 1 dabain. What to do now?

— Hammad Nasrullah (@Hammad07) June 2, 2019
Guys what happened to @HBLPak or its just my card is not working?

— eidkubayegi (@sidrarare) June 1, 2019
The State Bank instructs banks to be more facilitating than usual during Eid festivities.
However, the issues of ATMs running out of cash and slow banking services still remain, leaving their customers disappointed every year.
Karachi Weather Update: Karachiites to Celebrate a Hot Eid & Dry Weekend
Have you faced a similar issue with your bank lately?
Let us know in the comments below.
Stay tuned to Brandsynario for more updates.