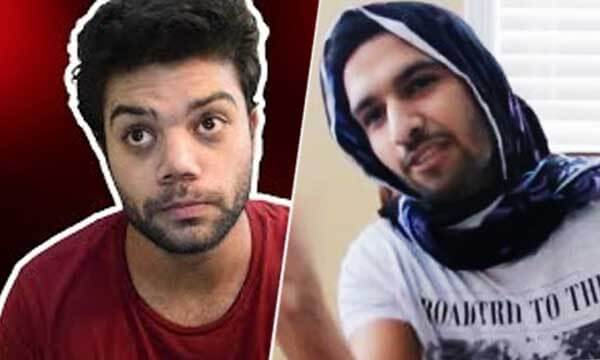 Zaid Ali along with his wife, Yumna is vacationing in Pakistan and the celebrity couple is having a blast while at it.
The Pakistani-Canadian Youtuber is attending morning shows, attending family weddings, making hilarious videos and also collaborating with some of the best Pakistani Youtubers.
Already, he has met with Mooroo, Saad Ur Rehman Aka Ducky Bhai and boys from Khujlee Family, Raza Samo, and Haseeb Ismat.
These powerhouses seized the chance to collaborate with each other and we will be seeing videos soon.
The one with Mooroo is already out and making waves on social media.
But apparently, a lot happened during Zaid's meetup with Khujlee Vines and Ducky Bhai.
So it all started when a tweet surfaced on Ducky Bhai's account, asking followers to suggest a dare for him and Zaid.
Give me and Zaid Ali a dare… Literally any dare.

— Saad Ur Rehman (@duckybhai) December 13, 2018
Shahveer Jafry came up with the perfect dare of the duo!
Dress up like police officers and give traffic tickets to people in Lahore.

— Shahveer Jafry (@shahveerjaay) December 13, 2018
Other fans suggest some super funny options!
Both roast sham idrees and let the fans review it

— Clone Ranger (@UmerAbd55454335) December 13, 2018
Dance on road playing anaconda Nickey Minaj

— Shuvaib Akhatar🇮🇳🇮🇳 (@AkhatarShuvaib) December 14, 2018
Ek dosre ki naak me unglii daal k jeejay nikalne hain😂😂 video zaroor bnana

— Ahmed Ijaz (@iAhmed1297) December 13, 2018
But things started to escalate when this hilarious confession was rolled out from Ducky Bhai's account 
I love zaid ali .. hes so cute

— Saad Ur Rehman (@duckybhai) December 13, 2018
And we bet it was done by the mastermind himself, Zaid Ali.
kaash zaid ali single hota yaar.. maza ajata..

— Saad Ur Rehman (@duckybhai) December 13, 2018
Twitterverse loved the fact that Ducky Bhai got pranked by Zaid Ali
Hacked?

— Talha (@Talharahim) December 14, 2018
The rest joined Zaid Ali in trolling Ducky Bhai!
@Za1d is married… find some single dude… 😂

— I'm batman 🐾 (@Fatmidisawesome) December 13, 2018
Ye waqai hi yumna k hathun mare ga

— Faisal Aslam (@MArham53) December 13, 2018
Are you on a loop or something ? Why zaid ali zaid ali ?

— Afrasiyab Khan (@afrasiyabPTI) December 13, 2018
Well, it's not every day you see Zaid Ali messing around with one of Pakistan's favorite Youtuber.
Can't wait to see their collaboration together. Check out the BTS from their video below.
Via: Haseeb Ismat's Instagram
Zaid Ali & Ducky Bhai Take a Savage Dig at Shaam Idrees & Froggy!
Stay tuned to Brandsynario for more updates.