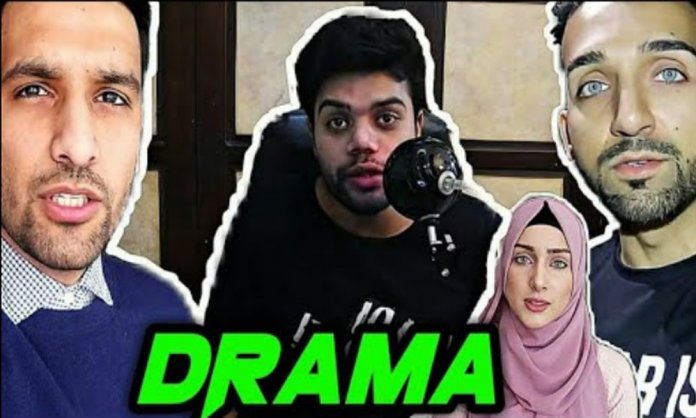 Aren't we all tired of Shaam Idrees and his numerous phony attempts to make us get all excited for his marriage?
Guess we are not the only one! Seems like his Youtuber friend, Zaid Ali too seems irked by his numerous VLOGs declaring his pseudo marriage!
Over the past few months, both Shaam Idrees and Froggy have united to conduct the 'Biggest Dare on Youtube'.
https://www.youtube.com/watch?v=DzDzhscfayE
Apparently, in a bid to gain more subscribers, the pair has kickstarted a challenge that they will get married if they hit 2 Million subscribers by 16th October.
https://www.youtube.com/watch?v=E67XNuMl7-w&t=358s
Well, this whole 'Shaam weds Froggy' drama has been happening for quite some time. And Zaid Ali decided to expose just that!
Taking to Twitter, the Youtube sensation posted a screenshot of all the clickbait vlogs in which Shaam Idress has been announcing his 'so-called' wedding with Froggy.
We bet there are even more in number!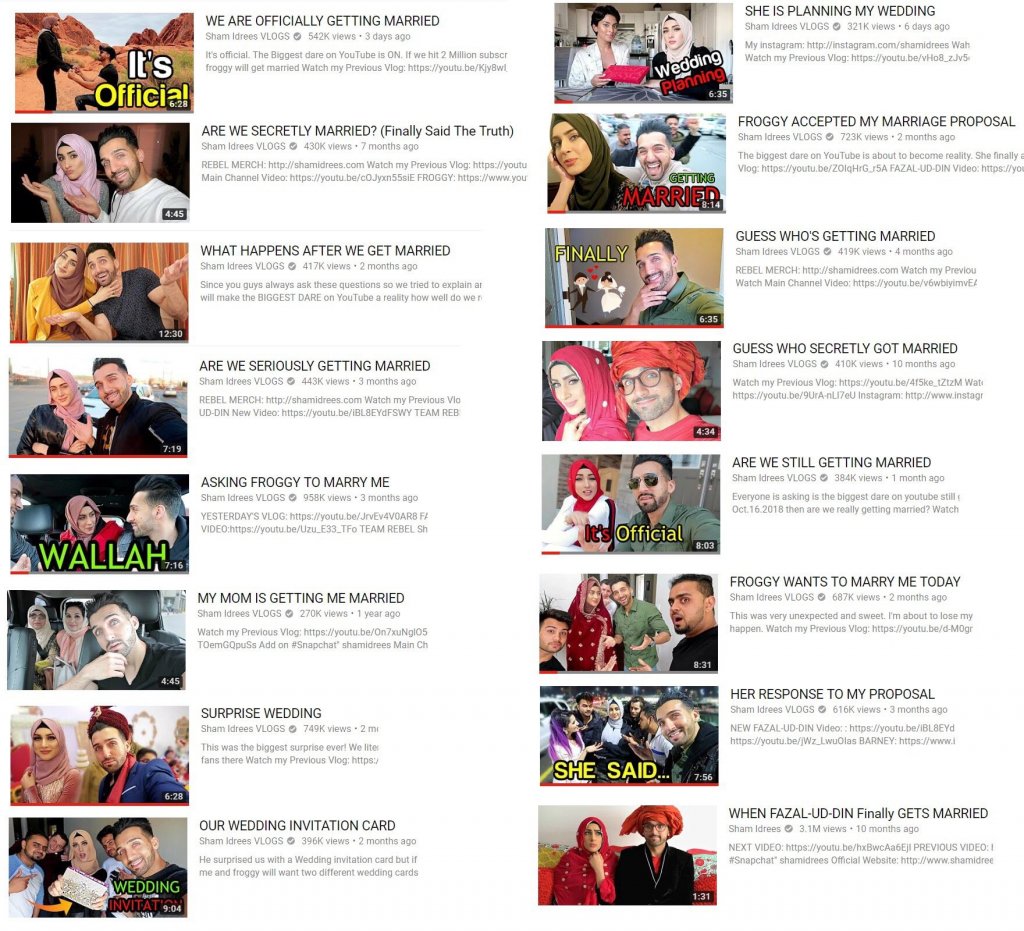 Zaid Ali is clearly not coming slow and we are loving it!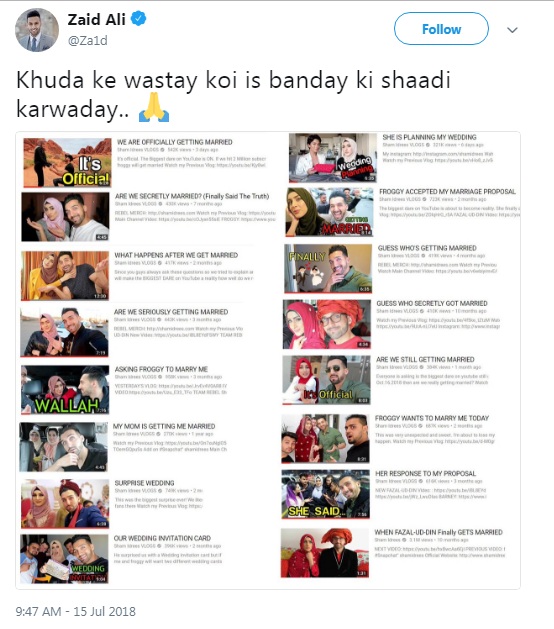 Following with this savage trolling, Shaam Idrees's arch enemy, Saad ur Rehman aka Ducky Bhai too seized the chance of roasting the Canadain Youtuber.
Highlighting how he has been using Zaid Ali's name over the years to get fame, Ducky Bhai grilled him like the pro he is!
Time flies so fast and title changes so fast. pic.twitter.com/eV9wsvMZlb

— Saad Ur Rehman (@duckybhai) July 16, 2018
Apparently, Twitterverse joined Zaid Ali and Ducky Bhai in trolling Shaam Idrees even more!
@Shamidrees @QueenFroggy @duckybhai 😂🤣 pic.twitter.com/FYFFibi82C

— Syed Zargham Naqvi (@SyedZaghi) July 15, 2018
If you guys do get to 2 million subscribers, and suppose you get married? How many subscribers would you need or would ask for, you know bacha paida karne ke leye? https://t.co/gSpDGOFZou

— Furqan Shayk (@FurqanShayk) July 15, 2018
Skin colour also chnages so fast. #ODallay pic.twitter.com/Slzgg95hpP

— zia (@lowkeyzia) July 16, 2018
Now people want Ducky Bhai to plan #Shroggy's wedding!
What if we recommend @duckybhai to take this responsibility.😁 I'm pretty sure he will do 100% justice with this decision✌️

— Abee khan (@abid_abee) July 15, 2018
Only ducky bhai can do this.. https://t.co/ECunDfet9f

— Rehan Abid (@rehannabid) July 15, 2018
@duckybhai They need your help bruh 😂 Apny dost ki shadi hi kara dy 😂😂 https://t.co/d2uy3cQdGQ

— Rizz Ahmed (@Rizz_Ahmed) July 15, 2018
Ask the @duckybhai to do it so. Bohat achy se arrange kry ga bhai 😅😂 #Comsian

— Rümî🦁 (@Sohaibroomiii) July 16, 2018
@duckybhai iddi shadi krwa de plz tenu khuda da waasta 😤

— Usama اسامہ (@Usama80116955) July 16, 2018
Let's wait and watch if Shaam & Froggy will respond to Zaid Ali & Ducky Bhai!
Do you think Shroggy will hit 2 Million subscribers by 16th October 2018? Let us know in the comments below!
Stay tuned to Brandsynario for more updates!