In today's news, the Dolphin Squad was spotted torturing citizens in yet another incident of Punjab Police's high handedness in the provincial capital. The organisation was formed to improve police emergency response and to safeguard the life of the citizens. However, time and again, the Doplhin Squad has assured the public of their incapacitated capabilities and poor infrastructure.
This has happened with the Dolphin Squad, a specialised patrolling wing built by the Punjab government to promote 15 emergency call response mechanisms and promote community policing over the years.
Dolphin Squad Incident 
The incident has been reported in the Sanda area of Lahore, around two days ago. The report mentions the Dolphin Squad team was physically assaulting and misbehaving with two men in the busy market.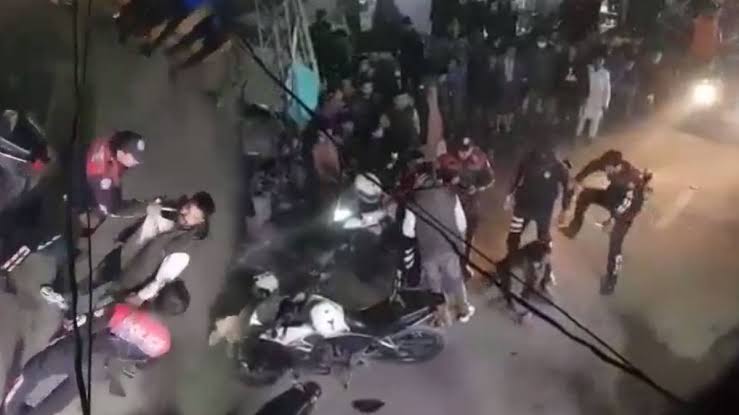 The footage, which was captured by a person standing on the upper floor of a building, showed two Dolphin Squad officials thrashing the persons with punches and kicks.
Read More: Ababeel Squad Introduced In Lahore After Dolphin Squad
The violent video also shows two armed men without uniforms abusing and kicking the citizens.
Take a look at the footage below
اس واقعہ کی کیا تفصیلات ہیں؟@OfficialDPRPP pic.twitter.com/OAY0wmz2D9

— Muhammad Umair (@MohUmair87) December 27, 2021
As the video went viral, social media users urged concerned officials to take notice of the incident. Meanwhile, the police spokesperson has not commented on the matter as of yet.
Previous Incidents 
In a most recent incident, a citizen who called 15 for police help during a dispute in the Township area was shot at by an official of the Dolphin Squad. In another instance, the Squad team had shot at a shopkeeper in Abdali Chowk, Islampura. The victim had called for help after falling victim to an armed robbery.
Earlier, members of the force had inadvertently shot dead a teenage boy while chasing some suspected robbers on the Band Road and also shot dead a woman who had been returning home from her office in Naseerabad in a separate incident.
Read More: Dolphin Force Saves Woman From Being Burnt Alive By Husband 
A former DIG, Dr. Haider Ashraf, under whose command the squad was launched in Lahore, had said in an interview that the dolphin, was considered to be a symbol of love and affection. It was introduced to promote community policing, he had said. However, it has failed to live up to its purpose and mission.
What are your thoughts about this video? Let us know in the comments below.
Stay tuned to Brandsynario for the latest news and updates.