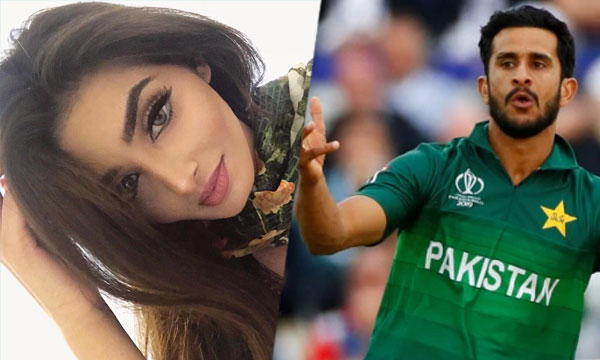 Pakistanis love wedding news, be it about a friend or relative's wedding, or be it about a celebrity's wedding.
Pakistanis also love rumors, and jump at them like they're free cupcakes.
The wedding news currently taking social media by storm is that of Hassan Ali's wedding rumors with Shamia Arzoo.
Test cricketer Hassan Ali is going to be married on the 20th of August . His wife Shamia Arzoo is from India, Nikah ceremony will be held next month while Rukhsati will be next year.

— Mirza Iqbal Baig (@mirzaiqbal80) July 30, 2019
Yes, we're calling it a rumor because Hassan has very recently given a statement that his wedding news is not confirmed.
Hassan Ali Breaks Silence on Wedding Rumors with Shamia Arzoo
However, we're still more concerned about the girl he plans to marry: Shamia Arzoo. We're so curious that in attempts to dig for photos and other details about the fast bowler's possible bride to be, we've been posting photos and collages of Hassan Ali with Shamia Azmin Ahmad, a make up artist and beauty influencer.
https://www.instagram.com/shamiaazmin/
Take a look at all the tweets circulating with the WRONG girl's photos:
Pakistani pacer Hasan Ali is all set to marry an Indian girl Shamia Arzoo on August 20.
Congratulations Generator. pic.twitter.com/qH9Qe93mas

— iPakiLaD (@lad_Paki) July 30, 2019
After Zaheer abbas, Mohsin khan and Shoaib malik now #HasanAli is going to marry Indian girl Shamia arzoo. India again going to be a salaa of Pakistan 😍👌 pic.twitter.com/6jRXRYSNbB

— Umair Choudhry (@MianUmair991) July 30, 2019
#HasanAli going to marry an &#indian girl from haryana, name Shamia Arzoo 😁

Another indian bhabi 😀❤️ #FriendshipDay pic.twitter.com/UEt164PXzg

— Zaiboo⭕ (@zaibasi) July 30, 2019
So Finally One more time. A beautiful lady #shamiaarzoo is gonna our Bhabhi. But Congratulations Hassan Bhai. Always stay happy and blessed and enjoy your marriage. Our Support is always with you. With love. ❤️😊♥️🎉#shamiaarzoo + #hassanali = #shamiahassan ❤️❣️💖 pic.twitter.com/I3BaPnT4aM

— Laiba (@Unknown82537707) July 30, 2019
When the truth is, Shamia Azmin Ahmad is already married.
#HasanAli is not marrying this girl please stop using her pictures, she is already happily married and have a kid. Her name is Shamia Azmin not Shamia Arzoo. pic.twitter.com/QKTT1a8y6L

— Sarim (@thisiskhann) July 30, 2019
Apparently, Shamia Arzoo has made a Twitter account to clarify that she is the women Hassan Ali plans to get married to.
Take a look:
Have anything to add to the story? Let us know in the comments!
After Ukhano, Has Imam-ul-Haq ALSO Apologized for Exposed Chat Controversy?
Stay tuned to Brandsynario for more news and updates.