The world has come a long way from traditional advertising. Previously it was all about developing an ad, playing it on electronic mediums and hoping the message relayed. There was just one-way communication, and brands seldom got any customer feedback. Now, however, brands have become more involved and are actively incorporating all kinds of consumer feedback to make their products better.
One such brand is DayFresh. DayFresh is always coming up with creative ways to directly engage its customers, whether it is by inviting them over to their processing facility, or having on ground activations like DayFresh Foxy.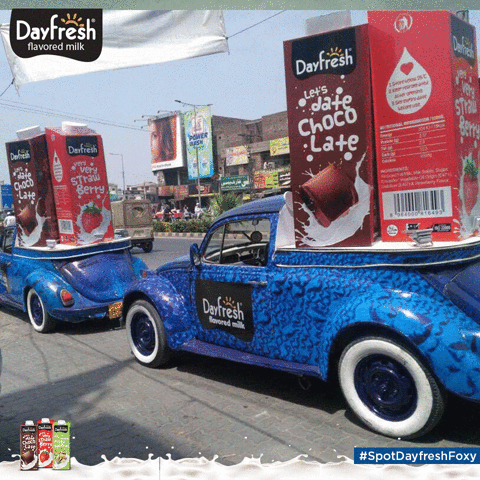 The recent BTL activity by DayFresh, The Flavor Force Challenge is worth noticing. This time around, the brand visited various college campuses around Karachi. They encouraged students to participate and express their creativity. A brief introduction about DayFresh informed the students about the USPs of the brand. DayFresh has its own dairy farm which rears 100% Australian cows. They are fed the best quality fodder and are well taken care of. All the milk collection process is automated so you have a 100% guarantee of the milk being pure and fresh.
After the introduction, the Student Brand Manager Program was initiated. A team of four students signed up from 10 universities. One member of that team was chosen as the Brand Manager. The team was asked to submit plans on how creatively they can conduct activations around the brand, with more focus on spreading awareness through word of mouth.
In the digital age, where people look for honest reviews about products, word of mouth matters a lot. DayFresh made sure that all activations utilized this. They were given a budget to plan and conduct a two-day activation. In that plan their sole focus was to integrate the product and have people sample out the different flavors of DayFresh.
The entire campaign was around 6 months long. During this time an astounding number of plans were received, 55 to be exact. The painstaking process of shortlisting the plans took time, because all the campuses had put in extra effort, and all ideas were fantastic. Finally, it came down to 4 colleges. IOBM, Iqra, SZABIST and IBA. An online voting then commenced after which the shortlisted participated gave final presentations of their plans. After a grueling jury evaluation a winner was chosen, team SZABIST.
Watch the prize winner activation video below.
A monetary prize along with one member being selected as the Student Brand Ambassador from each team was given. The ambassador is set to receive a monthly stipend while he/she continues their studies, after which they have a high chance of being hired at DayFresh.
From start to finish, this campaign actively engaged their target audience, college going students. Not only did they manage to get good feedback about their brand, they also gave students a platform to come out and express their creativity. This activity clearly shows that there is no shortage of talent in Pakistan. When given proper mediums, they come out and display their true strength.
The leading force behind this campaign has been Hina Mughal, Senior Brand Manager, along with her Brand Team at DayFresh. She keeps her focus on BTL activities, maintaining the fact that the best feedback comes from on-ground activations and engaging directly with the consumers. This is perhaps the reason why DayFresh remains a favorite throughout the country. They have surplus knowledge of what their audience wants and how to provide them with it.
Watch video:
Stay tuned for more updates.