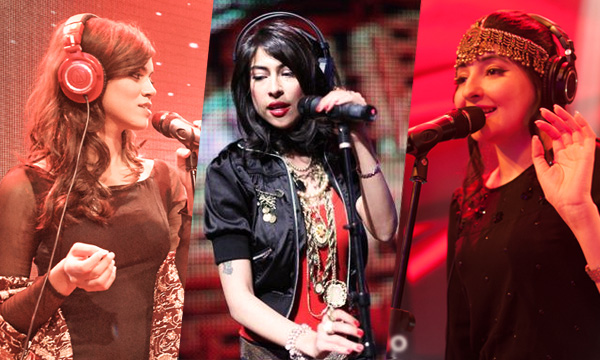 Coke Studio, the platform that brought about the musical revival of Pakistan and also gave birth to some extraordinary talents, is now soaring high in success. It is not only a hit in Pakistan but has also created an uproar in other countries as well, so much so that they have tried to make something as close as possible to it and have failed miserably. The Coke Studio that forced an Indian Journalist to say 'Kashmir le lo par Coke Studio hamain de do' in Hamid Mir's show.
Pakistani music lovers are very happy that they finally have a platform to feed their music hunger. Where Coke Studio has satiated the listener's lust, it has also introduced us with some of the gems we never knew existed amongst us or have forgotten about them. Here are those artists who rose to fame due to Coke Studio:
1. Meesha Shafi
A model turned singer who started her career as a fashion designer and became the fashion icon of the country in no time. She started her career in music after some time and was brought into the limelight after her duet with Arif Lohar 'Jugni' in Coke Studio season 3. The song even became the second most watched song on Youtube.
View her pictures below:
2. Umair Jaswal
Sammi Meri Waar singer, Umair Jaswal, who got hate messages for his dance during the song is actually one of those celebrities we love to hate. Contrary to popular belief, Umair Jaswal is an exceptional artist and the country is proud to have him. He first came into limelight in Coke Studio season 5 for the song 'Charkha Nolakha' alongside Atif Aslam. He performed solo in Season 6 and is back in season 8 with an all-new energy. We love you Jaswal!
Read More: Top Movie Releases of 2014 & 2015 in Pakistan
3. Sara Haider
The self-taught and self-made artist who has been a part of the Coke studio family as a backing vocalist since season 7 has finally gotten her some much-deserved limelight. Sara performed a duet 'Aye Dil' in Season 8 alongside Ali Zafar and we cannot help but fall in love with her soulful and mesmerizing voice.
4. Akhtar Chanal Zahri
Akhtar Chanal Zahri is one of the very ancient talents that our country possesses. He describes music as his food for the soul and reminisces tales of his childhood which passed by singing and humming only. Despite having fame before Coke Studio as well, he felt that his music was not recognized amongst youngsters. Therefore, he is utterly grateful to the platform Coke Studio has provided him in order to reach out to a more diverse audience. He also believes that Coke Studio has shown a new path in the dark.
We, as a part of that diverse audience set, feels grateful to Coke Studio for introducing us with such great talent. We all should appreciate his work done before Coke Studio as well.
5. Gul Panra
The Pakhtun beauty who has moved our hearts not only because of her singing but also because of her impeccable beauty. Before the recent debut with Atif Aslam in Coke Studio Season 8, she has sung for many Pashto films as well.
6.  Zoheb Hassan
The great pop singer who became famous for his duet with his sister Nazia for 'Aap Jaisa Koi' is now back in the limelight. After the tragic loss of his sister, Coke Studio is the first platform ever to relaunch Zoheb Hassan with all his greatness. We can't wait to see more of Zoheb's masterpieces.
Read More: Top 10 'Most Followed' Pakistani Politicians on Twitter
7. Nabeel Shaukat
The winner of 'Sur Kshetra' who won the hearts of people across border and has then been lost from the minds of the people, is back to win our hearts with the all new season of Coke Studio.
8. Zeb and Haniya
One of Coke studio's cult bands, Zeb and Haniya created magic in the studio with an array of songs and their ability to use the instruments innovatively. The singers brought every genre of music in one platter including folk to ethnic blues, from peppy pop songs to more respected Pashto songs. Their famous compositions for Coke Studio have been 'Chal Diye,' 'Chup,' 'Rona Chod Diya,' and others while their duet with Noori and Tann Doley have been considered the most memorable compositions.
Click here to listen to the Top 10 Coke Studio Songs of All Time
Stay tuned to Brandsynario for more!