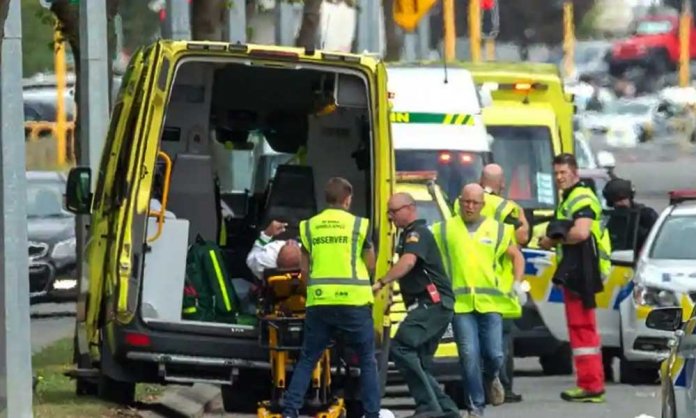 An extremely tragic incident took place this morning leaving 20 plus injured and 49 individuals dead in a merciless shootout at NewZealand's Christchurch mosques.
According to reports, gunmen opened fire in 2 mosques resulting in several injuries and deaths. The gunmen also reportedly shot the entire episode live on Facebook for approximately 17 minutes.
The Masjid al Noor mosque in central Christchurch and the other in suburban Linwood were packed with worshippers for Friday prayers during the afternoon when the incident took place.
The Bangladesh cricket team also had a narrow escape as the team members were on their way for prayers when the attack happened.
Police have advised the Muslim community to stay indoors and try not to visit mosques as they investigate if there are or were more than one gunman involved.
A witness claimed to have seen one man being shot in the head. He added:
I heard three quick shots then after about 10 seconds it started again it must have been an automatic no one could pull a trigger that quick. Then people started running out. Some were covered in blood. – Witness told AFP
Police have stated that they have made 4 arrests, including taking a woman into custody who might have connections to the shooting.
E-Visa for Pakistan: Online Visa facility for 175 Countries Launched
Pakistani Celebrities & Influencers Condemn the Christchurch Attack
Several Pakistani celebrities and influencers around the country have condemned the attack and have shown solidarity for the families of the victims.
Shocked and strongly condemn the Christchurch, New Zealand, terrorist attack on mosques. This reaffirms what we have always maintained: that terrorism does not have a religion. Prayers go to the victims and their families.

— Imran Khan (@ImranKhanPTI) March 15, 2019
Heart wrenching scenes from Christchurch mosque where faithful butchered ruthlessly as killers goes live at Facebook. Indeed, #Terrorism has no religion, state, race or face. My heart goes out to bereaved families. Prayers & support for people of #Newzeland #NewZealandShooting

— Shehryar Afridi (@ShehryarAfridi1) March 15, 2019
Apparently one white gunman of Australian origin. Bangladesh cricket team escaped from the mosque. ICC shd take note & perhaps suspend int cricket in NZ after this act of terrorism? https://t.co/Am6xSeUV2K

— Shireen Mazari (@ShireenMazari1) March 15, 2019
Saw video of a man killing innocent Muslims in the mosque during prayers. Most disturbing visual ever. Wonder if the world will call this a "violent act" or an "act of terrorism". New Zealand: Many Dead in 2 Mosque Shootings | Time #NewZealandShooting https://t.co/ioh3jOPcvy

— Ali Zafar (@AliZafarsays) March 15, 2019
Strongly condemn the #ChristchurchAttack of terrorism!My heart goes out to all the families involved!

— zainab abbas (@ZAbbasOfficial) March 15, 2019
I'm sorry, but I'm not going to refrain from using the T word. #ChristchurchTERRORISTattack#ChristchurchShooting #ChristchurchAttack

— Mariam Veiszadeh (@MariamVeiszadeh) March 15, 2019
Shocked n griefed on news of multiple attacks at two mosques in Christchurch NewZeland,hearts and soul of people of Pak are with people of New Zeland,Bangladesh Cricket Team escaped the attack;Pak suffered same situation years back n can feel n relate to the pain n misery,

— Ch Fawad Hussain (@fawadchaudhry) March 15, 2019
So sad to hear of the #NewZealandMosqueAttack In #Christchurch
My prayers and thoughts are with the martyrs and their families.
Humanity is at a loss, it was a place of worship …
thank god the #BangladeshCricketTeam are safe.

— Sarfaraz Ahmed (@SarfarazA_54) March 15, 2019
'This can only be described as a Terrorist attack' says the Prime Minister of New Zealand. #newzealandmosqueattack #Christchurch #NewZealnd #NewZealandTerroristAttack

— Fakhr-e-Alam (@falamb3) March 15, 2019
The alleged Christchurch shooter Brenton Tarrant – on the right is a screengrab of the live feed he relayed as he went around a New Zealand mosque spraying Muslims with automatic gunfire – some NZ channels saying at least 27 reported deaths so far pic.twitter.com/7rEcOLHkwO

— omar r quraishi (@omar_quraishi) March 15, 2019
Our heartfelt sympathies go out to the families of the innocent martyrs who were peacefully praying in the mosque – makes you wonder if they will be called religious fundamentalists or terrorists?#Christchurch #NewZealandShooting #NZMosqueShooting #Terrorism #MosqueAttack pic.twitter.com/QU0ERRUNgr

— Ahmed Kapadia (@ahmedkapadia) March 15, 2019
Shocked to see the visuals of shooting inside Christchurch's Mosque. Are we not even safe inside places of worship now? #christchurch #NewZealandShooting pic.twitter.com/Qlkcq6TvOd

— Shoaib Akhtar (@shoaib100mph) March 15, 2019
Horrifying tragedy #Christchurch. I found NZ one of safest, most peaceful places, people are friendly. Spoke to Tamim big relief B'desh squad/staff is safe. World must together! stop hatred!Terrorism has no religion! Prayers for bereaved families. May Allah bless the departed.

— Shahid Afridi (@SAfridiOfficial) March 15, 2019
I have found NewZealanders to be the most empathetic & compassionate.We need to remember that such individuals donot represent any country or religion when they choose this path.
They just spread fear, cause pain & hurt.
Prayers for the shaheeds & their families.#MosqueAttack

— Sana Mir ثناء میر (@mir_sana05) March 15, 2019
My heartfelt condolences go out to the families & friends of those affected by the shocking attack at Al Noor mosque £ the Linwood Islamic Centre in New Zeland. May Allah bless soul of those who have lost their lives and give patience to the families affected. #ChristchurchMosque pic.twitter.com/MXzeYpweqZ

— Saeed Ajmal (@REALsaeedajmal) March 15, 2019
Sad to know about terrorist attack in #ChristchurchMosqueShooting , Prayers & thoughts with families of Martyrs & victims , Ya Allah Madad 🤲🏼 , Terrorism has no boundaries , we all need to stay together to overcome this Global issue

— Mohammad Hafeez (@MHafeez22) March 15, 2019
Heart breaking news from #Christchurch NEW Zealand. Our prayers are with the families of the victims. #Terrorismhasnoreligion #Nz

— Junaid khan 83 (@JunaidkhanREAL) March 15, 2019
*Note: This is a developing story