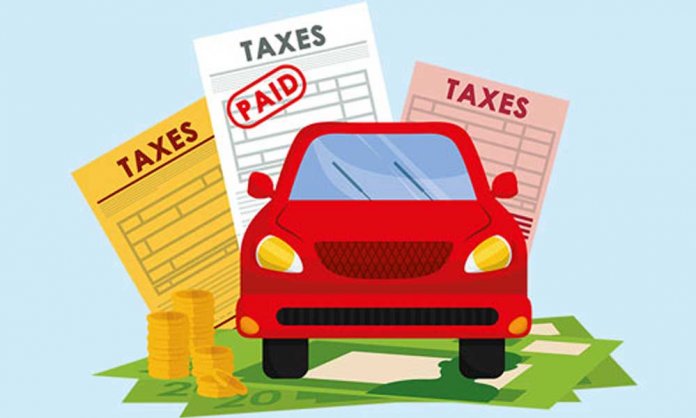 Update [3rd July 2019]: The Federal Board of Revenue (FBR) has clarified that there was a misconception created after the financial budget 2019 was announced in terms of token payment and registration of cars.
According to FBR, there was a typographical mistake which was rectified in the Finance Act, 2019. Furthermore, FBR confirmed that the rate of tax for the token payment and registration of cars remains the same as last year.
On the other hand, FBR also clarified that no tax has been levied on private cars on the base of seating capacity. However, those individuals have failed to file taxes will have to pay double in taxes than those who are on the Active Taxpayer List.
Individuals who are not eligible are advised to inform the FBR beforehand to be exempted.
---
---
The federal government of Pakistan has announced an increase in car taxes in the budget for the next fiscal year.
The taxes have increased the income and withholding tax by 600% on vehicle registration and vehicle ownership transfer levied on top of the token tax.
Earlier, a one-time tax that was imposed, has now also been changed by the government to annual taxes. As a result, car owners have to pay an additional Rs. 3,000 to Rs. 200,000 for filers and Rs. 6,000 to Rs. 400,000 for non-filers.
With this new announcement, the Punjab Excise and Taxation Department was left dumbfounded and has asked for written clarification from the Federal Board of Revenue (FBR) as it suspects an unintentional error in the finance bill.
Local manufacturers collected a one-time withholding tax from the customers and write the information on their sales invoices. However, under schedule 231 of the finance bill pages 154 and 155, it has been fixed annually on a per seat basis.
Complete List of Withholding Tax on the Registration and Transfer of Vehicles
Withholding Tax Per Seat
Category of Vehicles                      
Filer
Non-Filer
851CC-1000CC
PKR 5,000
PKR 10,000
1001CC-1300CC
PKR 7,500
PKR 15,000
1301CC-1600CC
PKR 12,500
PKR 25,000
1601CC-1800CC
PKR 18,500
PKR 37,000
1801CC-2000CC
PKR 25,000
PKR 50,000
2001CC-2500CC
PKR 37,500
PKR 75,000
2501CC-3000CC
PKR 50,000
PKR 100,000
3001CC and above
PKR 62,500
PKR 125,000
As the above-mentioned table shows the value of tax per seat, we have calculated the total tax for each category for a 4-seater car which is as follows:
Withholding Tax on Four-Seater Car
Category of Vehicles                      
Filer
Non-Filer
851CC-1000CC
PKR 20,000
PKR 40,000
1001CC-1300CC
PKR 30,000
PKR 60,000
1301CC-1600CC
PKR 50,000
PKR 100,000
1601CC-1800CC
PKR 74,000
PKR 148,000
1801CC-2000CC
PKR 100,000
PKR 200,000
2001CC-2500CC
PKR 150,000
PKR 300,000
2501CC-3000CC
PKR 200,000
PKR 400,000
3001CC and above
PKR 250,000
PKR 500,0000
The government also wants to impose an income tax along with the annual token tax of the cars and the rate can be seen below:
Income Tax on Annual Token Tax
Category of Vehicles                      
Filer
Non-Filer
1001CC-1100CC
PKR 1,500
PKR 3,000
2000CC and above
PKR 10,000
PKR 20,000
The collection starts from 1st July.
Stay tuned to Brandsynario for more news and updates.
Source: Geo News