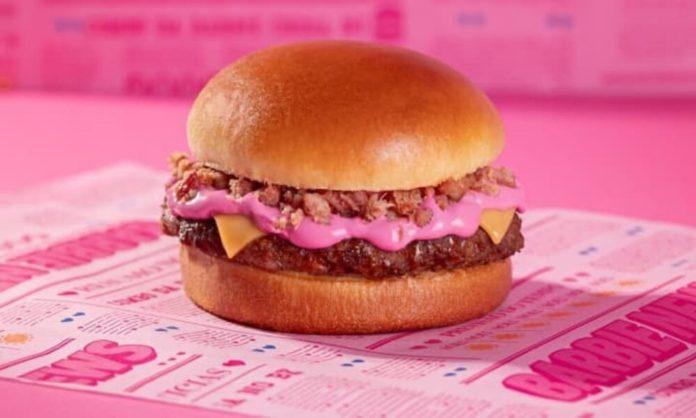 The next brand painted in pink, for the upcoming Barbie movie, is Burger King.
This week, Burger King Brazil debuted a menu item with a Barbie motif. The cheeseburger in the BK Barbie Combo is topped with bacon pieces and drizzled with a vibrant pink sauce Burger King claims has a "smoky" flavor.
A pink vanilla milkshake with strawberry Nesquik powder will also be offered to customers. The drink will be topped off with a pink frosted donut after inserting the straw.
Announcement & Availability 
Twitter shared this absurdly colorful food combination from Burger King. With a worker serving it while wearing gorgeous pink heels and a Burger King shirt. Before the premiere of the Barbie movie from Warner Bros, we have seen a variety of Barbie merchandise, but the BK Barbie combo will be the scariest. The collab comes exclusively in Brazil and will be up for grabs on July 20.
oi burger! oi Barbie™️! oi burger! 🍔💖

conheça o Pink Burger, a primeira revelação do Combo BK Barbie™️, q chegou direto de Barbie Land™️ pic.twitter.com/Vt2cWhedMk

— Burger King BR 💅💖🎀 (@BurgerKingBR) July 11, 2023
Read More: Barbie Movie & Its Brilliant Marketing Stunts Have Everyone Wowed
Additionally, Burger King Brazil has changed the color of its emblem to pink. Millions of people have viewed Burger King Brazil's social media posts, and customers are enthusiastically sharing pictures of their hot pink food.
Consumers have been flooded with "Barbie" merchandise in the weeks leading up to the blockbuster's July 21 premiere, including anything from dog toys to roller skates. The most recent collaboration introduces Barbie to the fast food industry.
Yes, the meal might be seen as a witty reflection on the characters in the movie. While the 'vanilla' milkshake is artificially flavored with strawberry Nesquik powder and the 'Ken's potatoes' side order is just regular fries because 'he's just Ken'.
Read More: Pakistani Celebrities For Barbie Movie: Spot-On Choices
Stay tuned to Brandsynario for the latest news and updates.