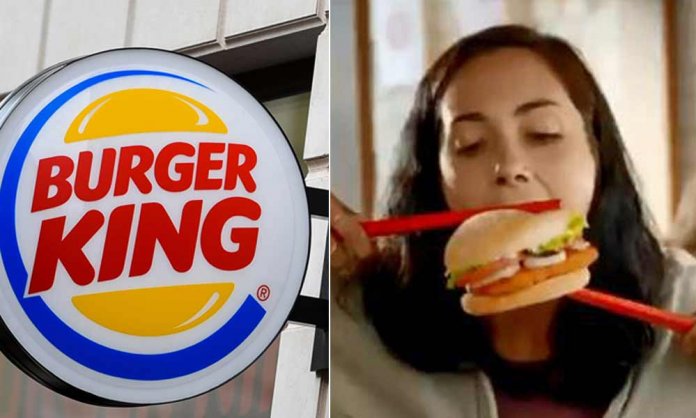 The fast-food giant, Burger King recently pulled down a racist ad rolled out by its New Zealand Franchise after it sparked an intensive round of criticism for the brand.
The ad showed Westerners attempting to eat its 'Vietnamese Sweet Chilli Tendercrisp Burger' through the aid of oversized chopsticks.
The caption for the ad read on Instagram:
"Take your tastebuds all the way to Ho Chi Minh City with our Vietnamese Sweet Chilli Tendercrisp, part of our Tastes of the World range. Available for a limited time only"
https://www.youtube.com/watch?v=E5-Qq6CzvrU
Naturally, the Asian community around the globe found the ad offensive since the chopsticks signify a significant cultural value for them.
A number of ad viewers took the issue to Twitter making the hashtag #burgerkingracist go viral.
Using chopsticks to eat hamburgers? Gee, such a lame idea seriously 🙂 It doesn't show your sense of humor, it shows your superficiality and racism 🙂 #burgerkingracist pic.twitter.com/kx7IiKezdY

— Khanh Jiang (@Khanhjjang) April 9, 2019
The Vietnamese now want Burger King to leave the country.
We don't need Burger King. We have many traditional food and it is more delicious than your fast food. Get out of my country #burgerkingracist https://t.co/sJkgcKPPix

— Châu Anh1109 (@chauanh1109iKON) April 9, 2019
What the fck is this?#burgerkingracist #burgerkingGetOutOfVietNam#BurgerKing
Please get out of my counntry 😠😠😠 pic.twitter.com/mek6qz18wy

— Jack O' Lantern (@quynh_057) April 9, 2019
What's the fuck happened ??? They couldn't eat their shit an usual way ??? How lame 🤦‍♀️ #burgerkingracist

— Alice (@Alice89027276) April 9, 2019
Post backlash, Burger King has ordered the franchise to take the ad down from all social media platforms. They apologized saying the ad was not representative of their true values of inclusion and diversity.
The apology stated:
"Insensitive and does not reflect our brand values regarding diversity and inclusion.

We have asked our franchisee in New Zealand to remove the ad immediately"
What is your view on the ad? Let us know in the comments below.
Contributed by: Mehak Zehra
Burger King Trolls McDonald's by Renaming Menu to 'Not Big Mac's'
Stay tuned to Brandsynario for more updates.