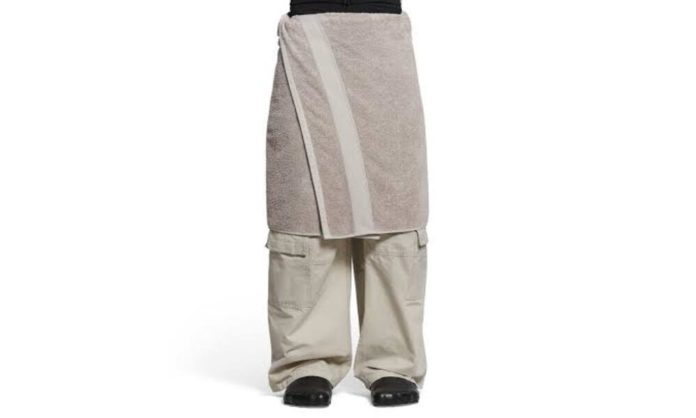 Balenciaga is indeed quite serious with its recent launch. While it might seem like a joke, the brand is committed to its unique and often avant-garde approach to fashion. Yes, we are talking about the $925 towel skirt.
No, it's not made of cashmere or adorned with mink buttons. It's precisely what it sounds like a terry-cotton skirt mimicking the appearance of a towel hastily wrapped around your waist post-shower.
The only thing different however is the two buttons inside the waistline to prevent any unexpected unraveling. The skirt, featured in look 30 of the Spring 24 Collection from the fashion house, is available for pre-order on its website. Designated as a unisex item, the 100 percent cotton skirt is equipped with two waistline buttons and an adjustable belt buckle on the inside.
Read More: Want To Know Where To Buy The Best Shalwar Kameez?
Is This The First For Balenciaga?
Indeed, Balenciaga has a history of offering everyday household items at substantial prices. In a previous instance, the fashion house sold a handbag with a resemblance to a trash bag for a staggering $1,790. The creative mind behind these unique creations, Demna Gvasalia, openly expressed his affinity for what he calls a 'fashion scandal.'
The holiday wishlist might not get any tacky than this. If you think this has a very low chance of going ablaze, last year Balenciaga sold destroyed sneakers for $1,850 and they sold out.
IKEA Steps In
Leveraging the current prominence of the high-end fashion brand, Ikea, the Swedish homewares and furniture company, released a cheeky advertisement featuring its $10 VINARN bath towel. In the promotional images, a model sported a towel wrapped around his waist, paired with construction pants. Adding a touch of humor, the man topped off the look in a true Balenciaga fashion – a black hoodie and wrap-around moto sunglasses.
Read More: What Is Sustainable Fashion? Here's Everything You Need To Know
Stay tuned to Brandsynario for the latest news and updates.