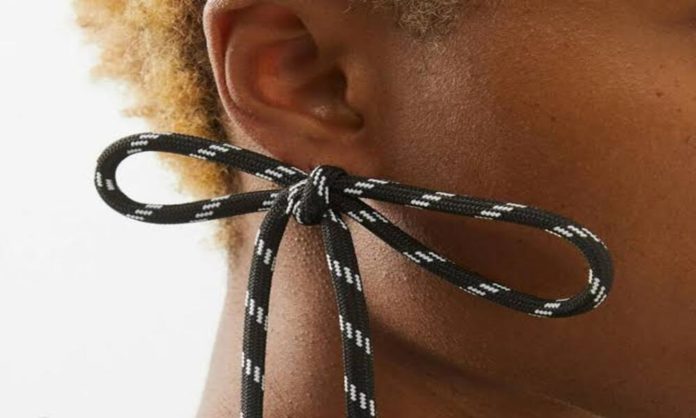 Balenciaga has made sure to make a fashion statement time and again. While not everyone might get it – it is what it is. If there is one brand who had made a point to launch bizarre yet statement pieces – it's Balenciaga.
Recently, the brand has launched one-of-a-kind' shoelace earrings' and it has got the netizens talking. After the brand introduced its ' trash pou ch', worn-out sneakers, very desi print blanket and grocery bags, the brand is back at it with its newest launch.
People aren't just calling out Balenciaga's latest earrings collection but it has become a trending topic of discussion among fashion critics and other fashion-related websites. Highsnobsociety, an Instagram page that posts things related to ongoing fashion trends, shared an image of Balenciaga's new earrings and wrote, "Every so often something lands on our desk that's just too stupid to let lie."
View this post on Instagram

The earrings are, literally, just nicely tied shoelaces. The earrings are an attempt by the brand "to incorporate everyday objects into the house's jewellery collections." If this black and white combination does not appeal to you, Balenciaga offers another option of pink and black shoelace earrings.
Read More: Pakistani Brands That Are Truly Making A Difference By Promoting Inclusivity
The jewellery piece, which is made of recycled polyester and cotton with antique silver brass, looks very close to shoelaces. It is priced at a whopping Rs 40,847 ($261). As per the description given on the brand's official site, these earrings have the brand's name engraved on them and are also made in Italy.
Twitter Reacts 
As soon as it was posted online, fans took to the comments section to express their opinion on Balenciaga's new product. Twitter also got swarmed with confused netizens' comments who were baffled at the luxury product.
Balenciaga is running one of the greatest scams I have ever seen https://t.co/kFe0uT6Sjl

— Yv 🇳🇬 (@yve_ning28) August 17, 2022
Balenciaga was always ridiculous but damn it .. shoe lace earrings? 🤣🤣🤣🤣🤣🤣

— DeCalf14_Da_Gooner🇯🇲🇯🇲 (@excess14) August 17, 2022
Some people made a point about how Balenciaga's collections are always bizarre. Hence, it's no surprise to see this on their portfolio.
What type of foolishness is this Shoelace bow earrings £195 😳 pic.twitter.com/Vx2zbIvVhF

— Michael Hamilton COYS 🇯🇲 (@NLAHamilton) August 17, 2022
Balenciaga's new shoelace earrings that are a shoelace glued to an earring cost $261. That's enough to give every American $1 million. Appalled.

— charlicohen.eth 🐬🌳 (@CharliCohen) August 16, 2022
BRB, wondering what other bizarre things are high-end fashion brands going to sell us under the garb of high-end fashion.
Share your thoughts about the brand's latest launch in the comments below.
Read More: Are Shein Workers Leaving Secret Messages On Clothing Tags?
Stay tuned to Brandsynario for the latest news and updates.