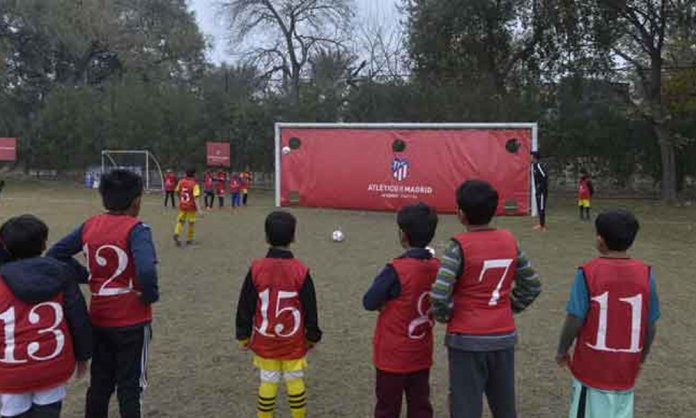 Update: Pakistani children and football go hand-in-hand. The talented tots are truly a wonderful sight to see given the amazing skills our children have.
Atletico De Madrid Academia is here to give them a professional platform for further development.
It is the first European team to open an academy in Pakistan, a country which is obsessed with cricket and has a Prime Minister who himself is a sports legacy and former captain of the national team.

The academy is training both boys and girls under the presence of Javier Visea and Daniel Limones.
They always have their eyes open; they are willing to learn. Some kids come here for new experiences, just to try. But others are already football fans -Visea said
Visea has been teaching the children of Lahore football for several months now.
We have found a lot of people that want to play football -Limones
Mohamed Atta Tanseer, a Kohat Cement executive had tried to get Real Madrid to open an academy in Pakistan, however, it did not work out in their favor. Instead, their rival Atletico De Madrid decided to open an academy in Pakistan.
Atletico De Madrid Director Syed Zahab Ali said:
We plan to open six academies in the next five years in Pakistan. Two in Lahore, two in Karachi, one in Islamabad and one in Rawalpindi
As of now, the academy is open to children 3 days a week in Lahore and on the weekends a lead training session takes place outside the learning center. So far, 600 children have signed up for the sessions.
---
---
When it comes to football, Pakistan is still thriving to revamp the system to promote this much-loved sport in the country.
It looks like things are finally changing in favor of the sport and for football lovers- the future looks brighter than ever!
The Spanish football club Atletico Madrid is to officially open their first football academy, the 'Atletico De Madrid Academia' in Pakistan later this month!
According to Independent, the football academy in partnership with Atletico Madrid will be opened in Lahore.
Atletico is ambitious to find raw football talent in Pakistan. The football academy will train talented school children from all over the country under the guidance of Spanish coaches.
PM Imran Khan Invites FIFA President to Revive Football in Pakistan
Atletico wants to see the player progression in Pakistan's national youth teams in three to five years, and Pakistani players playing for Los Colchoneros in the near future.
This initiative has been taken by Lahore businessmen Muhammad Atta Tanseer and his cousin Omer Sheikh, who are passionate about football and are committed to promoting football in Pakistan.
Talking about the establishment of a football academy in Lahore, the CEO of Lahore academy, Muhammad Atta Tanseer said:
We are merely starting to scratch the surface of infinite talent that remains to be discovered and cultivated into world-class competencies. We are opening the first academy in Lahore and also planning to open in Islamabad and Karachi. We will be holding training camps, clinics and training sessions in other major cities and towns of Pakistan as well.
Two Atletico coaches, Daniel Limones, and Javier Visea, are busy in training Pakistani coaches and talent scouting in local schools and coaching. They both have been living in Lahore since last September.
Daniel Limones said,
No professional team from Europe has started this project in Pakistan. We are the first, and it's a great opportunity. I think that we have an opportunity to do a lot of things here. Pakistan is a big country with a lot of people, more than 200 million. So in Atlético de Madrid, we thought that it could be a really good opportunity for us. We can find a lot of potential here and a lot of good players.
The formation of a football academy in Pakistan could be the vanguard to more La Liga involvement in South Asia.
Javier Visea added:
We are not looking for players for Atletico Madrid because we know that this is going to be very difficult… Our target is to improve the football here.
Stay tuned to Brandsynario for more updates and news!