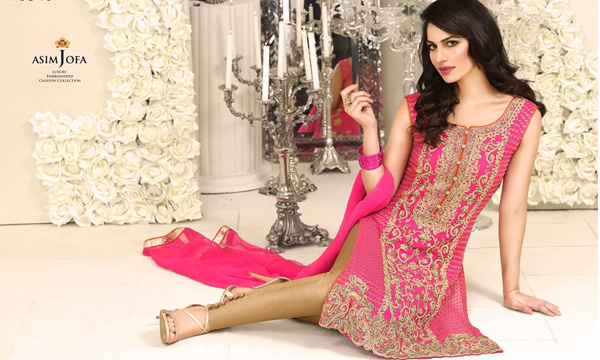 With the arrival of New Year and a number of weddings to attend, it is time to check out Asim Jofa Luxury Embroidered Chiffon Winter Collection 2016 which is to be launched on January 9th 2016. The collection exudes elegance and classy winter apparels to don this season.
The fanciful collection is perfect to don in parties and celebrations this winter season. The price of Asim Jofa Luxury Embroidered Chiffon Collection 2016 has not been revealed yet but the collection has used fancy fabric of Chiffon. The collection offers a 3 piece dress layout with a shirt, trouser and dupatta.
View the gorgeous Asim Jofa Luxury Embroidered Chiffon Collection 2016 below;
Asim Jofa is a big name in the fashion industries of Pakistan; their seasonal festive collection is designed with exclusive latest trends consisting of splendid patterns, striking silhouettes and quality fabrics.
Every dress is designed with appealing floral and botanic patterns. In addition, every dress is artistically embellished with buttons, lacework and elegant embroidery on sleeves and shirt front and back.
The gorgeous new Asim Jofa's Luxury Embroidered Chiffon Collection is coming to all leading stores Nationwide/Worldwide on January 9th.
Visit your nearest Asim Jofa outlet ; online pre-order begin soon here!
Stay tuned to Brandsyanrio for more updates.